Real Wedding: Stephanie & Eric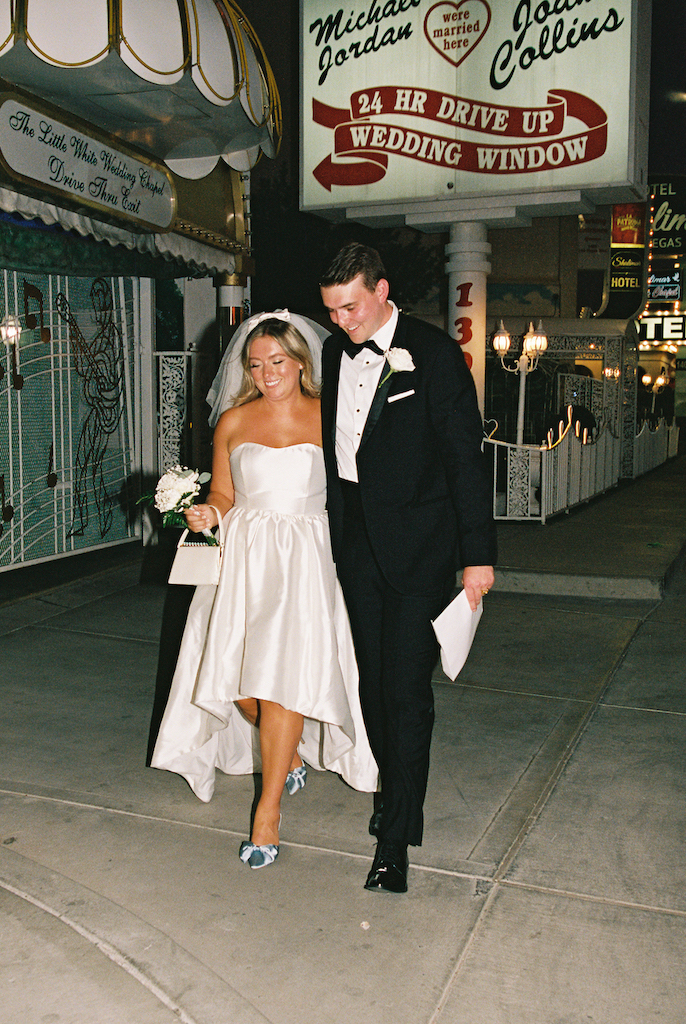 Posted at 09:40h
in Real Weddings
Las Vegas Elopement
Real weddings are so inspiring! To get you in the mood to plan, we asked real brides to spill the details on everything from getting engaged and finding their wedding dresses to the special touches and surprising moments that made their celebrations completely one-of-a-kind. Wise men say only fools fall in love, and we couldn't agree more. Sweethearts Stephanie & Eric tied the knot in an epic vintage-inspired Las Vegas elopement. Read for more details about their burning love!
Briefly tell us how you and your fiancé met! How did you know that he was the one?
Eric and I met eight years ago. He's from Canada and I grew up in Massachusetts. The summer before I went to college, Eric lived with a family in my hometown to play hockey. We met at a bonfire and the rest was history! We were long-distance for a long time. It wasn't always easy, but we knew we wanted to be together.
Tell us your proposal story!
Eric planned an amazing day for me that started with him dropping me off at The Beverly Hills Hotel for a massage early in the morning. Afterward, he then surprisingly picked me up in a vintage Cadillac (that's when I knew something was up that day). From there, we checked out of our hotel at The London in West Hollywood and drove over for a lunch at the Chateau Marmont. After that, we took the most scenic drive out to Malibu where he booked us a fabulous room at the Malibu Beach Inn overlooking the Pacific Ocean. Finally, we drove over to Point Dume where he popped the question with the most beautiful sunset in the back, all photographed!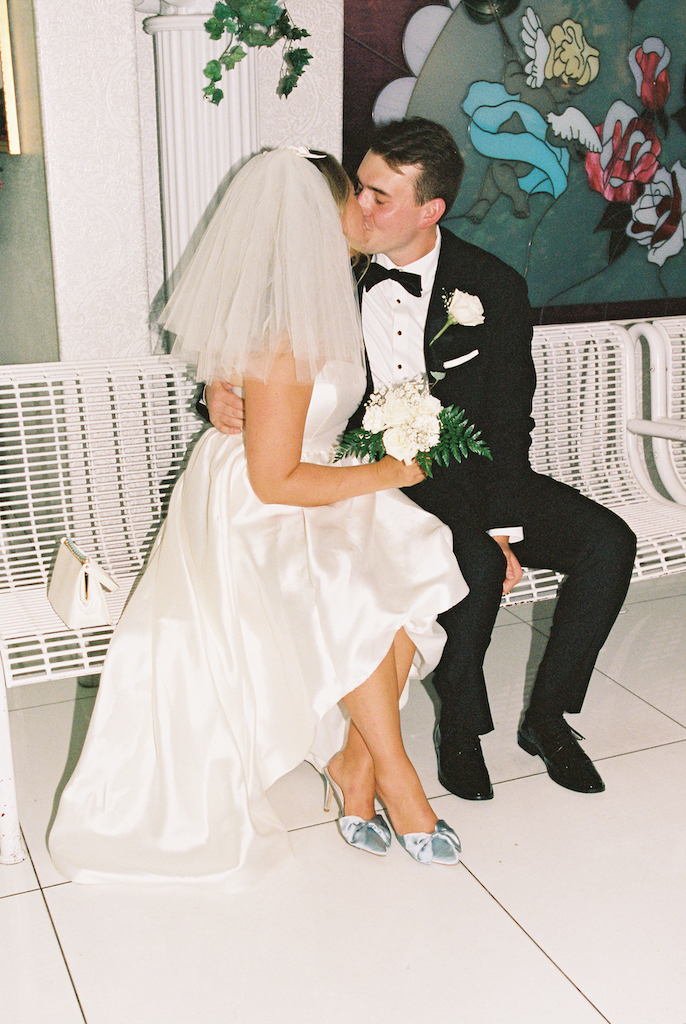 How did you both decide on your wedding day look?
I was really inspired by looking at elopements on Pinterest. I browsed online and tried on a few dresses but hadn't found anything that really resonated – until my mom got a Facebook ad for my wedding dress from David's Bridal. She showed me the photo and said "I think this is your dress." I made an appointment the next day. I knew from the moment I put it on that it was my dress. When I found the shoes (also at David's), that really sealed the deal!
Do you have any shopping advice for future brides?
My advice is to try everything! I initially thought I wanted a short dress for my elopement, and it was discouraging when I couldn't find anything I really truly loved. The minute I put my dress on, I felt like a bride and knew I had found the one.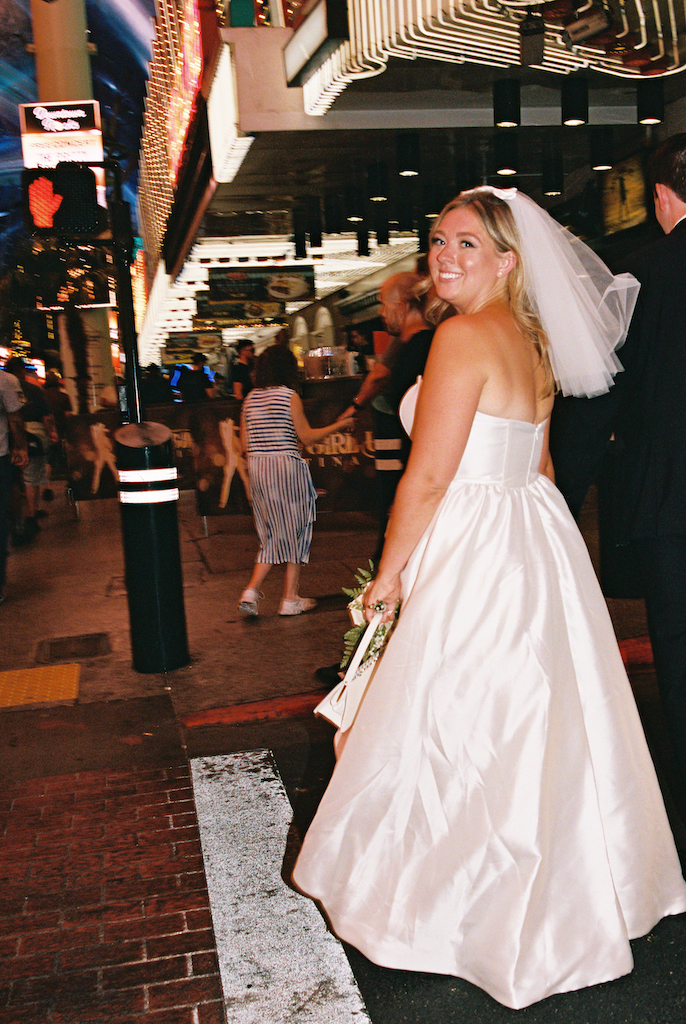 What was your favorite detail about your look?
I loved the way my dress showed off my blue shoes! The dress felt fun and light for an elopement, but it still felt very much like a wedding dress, which was important to me.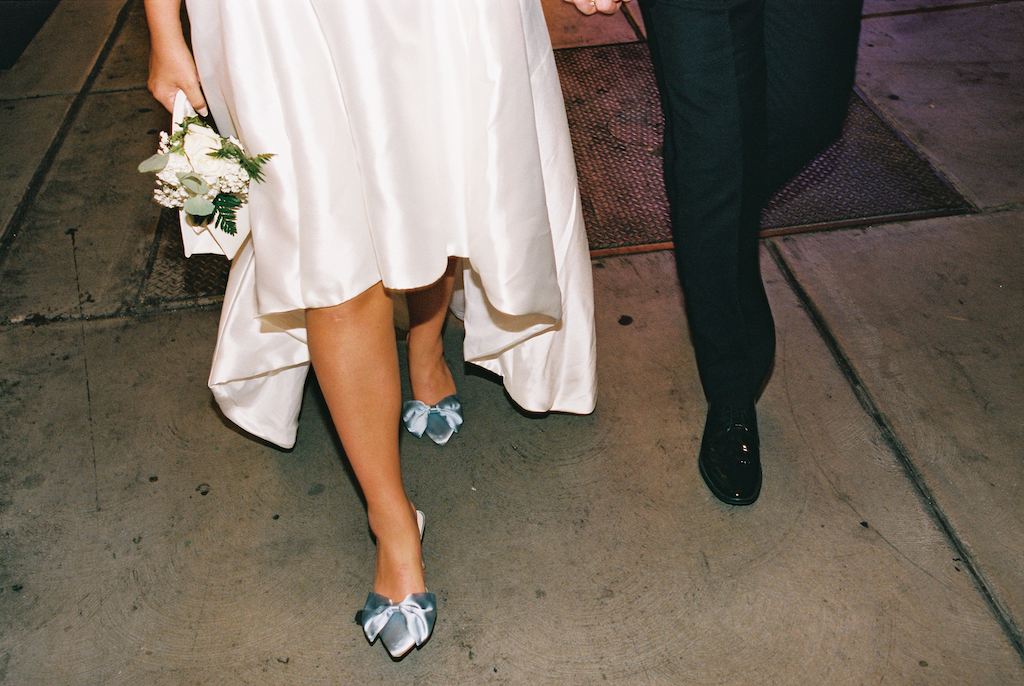 How did you feel when you knew that you #foundtheone
When I found the dress, I could feel all the wedding details fall into place. I could picture myself saying "I do." We planned our elopement in secret and over just a couple of months, so everything had to come together pretty quickly. It was so much fun saying "yes" to the dress, making a wish, and ringing the bell at my appointment.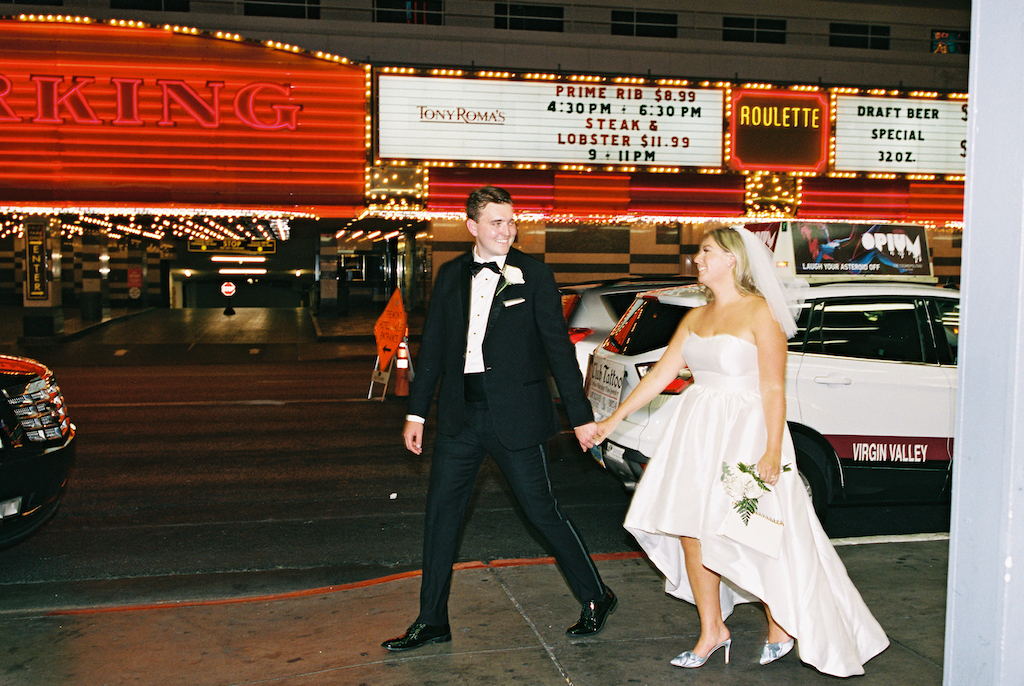 Tell us about your wedding day
We did a true elopement, meaning it was just the two of us – no guests! We started the day by picking up a 1970 Buick convertible. From there, we drove to get our marriage license and pick up our wedding cake. We chose to get ready at the Jackie Gaughan suite in the El Cortez. The room is vintage Vegas at its finest: Pink carpets and walls, a pink marble tub, a full bar in the living room! The glam team from Set and Fury made me feel so comfortable and excited, it felt like getting ready with my girlfriends!
It was so surreal going to A Little White Wedding Chapel, meeting Elvis and standing in line with the other couples. The King of Rock and Roll fastened Eric's boutonniere, handled our paperwork, grabbed a microphone, and met us outside in the drive-through!
We held our ceremony in a pink Cadillac. Elvis sang and took us through some special Elvis vows, and then we danced while he performed "Burning Love." From there, we drove down Freemont Street to see the lights.
We went back to the El Cortez for cake and champagne, and got ready to head out for the night! The historic Golden Steer steakhouse was the perfect spot for our wedding night dinner. We sat in the Rat Pack booth. My favorite part was their amazing tableside cherries jubilee dessert (and more champagne, of course!). We ran around Freemont Street all night, popping into all the casinos and rolling the dice. Everyone was congratulating us, betting on us, and giving us marriage advice. We were surrounded by so much love from complete strangers! It felt like a movie.
Was there a highlight or most memorable moment of the day?
A Little White Wedding Chapel's tunnel of love is so beautiful with its painted ceiling, and we had never seen anything like it. You can really feel the love there, it is the most special place for so many people. We never thought we'd elope in Vegas, and that made it even sweeter when we promised to spend the rest of our lives together in such an iconic place.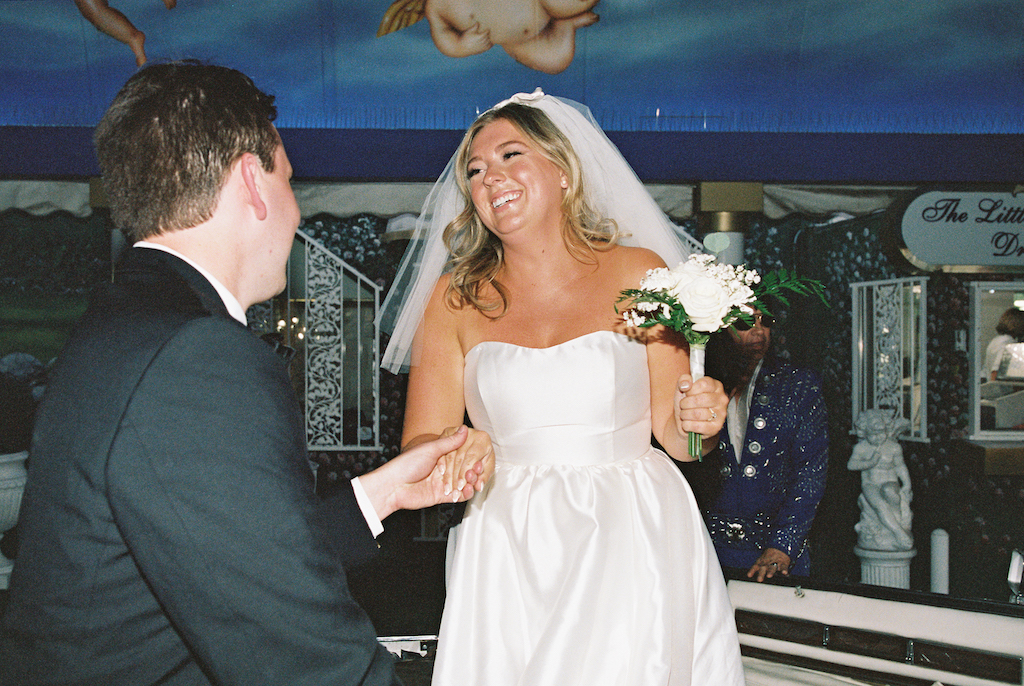 Did anything funny or unexpected happen?
Las Vegas in August is HOT. Like 109 degrees hot. When we picked up the vintage convertible the morning of our wedding, we learned it did not have air conditioning. We still had to pick up our wedding cake and had a 20-minute drive back to the hotel. By some miracle, the cake did not melt! I was definitely sweating – literally and figuratively.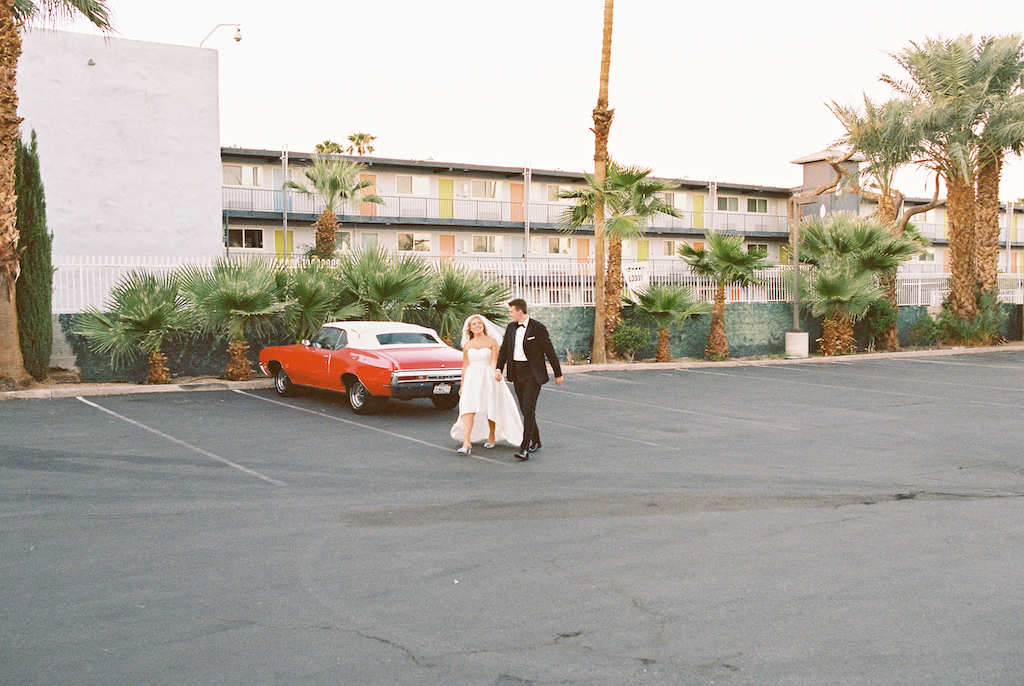 Is there something you wish you had known before the big day/while you were planning the wedding?
I wish I had known how amazing eloping in Vegas would be! I always pictured myself getting married in a very traditional setting, so I was a little nervous about tying the knot in an unconventional way.
What was your theme?
Eric and I were really inspired by Elvis and Priscilla's wedding in fabulous Las Vegas, and by vintage weddings in general. We spent the summer listening to old love songs from the 60s and 70s and watching old movies like "Viva Las Vegas." We chose horseshoe wedding bands, just like Elvis and Priscilla. Aimlee Photography shot our wedding on 35mm film and Super 8 video, which really set the vintage vibe.
What's your best wedding planning advice?
Do things your way! Traditions and trends are wonderful for inspiration, but the thing that made our wedding special was that it felt true to us.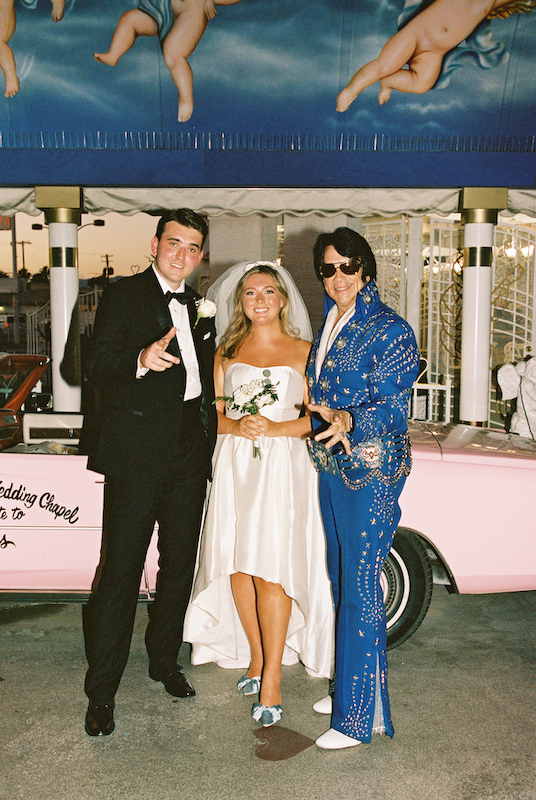 More Details:
Date: August 30th, 2022
Wedding Dress Style: Mikado high-low wedding dress
Wedding Song: "Burning Love" by Elvis
Cake Flavor: White cake with buttercream icing and chocolate buttercream filling
Photographer: Aimlee Photography
Inspired by this Las Vegas elopement? Read more real wedding stories here!
We know how important your wedding day and special events are to you and we are doing everything in our power to serve you! You can shop with us 24/7 at davidsbridal.com or come see us at your local David's Bridal. Plus we are here for you to help guide you through your wedding planning! See tips for starting to plan your wedding at home, shopping for your wedding dress online with confidence, and more on the blog.
Planning a wedding? Sign up for our Diamond Loyalty program—it's free —and find local wedding vendors! Follow us on Instagram, TikTok, Pinterest, and Facebook for more real wedding inspiration like this Las Vegas elopement, or click here to book an appointment.
Related Posts: