Megan Gilbride x Andrea Hawkes Introduce The Poppy Dress – a Bias Cut Wedding Dress in Sustainable Silk Satin – Love My Dress®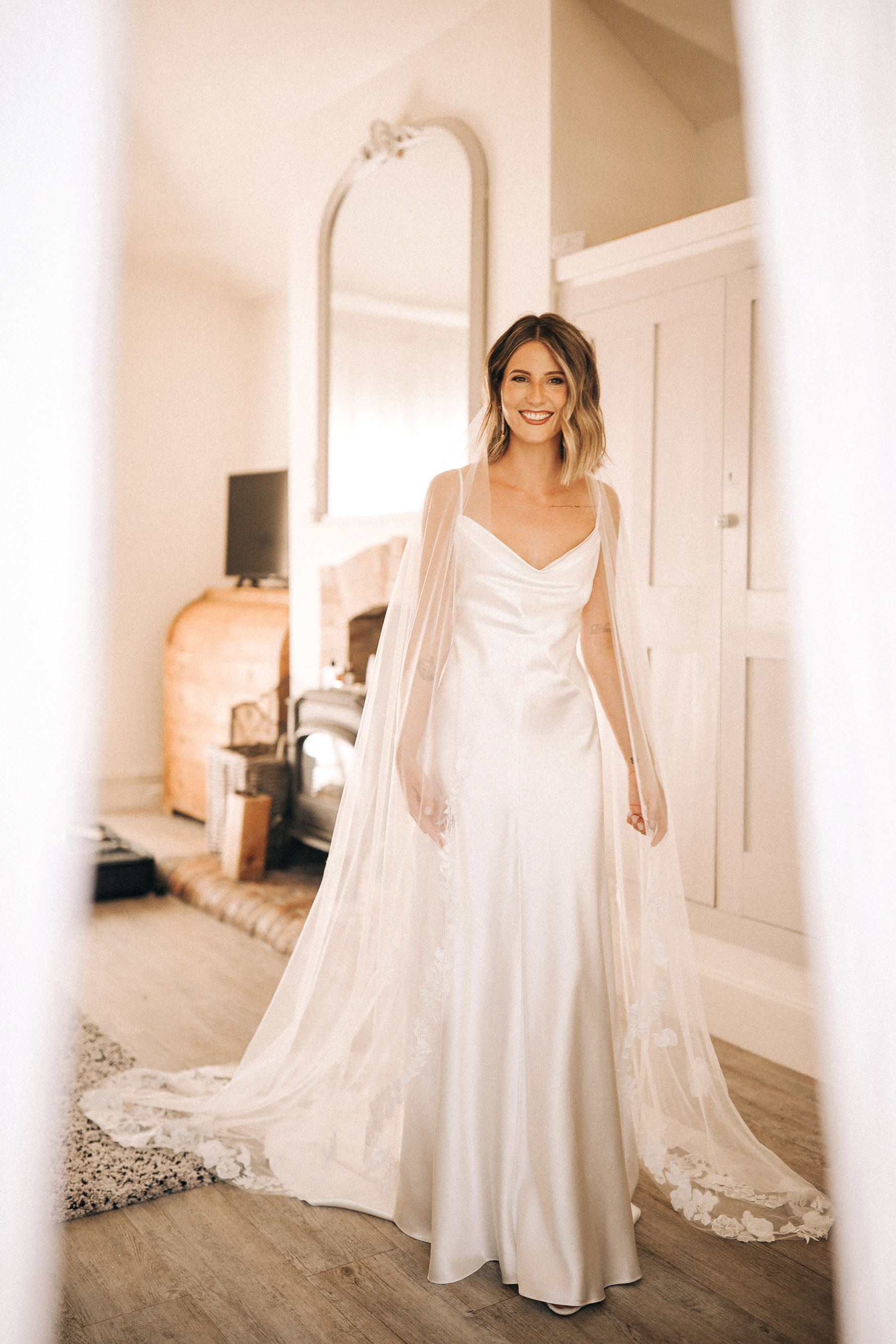 One of the most beautiful and just all-round joyful and inspiring weddings we've shared recently was that of popular blogger, podcaster, Health coach and mental health advocate, Megan Gilbride.
You can see the wedding in full here. Megan's gorgeous, buttery silk, bias-cut wedding dress was an entirely bespoke design, by London based Andrea Hawkes. The bride and designer worked together to create the gown from scratch, bringing Megan's dream vision to life.   If you love this look, I'm thrilled to let you know today that this beautiful gown, the Poppy dress, is now available to try on and purchase at the Andrea Hawkes Studio.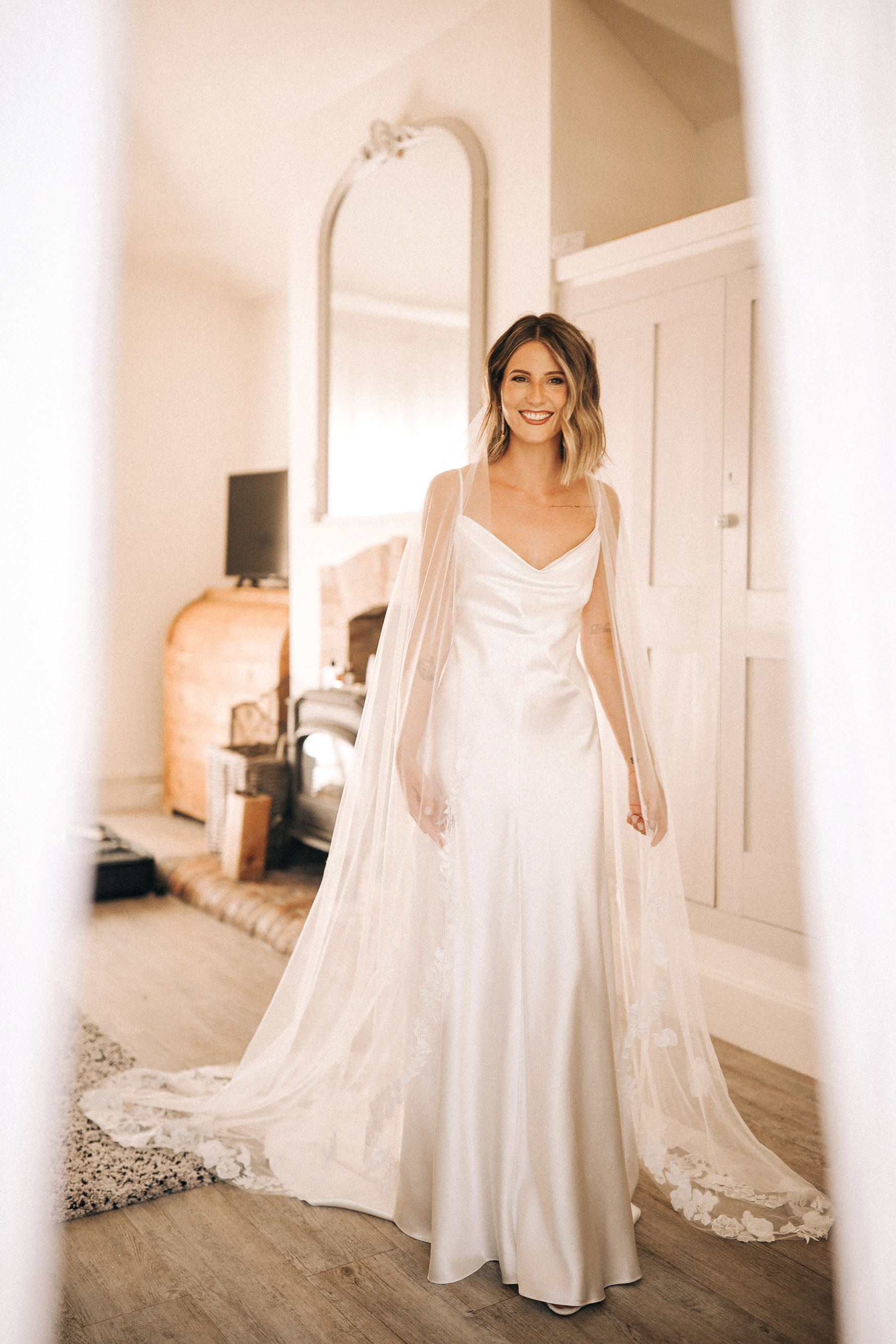 About The Poppy Dress
The Poppy dress, is a bias cut shape made from buttery soft, sustainable silk satin. The sheen is delicately pearlescent and creates an uplifting glow. The draped silk cowl neckline is a key focal feature of this design, the soft drapery creates a timeless and effortless look all in one. Let's not forget the back.
A low, open design with double strap cross over detail, we love how this elevates the design and along with the extended train adds just the right amount of drama.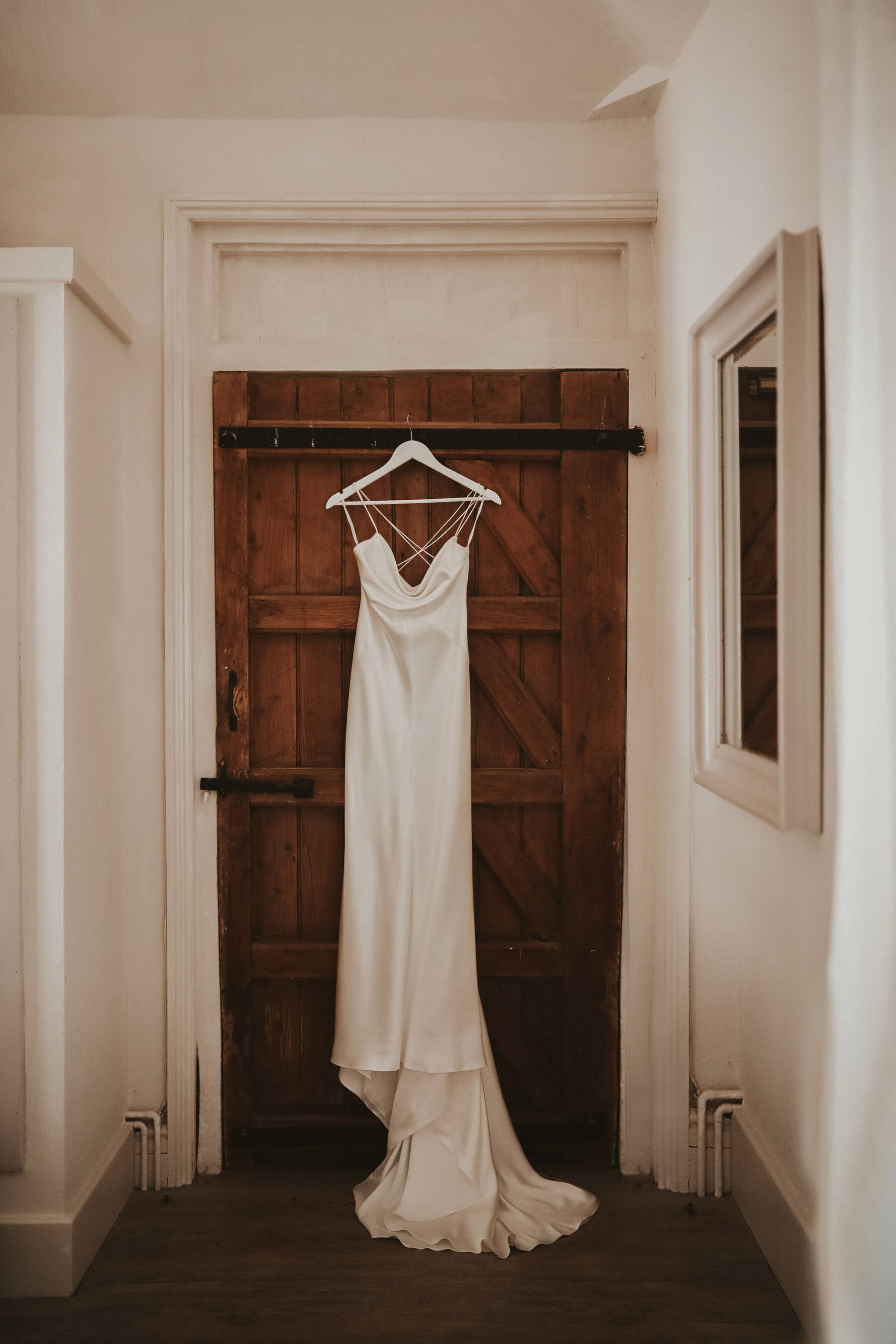 Imagine slipping in to this dress on the morning of your wedding day, and feeling the best, most beautiful that you ever have.
That is the transformational impact of a gown like this, that you know has been lovingly created by a team who simply love to create beauty and help women feel their most confident on their wedding day.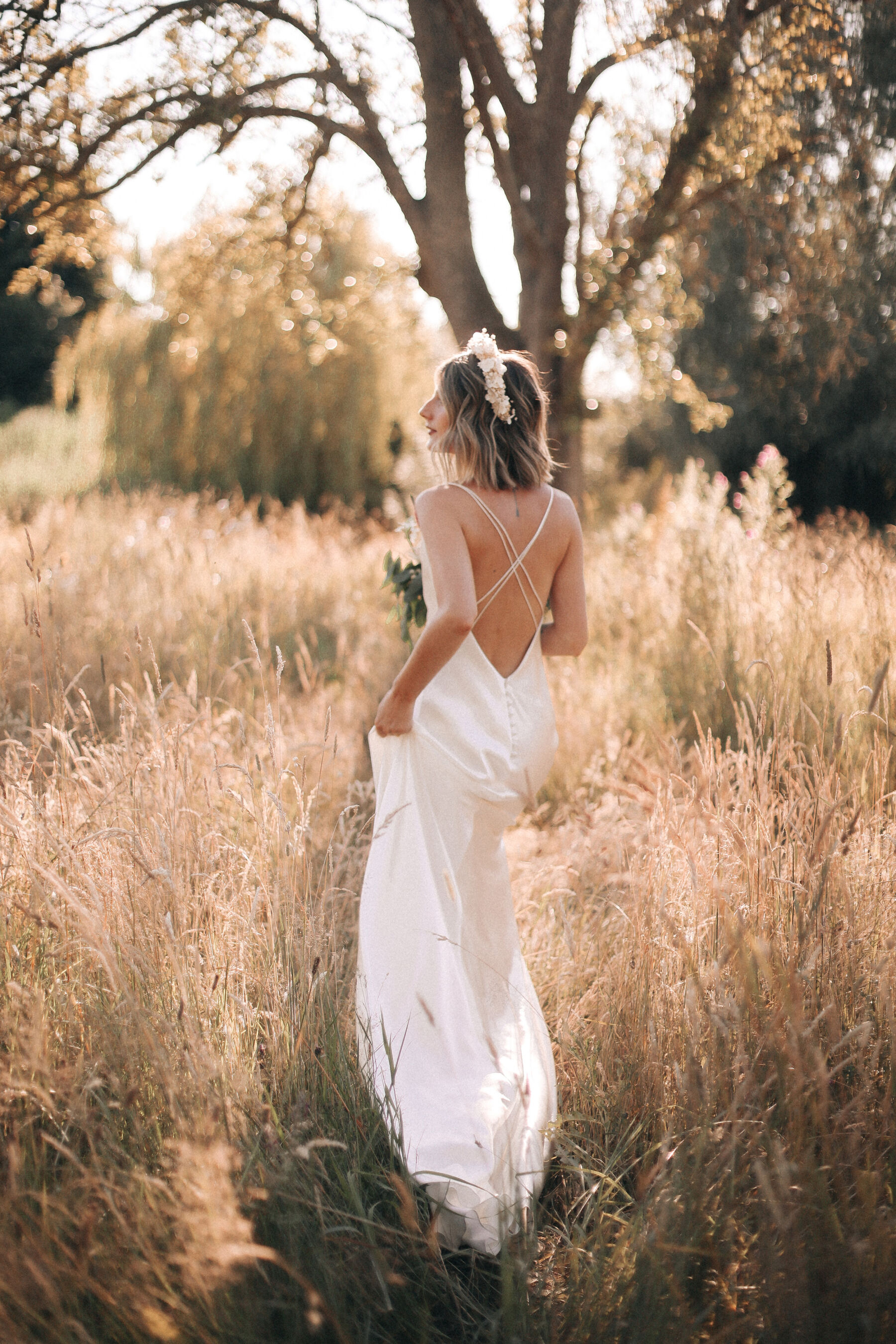 Bringing Megan's Wedding Dress Vision to Life
Megan worked closely with designer Andrea to bring her dress vision to life. This kind of 1:1 bespoke design service is available to all brides at the Andrea Hawkes Bridal studio in London and always has been. It is a great option for brides who may be seeking a specific designer feature or style, or who feel they cannot find what they are looking for elsewhere.
Designing Poppy was the most beautiful journey and an experience I'll treasure forever. Working with Andrea, sharing my ideas and having them realised by someone who valued my wants and needs at the centre of the collaboration was, and is, incredibly special to me.  To know that something I have co-created will be an option for you to wear on your actual wedding day is one of the greatest privileges of my life; and I am literally giddy with excitement to see other brides wearing Poppy. Megan Gilbride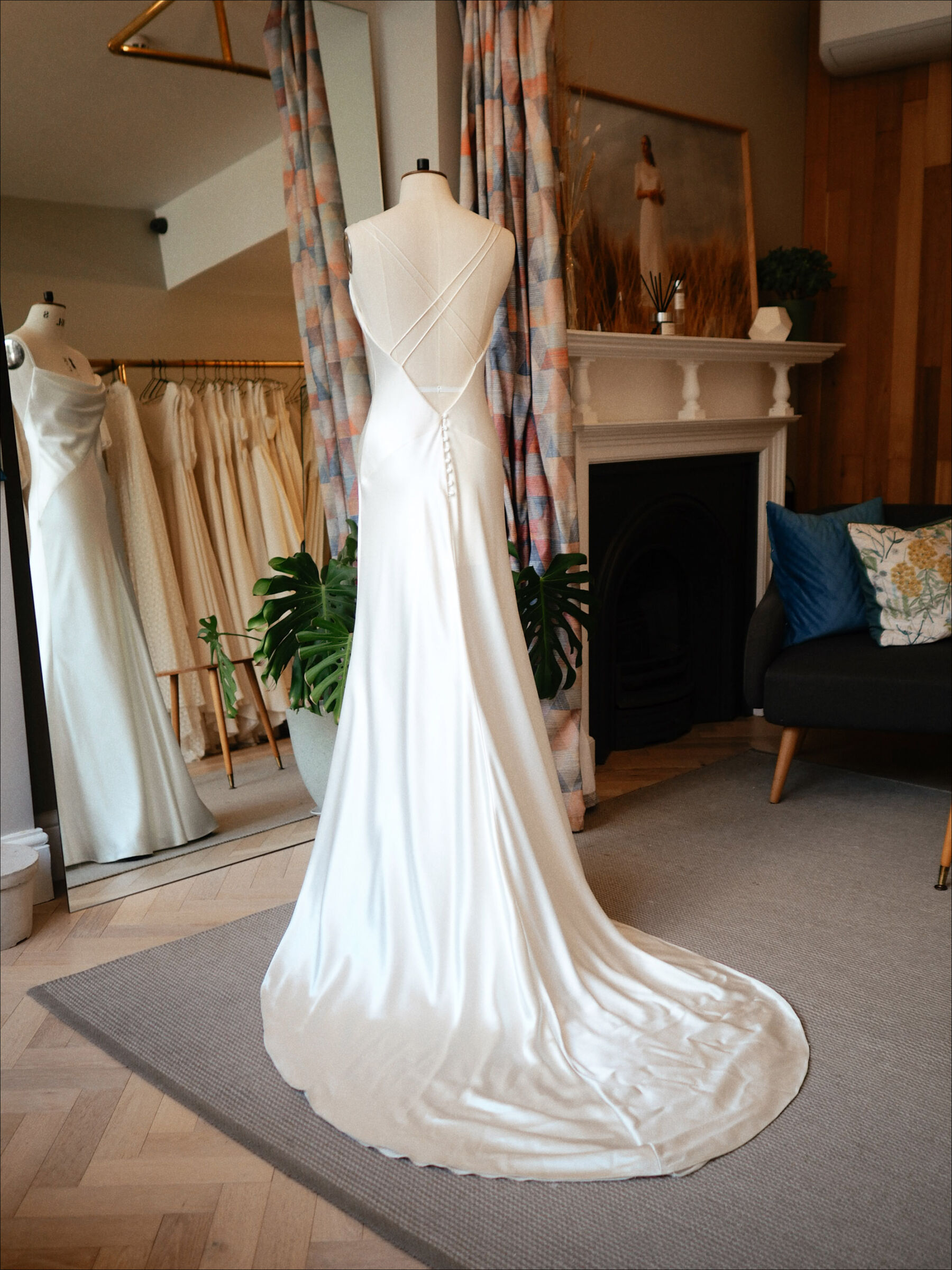 A Shared, Sustainable Vision
Entering a creative journey with a designer like this truly truly is one of life's beautiful and most rewarding opportunities.
I strongly suggest finding a designer who shares your values, like Megan did in Andrea. Their shared passion for sustainability and the environment meant that they could work together to create something beautiful, with the knowledge that them doing so was having minimal impact on the environment.
From start to finish everything Andrea produces is in-house – and being able to see the entire process, to work with everyone involved – a team of women who have sustainability, ethics and customer care at the forefront of their offering made the journey so much more personable and unique. Megan Gilbride
From the minute I first connected with Megan, I knew this would be a great collaboration. Megan has a fantastic eye and really had a vision for how she wanted to feel on her wedding day. We both have a mutual appreciation for the same things, such as quality of fabrics and British craftsmanship so when the discussion about us making Megan's wedding dress arose, I knew it was going to be a special experience. Andrea Hawkes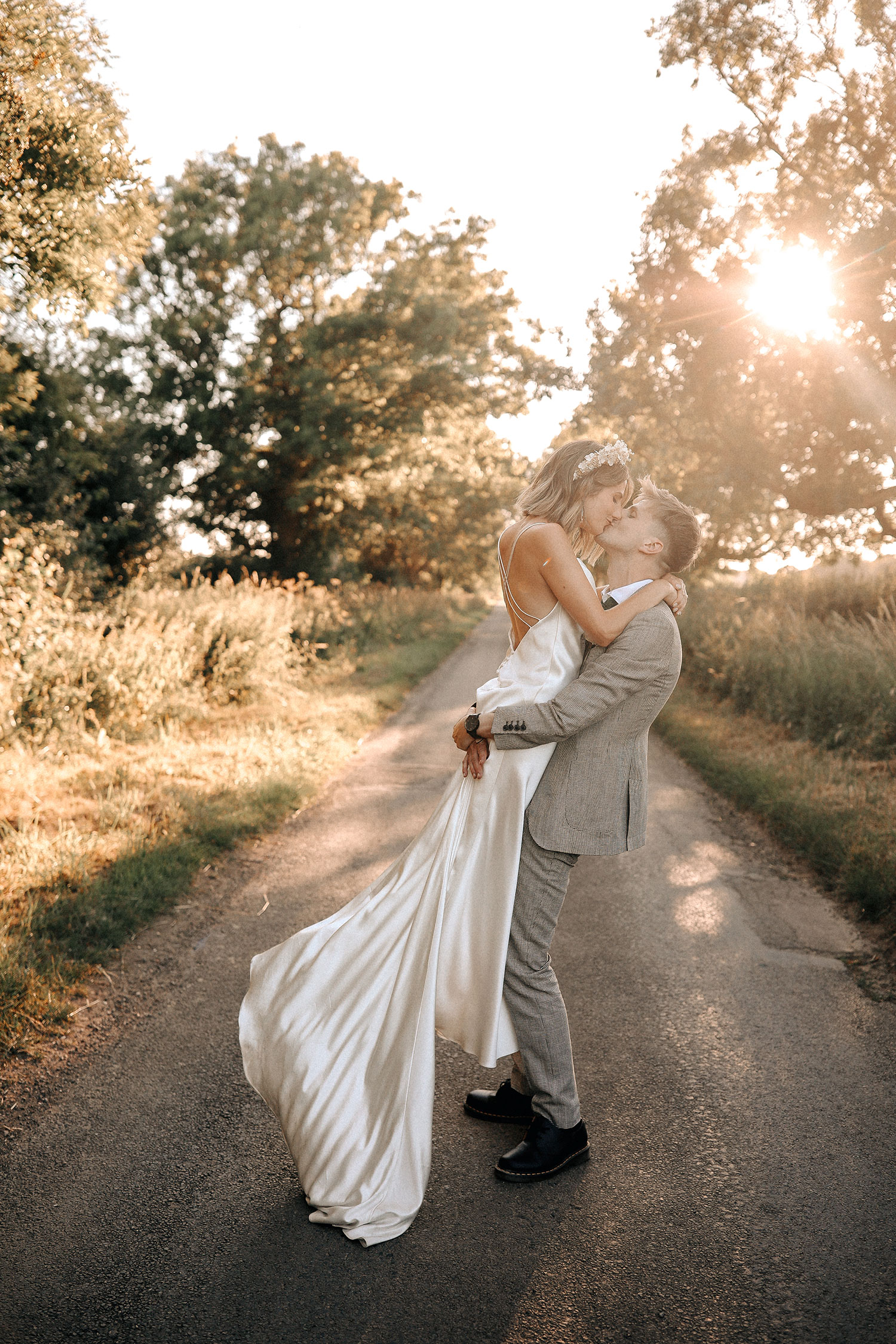 Simplicity, Comfort and Elegance
Poppy, named after my Nan, who loved to sew and actually made my bridesmaid dress for my mum and dads wedding – was designed with comfort in mind. I wanted nothing more on my wedding day than to feel like myself – and that meant: simplicity, comfort and elegance. My dress ticked every box and more on the day and I couldn't think of anything more magical than having it as an option for other brides to experience. Comfort was fundamental, but what I wanted Poppy to embody was an effortless, timeless style. Something for the ages that could be passed down and reinvented for years to come. Megan Gilbride
Like a Second Skin
I wanted my dress to feel like a second skin, and that's exactly what Poppy is – a dress that works with your body, making you feel sexy, sophisticated and special whilst still being functional and practical. Every detail, from the stretch and drape of the bias cut silk fabric, to the cross-over spaghetti straps has been curated with style and practicality in mind. We left no stone unturned to ensure that this felt like the most effortless wedding dress out there and I'm so incredibly proud of what we created. I can't wait to see other brides discover Poppy and for it to be part of their special day is the greatest honour. Megan Gilbride
A combination of Megan's intuition and vision. My eye and design ideas, Megan's dress was created! We've all enjoyed working with Megan so much, it's been such a natural, creative journey and we are thrilled to be able to offer the 'Poppy' dress to future brides.  Andrea Hawkes
Try The Poppy Dress on For Yourself
The 'Poppy' is available to purchase in any UK size or fully made to measure depending on your personal preference. The Andrea Hawkes team will help guide you on which service is right for you.
Book an appointment to try on the 'Poppy' dress at the Andrea Hawkes studio today – a very warm welcome awaits you and this tranquil bridal haven.