Magical Disney Princess Wedding Dresses | July 27, 2022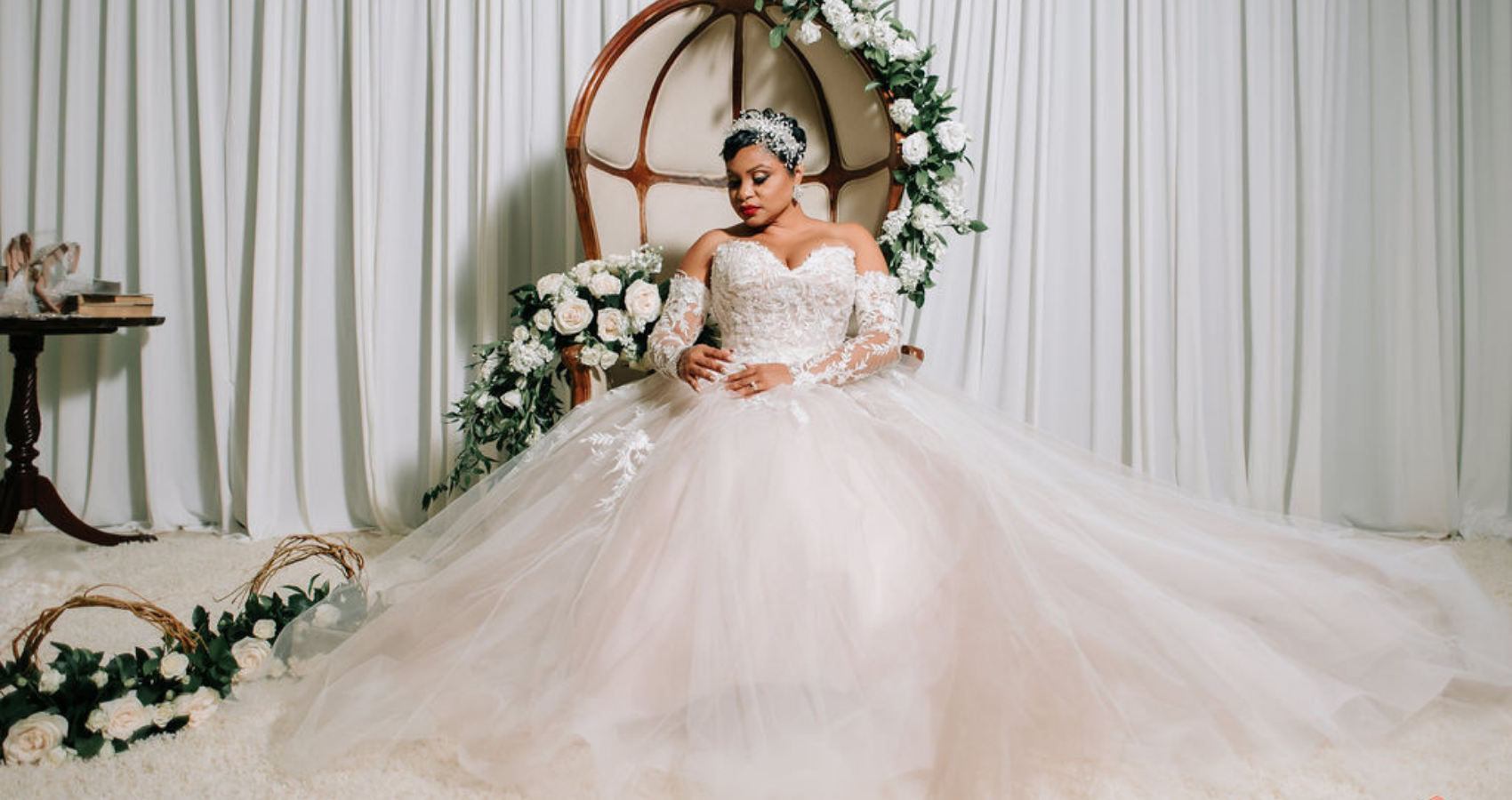 When it comes to gorgeous, fairytale celebrations, look to the classics for inspiration! These Disney princess wedding dresses are all about romance, style, femininity, and unique personality. If you're a fan of the Magic Kingdom, keep scrolling to find dresses inspired by your favorite leading ladies!
If you haven't taken our Style Quiz already, be sure to bookmark for your browsing. This will help you narrow inspiration and style according to your budget, vision, and wedding details. Of course, when you're ready to try on Disney princess wedding dresses IRL, head to your nearest Authorized Retailer!
First though, make sure to watch our Disney Princess video to get inspired before diving into all the magical options ahead!
First up for happy ever after, Casey by Maggie Sottero. This is a stunning fairytale-inspired wedding dress with shimmery details for our Cinderella loving brides. From 3D lace motifs to a sheer bodice and shimmery skirt, this fairytale favorite is simply destined for an enchanted evening—without the midnight deadline, of course!
Look at how you can personalize this beautiful gown to fit your love story… glass slippers sold separately:
Change some of the glitter tulle for chic organza for less shimmer.
Remove the train for a more casual look.
Add a fully lined bodice for more coverage
Pair the gown with a matching veil.
Shasta by Sottero and Midgley is a classic silhouette with modern details. Exposed boning, textured beading and sequins, and floral lace embellishments adorned on the bodice atop a swishy, layered skirt. Personalization include options for the bodice and buttons, as well as detachable off-the-shoulder sleeve ties!
Check out these Disney-inspired wedding dresses in action in our TikTok highlights!
When it comes to Sleeping Beauty-inspired gown Nerida by Sottero and Midgley, we're sure it popped up in your dreams! This is one of our dreamy, sultry, Disney-inspired wedding dresses with airy details. We're all about the Aurora vibes: ruched tulle, long sleeves with an off-the-shoulder neckline, and bishop sleeve cuffs for a touch of Renaissance. This wedding gown comes in classic ivory or printed floral color options– if you're all about the Disney vibes, the color variation is irresistible!
PC: Marisa Kinney
Another elegant Sleeping Beauty wedding dress is Josie by Rebecca Ingram. This style evokes sophisticated-yet-nostalgic glamour with minimalist, high-impact styling. Mikado fabric makes a stunning fit-and-flare silhouette. The off-the-shoulder sleeves create an Old Hollywood aesthetic with a fairytale spin, and a cathedral-length bridal veil is the best way to complete the look!
If Ariel is your favorite Disney princess, search for "Under the Sea" magic with Boston by Sottero and Midgley. This gown features mermaid-inspired tailoring and waves of shimmery details! Take a look at its graceful, flowy beading, lush train, sophisticated silhouette, and personalized neckline — sweetheart or plunging!
Pippa by Rebecca Ingram is another style that will make for magical moments. This gown emulates Ariel's puff-sleeve wedding gown from the Disney cartoon rendition of The Little Mermaid, but with a few modern updates:
Sleek, mermaid silhouette.
Plunging sweetheart neckline
Long cathedral train
Removable puff sleeves.
If your Disney mermaid theme is taking you seaside, find inspiration through our gallery of sexy beach wedding dresses for tropical backdrops and romantic vistas.
Featuring a regal neckline and a flirty keyhole back, Kingsley by Sottero and Midgley is a classic and demure nod to Snow White's 16th century fairytale aesthetic. The bodice features sophisticated, embroidered lace and sheer details, as well as personalization options that include two sleeve style options: cap sleeves and long illusion. If you're loving Kingsley, you'll fall head-over-heels for its matching lace veil.
Thomas by Sottero and Midgley features unique-but-classical styling, including an off-the-shoulder neckline with cuff detailing and vintage-inspired, textured lace in light shimmer. The long, full skirt and train is perfect for "frolicking with woodland creatures" — if that's your Disney wedding vibe.
If you love the look of this classically tailored wedding gown! Adore Thomas but want a different silhouette? This gown has a Sister Style, Thomas Lane, a fit-and-flare silhouette.
Ezra by Sottero and Midgley evokes Princess Jasmine's feminine and flattering vibe, featuring off-the-shoulder bell sleeve cuffs, illusion details, and lush lace embellishments in eyelet and butterfly-esque motifs. This formfitting silhouette with a sweetheart neckline also features a trumpet skirt in English netting — a nod to Jasmine's sultry wedding style for her happy ever after.
Like Princess Jasmine's aesthetic, Bailey by Sottero and Midgley is all about the tailoring and embellishment. These details are a perfect choice for a Jasmine-inspired bride: a graceful, curve-hugging silhouette, shimmery beaded lace, and long, curving lines cascading into a floral-shaped train. This wedding gown features comfortable lining for a summer wedding vibe, and it's perfect for a veil or cape. Personalizations include options for the buttons and fabric, and its Sister Style Bailey Lane features a tulle skirt.
Love this Jasmine Disney princess vibe? Take a magic carpet ride over to these sexy wedding dresses for more inspiration.
If you love whimsy and adventure, Tiana may have the inspiration you're looking for! Her aesthetic speaks to the beauty of Louisa by Maggie Sottero, which offers a dreamy and romantic bridal vibe. We love the soft, fairytale embellishments. Delicate, embroidered lace with pearl accents dance over Louisa's unique colorway options. That's not all though– for a Tiana-inspired bride looking to complete their look, consider the personalization options below:
Swap embellished spaghetti straps for flouncy lace bishop sleeves (both sold separately).
Add a chapel-length veil in complementary lace motifs (sold separately). completes the look.
Shorten the train for a more casual look.
Add buttons down the back for a vintage-vibe!
Finally, a lush, flowing skirt makes a perfect ballgown statement!
PC: Yasmine Colon
Our next choice for Tiana vibes is Yasmin by Maggie Sottero. Get inspired with these stunning, ballgown features: tiered tulle, horsehair accents in the skirt, a ruched asymmetrical bodice with sweetheart neckline, crystal embellishments at the waist, and a classic ivory colorway or unique latte hue—for this colorway, think of a perfect combination of blush and caramel!
PC: Lyndah Wells Photography
Vivien by Rebecca Ingram is a simple-yet-stylish take on Belle's gorgeous ballgown– perfect for your budget! We love Disney Princess-inspired wedding dresses with chic and romantic details. Minimalist bodice ruching pairs beautifully with its elegant skirt and sparkle tulle. It's a comfortable and flattering ballgown silhouette.
Another Belle-inspired wedding gown is Orlanda by Maggie Sottero. This style offers gorgeous details in a swoon-worthy silhouette. We're inspired by its shimmery lace—which you can personalize– an illusion bodice and lace details, and sleeve accessories, including strapless, off-the-shoulder straps, or cold-shoulder long sleeves.
For a bold and unexpected wedding vibe, look to Mulan for Disney inspiration. Scarlet by Maggie Sottero is a classic-yet-nontraditional wedding gown. We LOVE the princess vibes of the scarlet hue. Highlights include three gorgeous colorways: Scarlet, Black, and White; a flattering bodice and lush skirt, a classic princess silhouette, and luxe satin fabric and ruching. It's also available with a thigh-high slit in the skirt.
PC: Gerry Sulp Photography
Aston by Sottero and Midgley is also an elegant, luxe, and sophisticated choice for Mulan's aesthetic. Our favorite details are the comfortable, sleek, and ultra-chic crepe, the long, graceful silhouette, the bedazzled cuffs in Swarovski crystals and illusion, and a stunning back treatment.
By the way, if you're an AAPI bride or you're marrying into an AAPI family, check out these Asian American and Pacific Islander wedding traditions and style inspiration.
Do you have fabulous hair and a love for rescue adventures? Look to Rapunzel for Disney wedding inspo. Britney by Maggie Sottero is a stunning lace bridal gown with unique accessories and personalization options, including a strapless sweetheart neckline in a plunge or classic cut, as well as romantic sleeve options– spaghetti straps, fitted sleeves, or bell sleeves! You also have the option to change the glitter tulle to organza, and this style looks stunning with a bridal veil!
Next is Amanda by Rebecca Ingram, a fairy forest look with a sexy, fit-and-flare silhouette. This stunning wedding gown features allover lace in a dimensional shimmer, spaghetti straps, and delicate corset detailing in the back. You can complete this look with a matching bridal veil, or check out the ever-so-lovely Sister Style Amanda Lynette, which features a different skirt style.
For a nature-inspired bridal vibe, Kern by Maggie Sottero is chic, effortless magic from head-to-toe. The details include an illusion neckline, an asymmetrical lace placement along the neckline and back, and a soft, fit-and-flare silhouette. You also have the option to make the lace shimmery by adding sequins.
Looking for another style inspired by Disney's Pocahontas? Look no further than Greenley by Maggie Sottero, featuring soft-yet-striking embellishments. Allover lace in a dreamy, natural pattern accents the illusion details and effortless silhouette. You can also choose Sister Style Greenley Lane, which features a full A-line skirt,
We're all about the Moana vibes in Ryker by Sottero and Midgley! This style is soft, effortless, and perfect for an island wedding celebration. These dazzling 3D florals are part of the personalization. You can choose this gown with or without these floral elements attached to the hemline, as well as choose a strapless neckline, off-the-shoulder straps, long fitted sleeves, or whimsical bell sleeves.
Dover by Maggie Sottero is another boho dream worthy of Moana's style. We're smitten with the geometric lace and princess-inspired accessories, including boho arm bands with long fringe, a amazing matching veil, and an illusion tulle jacket with bishop sleeves.
Liam by Sottero and Midgley is the perfect "snow queen" look, featuring head-to-toe Elsa-inspired details. Rustic-chic lace, a dreamy train, and an effortless silhouette combine for an beautifully enchanting vibe. Plus, there's a cape! What could be more "Let It Go?"
PC: Haley Jessat Photography
For Anna's look, Stevie by Maggie Sottero gives us sweet princess vibes. This wedding gown is the perfect blend of flirty, whimsical, and classic. Opt for its detachable cold-shoulder bishop sleeves for two distinct looks between ceremony and reception, and evoke the magic of two Disney princess-inspired wedding dresses in one!
Planning a full winter wonderland theme with these Disney wedding dresses? Check out these winter photography ideas for the occasion.
PC: Amanda Steffke Photography
The last of our Disney inspired wedding dresses are inspired by Merida from Brave. With the gown's floral-inspired lace and vintage-inspired sleeves, Eloise by Rebecca Ingram is a stunning gown for this Disney Princess. It doesn't hurt that the off-the-shoulder detachable sleeves are perfect for some archery!
We also adore Abbott by Sottero and Midgley for its classical styling, statuesque silhouette, and over-the-top beading. It's giving bridal-inspired Celtic beauty! This style also has a sister variation, Abbott Dawn!
Excited for more Disney princess wedding dresses and style inspo? Follow our Socials
And here are a few more blogs to inspire your wedding theme: