Wedding Inspo | October 17, 2022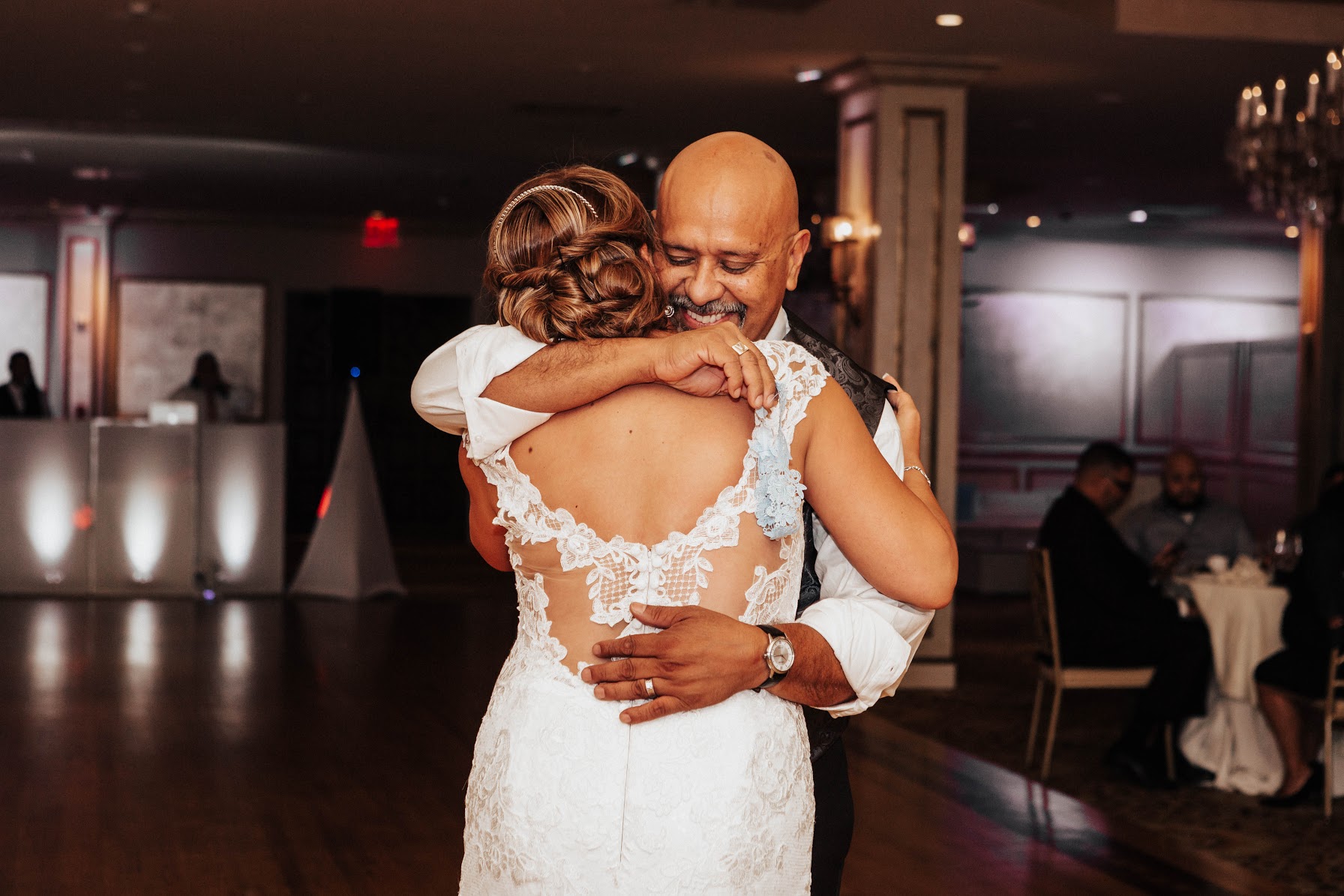 Hi brides! Are you looking to renew your vows? Well, we've got great news for you! Keep reading to learn all of our best tips and tricks for planning your vow renewal!
Before we jump into all of our wedding vow renewal ideas, sign up for our newsletter to stay up-to-date on all things Maggie.
Why do people renew their vows?
Love is a lifetime commitment, and sometimes, saying "I do" once simply isn't enough to celebrate it! People renew their vows for a myriad of reasons! Reaffirming their commitment to their love story and their partner, celebrating an anniversary, having the wedding they always wanted, or connecting with friends and family are just a few of the reasons.
How to Plan a Vow Renewal
Decide On Your Budget
PC: Maegen Christie Cruz
Before you begin planning your vow renewal, decide what's the most important thing to spend your money on. Is it food? Location? Music? Photography? Or is it the dress? If your perfect gown is the most important thing for you, make sure to check out our three wedding dress lines: Maggie Sottero, Rebecca Ingram, and Sottero and Midgley. Each of these lines correlates with each bride's budget!
For more wedding budget tips, read our blog post. In the meantime, take a look at this gorgeous bride in Chauncey by Maggie Sottero.
Choose your Vow Renewal Gown
Your vow renewal is just that—YOUR vow renewal! The same applies to the dress you wear for your special day.
If you're opting for a backyard vow renewal ceremony, Hillary by Maggie Sottero is the one for you. This boho lace V-neck bridal gown features a stunning scalloped train, unembellished allover lace, an illusion lace bodice, a plunging illusion lace V-neckline and V-back, and gorgeous lace trim spaghetti straps. Personalize this gown for your love story by removing the training for a more casual look through special request, opting for a lined front bodice, or adding more coverage for the detachable allover lace bishop sleeves.
We know how amazing the sunset looks from the ocean shore, and for some brides, the beach is the perfect place to renew wedding vows! There isn't a more perfect gown for a beach renewal of vows than Lorraine by Rebecca Ingram. This beautiful, beaded sheath wedding dress is delightfully constructed with Aurora chiffon and features a sheer organza lined bodice adorned with beaded lace and sequin motifs, a V-neckline and soft V-back, beaded spaghetti straps, and a sexy thigh-high slit. Add buttons down the back for a more vintage vibe.
For our brides who simply can't wait another second to renew their vows, Lorraine is one of our Quick Ship gowns! These gowns arrive faster than our normal delivery window, so you can breathe easy and focus on your special day. Love the look of Lorraine but want something slightly different? Consider one of its equally lovely Sister Styles, including our NEWEST Lorraine Sister Style, Lorraine Anne:
There's nothing like partying with all of your favorite people after the most memorable moment of your life—and there's no better dress to wear while you party with your wedding guests than Anniston by Maggie Sottero. This show-stopping shimmery ballgown is irresistible. With its glitter tulle—in champagne or all ivory—its asymmetrical ruched bodice, sweetheart neckline, and pockets, this gown is sure to shine beneath the lights. Personalize this gown for your wedding by extending or removing the train or opting for detachable glitter off-the-shoulder cap sleeves, in ivory or champagne.
For brides who want an intimate vow renewal, look to Alberta by Maggie Sottero. This stunning gown is the perfect minimalist wedding dress for modern vibes. Made of Tripoli crepe satin, Alberta features a ruched bodice, a gorgeous cowl scoop neckline, a deep scoop back, beaded spaghetti straps, and buttons trailing down the train. Personalize this gown by opting for the matching Tripoli crepe satin off-the-shoulder draped sleeves. Alberta is the epitome of timeless glamour destined for your intimate renewal of vows.
If you're dreaming of renewing your vows on a special anniversary, Clover by Rebecca Ingram is THE gown for you—especially when paired with its matching detachable jacket. This classic satin wedding dress features an asymmetrically ruched bodice with a strapless, sweetheart neckline and a beautiful display of buttons trailing to the hem. Pair this beautiful style with its detachable jacket featuring beaded 3D flowers and bishop sleeves with crystal button closures or opt for its lace-up closure for a more personalized look.
If you're new to wedding dress shopping or just need a refresh, read our blog post on questions to consider while shopping for a wedding dress!
Plan the Vow Renewal Ceremony
PC: Lauren Carroll Photography
Now that you've decided on a budget and found your perfect dress, it's time to jump into full planning mode!
First, decide how many people you want to share this special moment with you and what kind of ceremony you want. Is it a recreation of your original ceremony? A big party? An intimate beach celebration? Backyard ceremony? No matter what your vision, figuring out your desired vibe will help you figure out how many people you want there—and the kind of location you should choose!
Other wedding vow renewal ideas to consider include the florals you'll use and the music you'll walk down the aisle to. You also might need to find an officiant—who, by the way, doesn't need to have marriage license! A vow renewal officiant is much more casual: it could be a friend, your kids, the person who originally married you, or even multiple people to wish you the best of luck with this new step in your marriage.
Usually, vow renewals don't include groomsmen, a bridal party, or parents to walk down the aisle; however, if this is something you want for your vow renewal, you absolutely can!
Pick Out Your Location
PC: Janette Downie Photography| PC: Sarah Joy Photography | PC: Mariel O. Photography
When it comes to planning a ceremony to renew wedding vows, your location options are endless! Some locations and types of ceremonies you could host include:
Backyard: the perfect, intimate setting to renew wedding vows!
Golf Course: a fun setting to renew wedding vows, complete with activities for your guests in the days leading up to or after your special day!
Beach: a classic, romantic setting that will be loved by guests! Not to mention, the sunsets are sure to be stunning!
Greenhouse: for our boho, garden-loving brides, a greenhouse is a unique setting to renew wedding vows.
Vineyard: for romantics and wine lovers alike, a vineyard vow renewal will be glorious!
Rented mansion: if you're inviting a large number of guests, consider renting a mansion where you can also hold the ceremony; this way, you can arrange lodging for your guests AT your venue!
A destination wedding: who doesn't love to travel and celebrate love at the same time? A destination renewal of vows is oh-so-special, and you deserve the best!
Elopement ceremony: for some brides, the perfect way to renew wedding vows is simply doing so with their one true love. Whether you elope in the mountains or in a foreign country, an elopement ceremony could be perfect for you!
Bed and Breakfast: if you're planning on a vow renewal with just a few close friends and family members, find a quaint bed and breakfast in a neighboring town! This is a fun way to get away, celebrate your love story, and establish a unique place you can visit on anniversaries.
Your original wedding location: what's more romantic than renewing your vows in the same location your marriage began? With a little planning, you can relive your first wedding day by recommitting to your vows.
A park: lastly, find your favorite local park to renew your wedding vows! This is a great option for brides who want somewhere local and easy to visit when you're in the mood to relive your special day once it has passed.
Write your Vows
PC: Lernia Winter Photography
This time around, consider your vows as a way to reflect on your life together—and much more casual. Here are some ideas to include in your vows:
Affirming your original promises
The highlights of your lives together
What you hope to accomplish together with the rest of your lives
Any hurdles you've overcome together
Here's a cute example of vows from a vow renewal: I love you more than words can say. I know you can feel it every day! And the best thing about it is that I feel all your love in return each and every day. 25 years ago, we started our forever story…thank you for choosing me to write it with.
For even more ideas for writing your wedding vows, read our blog post!
Planning your Renewal Reception
PC Tolman Media | PC: Jessica Jones Photography
If you've decided to celebrate your vow renewal with friends and family, you're likely going to plan a reception! Some things you'll need to arrange include food, drinks, and decorations. You'll also need to put on your dancing shoes and prepare a selection of music for the reception; you've already began your life together, so be sure to pick out music that represents your marriage!
Solidify Other Vow Renewal Details
Lastly, there are just a few more details to square away. Are you planning to get new rings or other tokens of affection? Will there be a photographer? Are you sending invitations? These are important aspects to think about and plan for as you gear up for your vow renewal! Another thing to note is that gifts are not expected but always appreciated when it comes to vow renewal ceremonies!
Well brides, you're all set to start planning your vow renewal! We hope our wedding vow renewal ideas help you throughout the process. In the meantime, be sure to follow us on our TikTok below for our 25 Days of Giveaways happening this month!
More Wedding Inspo Blogs:
Types of Wedding Hairstyles To Match Your Dream Wedding Look
6 Types Of Wedding Nails For The Classic, Edgy, And Girly Brides
15 Dog Wedding Ideas To Include Your Furbaby In Your Big Day