Hello lovely one, welcome to another Sunday of beautiful bridal and wedding inspo, this time featuring a Love My Dress bride through and through.
Former fashion buyer, now Retail Account Manager for The Jolly Hog, Abigail, married her beau Josh on 3rd December 2021 at Lyde Court in Hereford. The couple wanted to incorporate a loose valentines theme into their day, so wove the colours red and pink throughout in the form of flowers, decor and detail.
Enjoy this beautiful day as much as we have preparing it to share with you.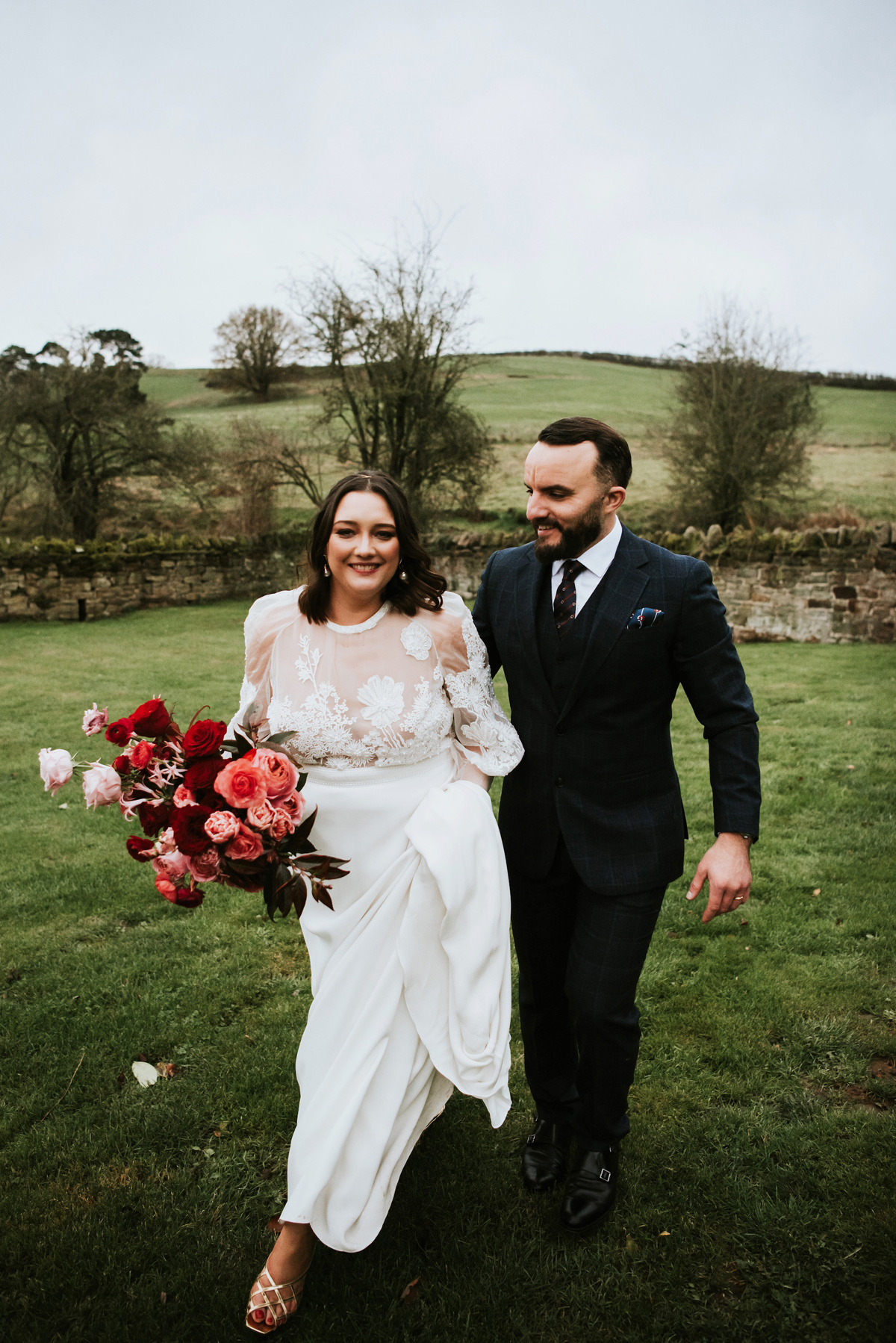 Venue
We always knew we wanted a winter wedding. We visited Lyde Court for the first time in January 2019.
Although we knew the gardens would be beautiful in the summer, the idea of being locked away in the barn with lots of candles and a very full dance floor sold it to us.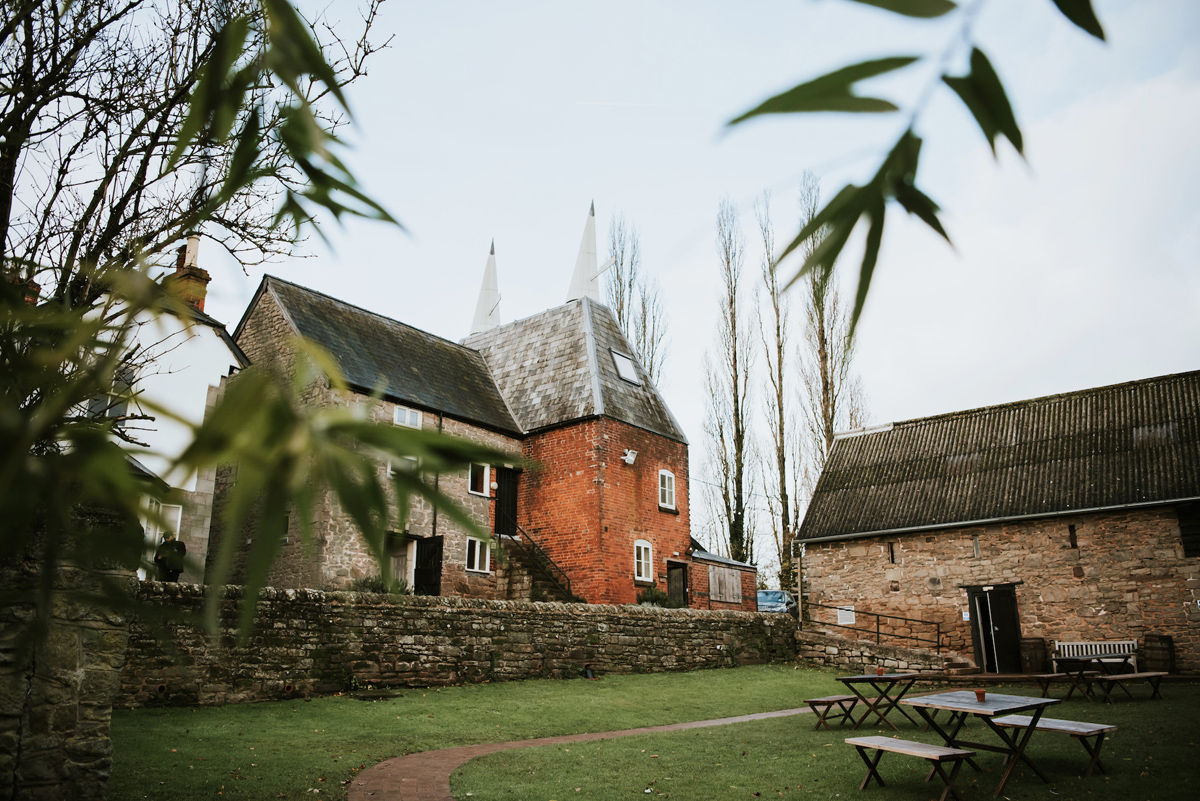 Bridal Beauty
Genevieve Turley joined our girl gang and was the perfect addition as makeup artist. My trial with Gen was fantastic. I had previously had another MUA booked before postponing and all though my trial make up was lovely, it wasn't what I has asked for.
My make up trial with Gen was perfect and exactly what I wanted. She also gave me the most fantastic face massage before all the madness started.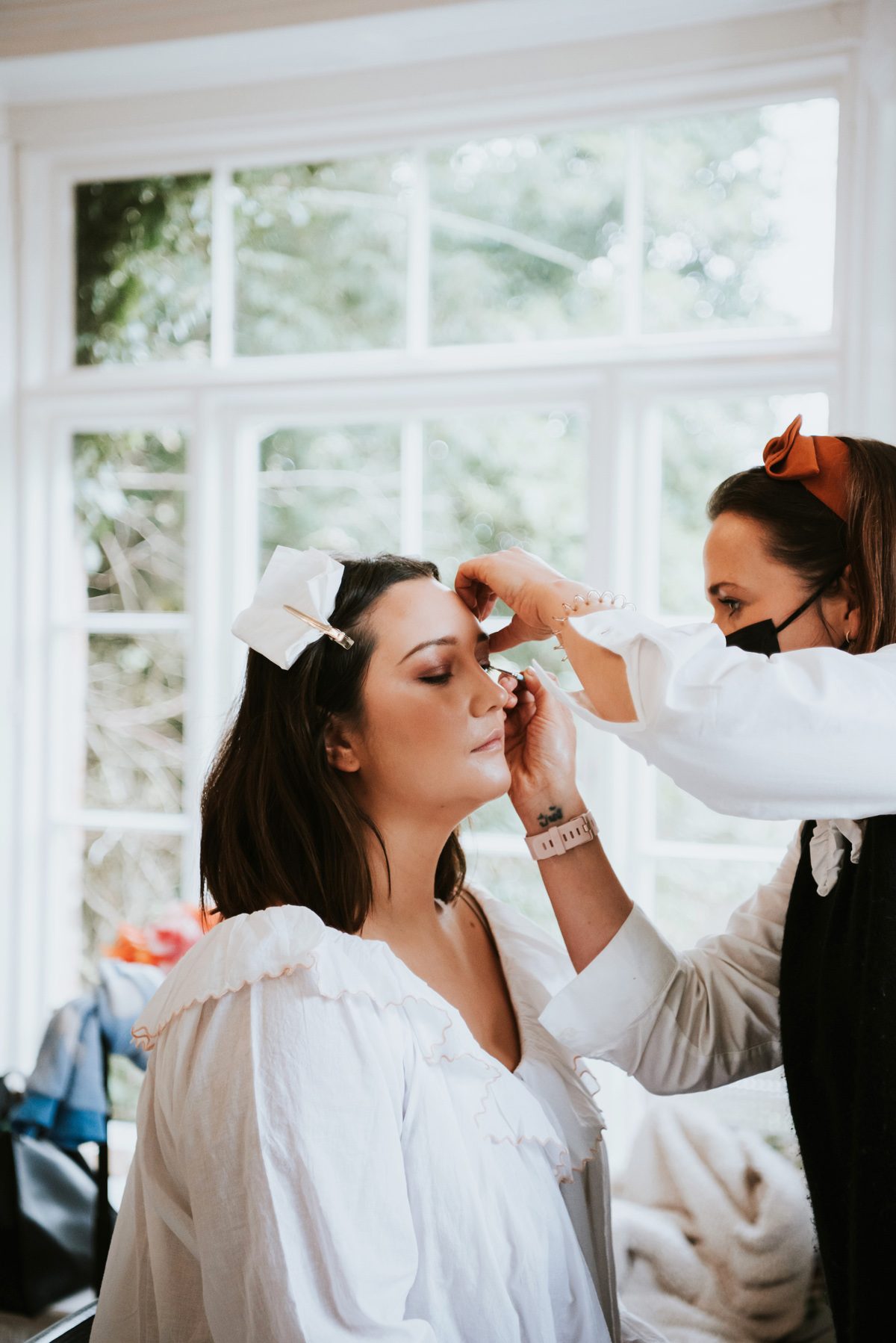 Steph Cole is a family friend and has previously styled my hair so I knew we were in good hands. She effortlessly styled us all. She even didn't judge me when I hadn't washed my hair as promised. Instead washed the front section in the sink.
Although both Gen and Steph are extremely talented in what they do, more importantly they bought fantastic energy all morning and just felt like two extra girlfriends. This was really important to me.
The Dress
I wore the Lou dress by French designer Caroline Takvorian, from The Mews Bridal in Clifton Bristol. I was sold once I saw the puff sleeve. Not only is the studio the most beautiful, serene place but Gail is a bridal fairy godmother and has the most impeccable style.
I would 100% recommend The Mews to other brides. Each experience visiting the studio was a dream day out. I just wish I had an excuse to visit again.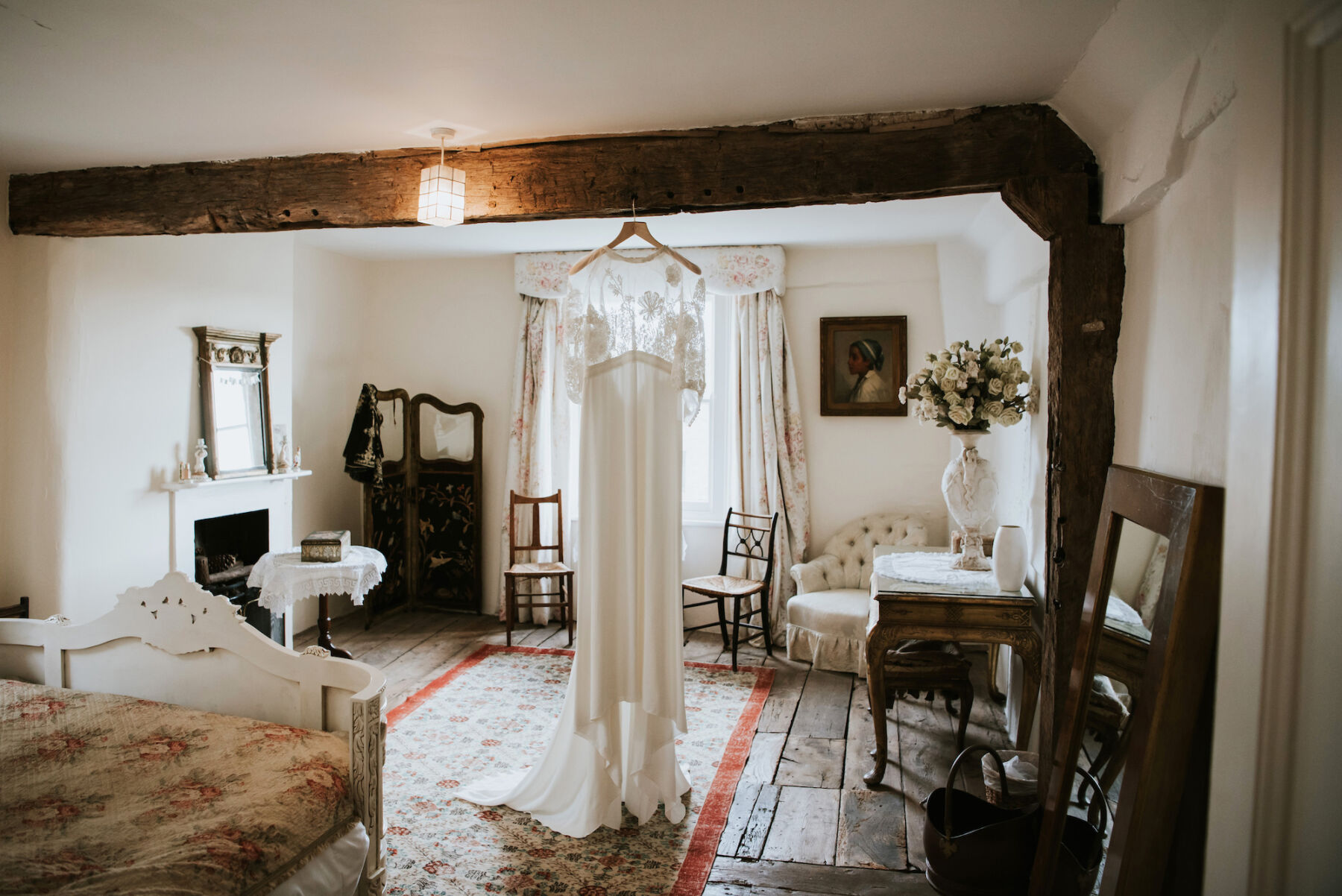 I had tried a few boutiques and even debated going custom made. After seeing photos on instagram of the Lou dress, I just kept coming back to it.  I knew I didn't want a large dress or anything overly traditional.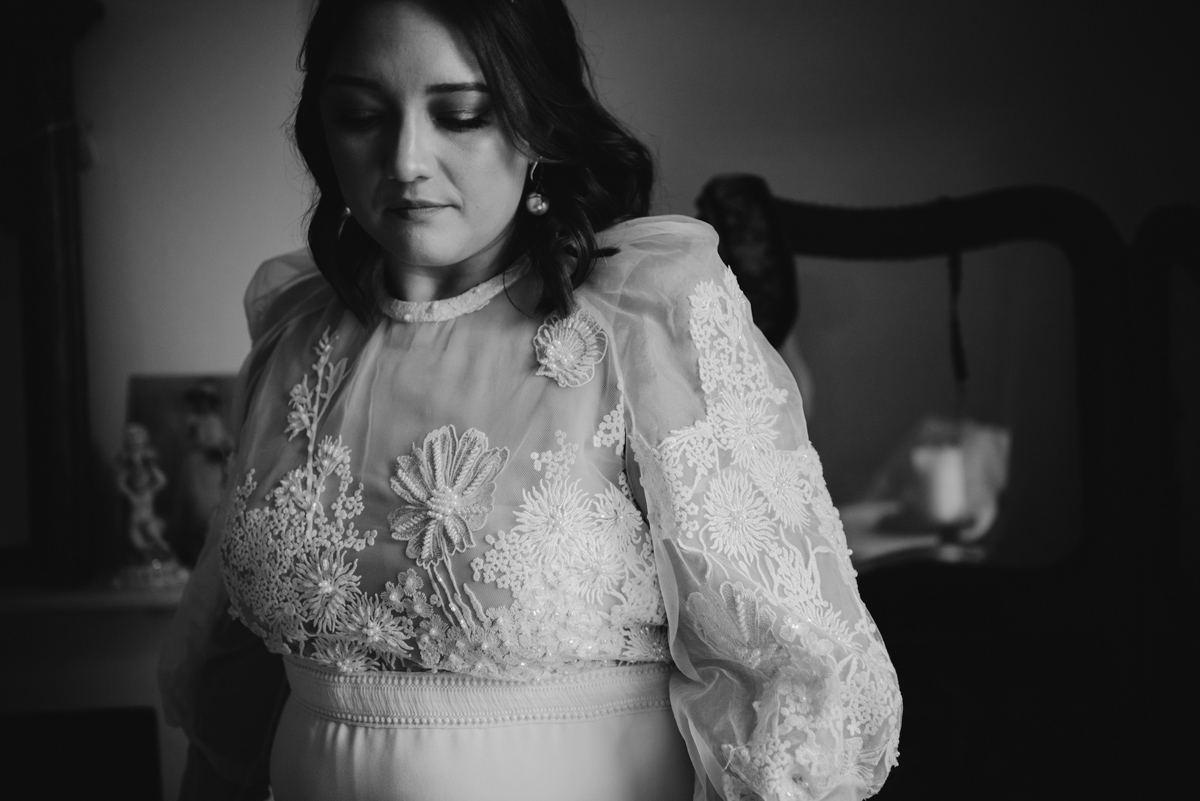 The dress also ticked the boxes with having something a little different with the sheer top and cut out back. I just wanted to feel my best version of myself and as soon as I tried Lou on at The Mews, I did.
Groom
Josh wore a Navy there piece suit from Reiss with Black leather monk shoes from Russell and Bromley.
He accessorised with a Gucci tie and pocket square.
Flowergirls & Pageboys
I had our two nieces Isla and Betsy as flower girls. I managed to nab the Pink oversized dress from the H&M and Simone Rocha Collaboration. We teamed them with personalised leather jackets by Betsy Designs and Leopard print converse. The moment I saw the girls dressed I knew it had all come together perfectly.
Our nephew Henry wore a white cotton shirt from Mango paired with Black and White checked trousers from Zara. I was keen for him to be comfortable all day.
Shoes & Accessories
I wore a pair of Gold Jimmy Choo Sai mules. I spotted them initially on a Saturday afternoon in Selfridges. I kept looking back at the photo of them and luckily spotted them in the Net-a Porter sale. I knew I wanted a shoe which I could wear again so anything White was out of the question. I have since worn them to other weddings as a guest but also for date nights or any more dressed up occasion. They always make me smile when I look down and I have a little minute going back to our wedding day.
I never wear my hair tied up so I always knew my hair would be exactly the same as it is every other day. Centre parting and slightly waved. I stumbled across Lelet New York on Instagram. I loved how simple their hairbands were. My mum kindly bought me the Gold Vera Exes Headband which I wore all day.
I knew I wanted a new scent for the day. Mainly so I could continue to wear it and be taken straight back to it all. I wore Diptyque Philosykos – I now wear it for any special occasion and it is my absolute favourite. Also how chic is the Diptyque bottle for those special trinket photos your photographer catches.
Handbags are my most favourite thing. Although I didn't need one, I couldn't help but find a cute pearl bag which fitted just my lipstick from Pretty Little Thing. It was the least expensive item of the whole wedding only costing £17.
The Ceremony
I had always planned to walk down the aisle with my Grandfather. Unfortunately in the run up to the wedding he had caught covid and was very unwell. Luckily after lots of rest he made it to the wedding.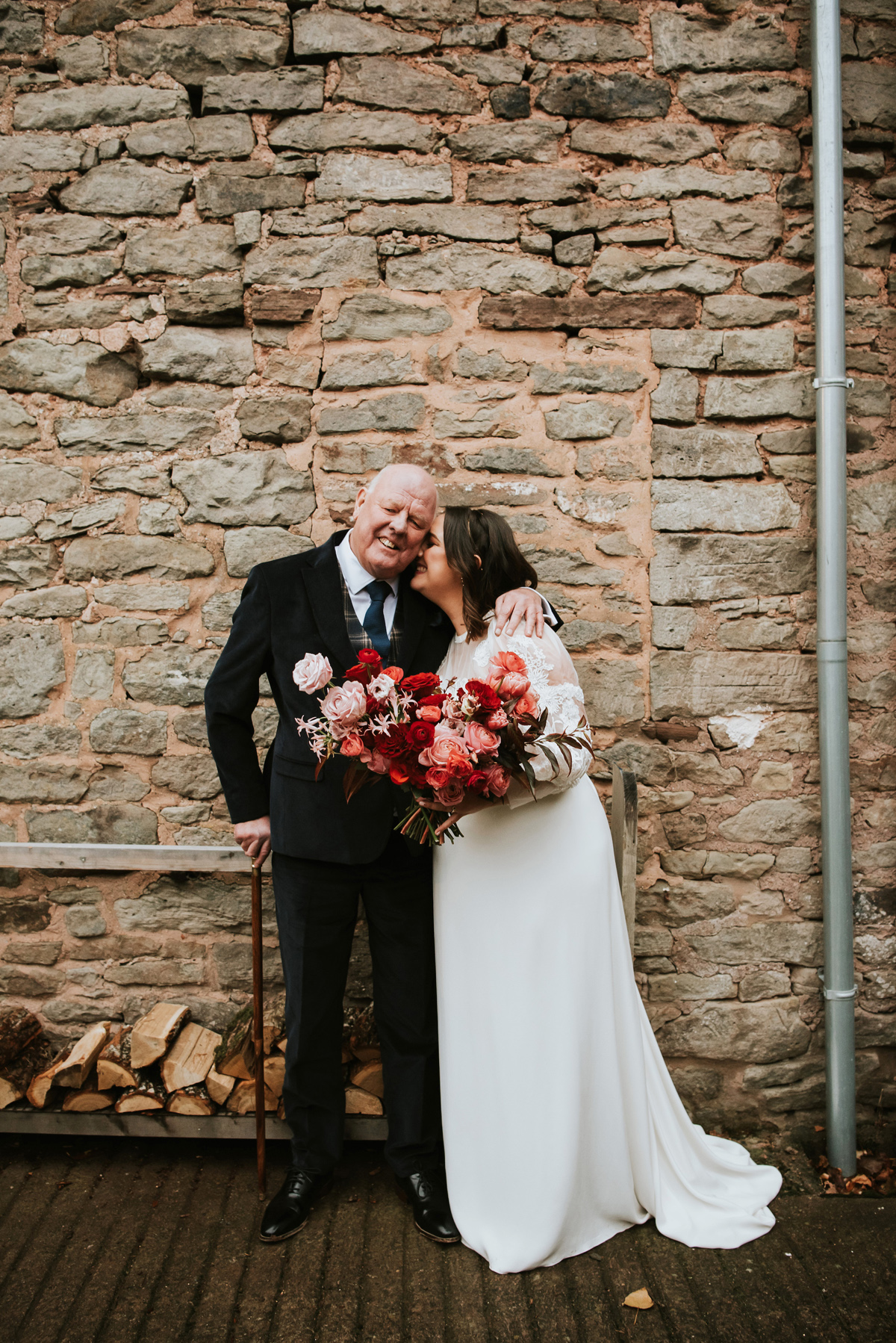 Five minutes before I was due to meet him, he had a fall. Feeling a little unsteady on his feet and not letting any challenge detour him from the task in hand, we made a change to our date for two.
We walked down the aisle with my step-dad on one side and my father in law behind in case of any wobbles. It was a bit of a squeeze walking down, but just before we set off I turned to them all to say thank you and how perfect I was walking with all my favourite men to meet my most perfect man.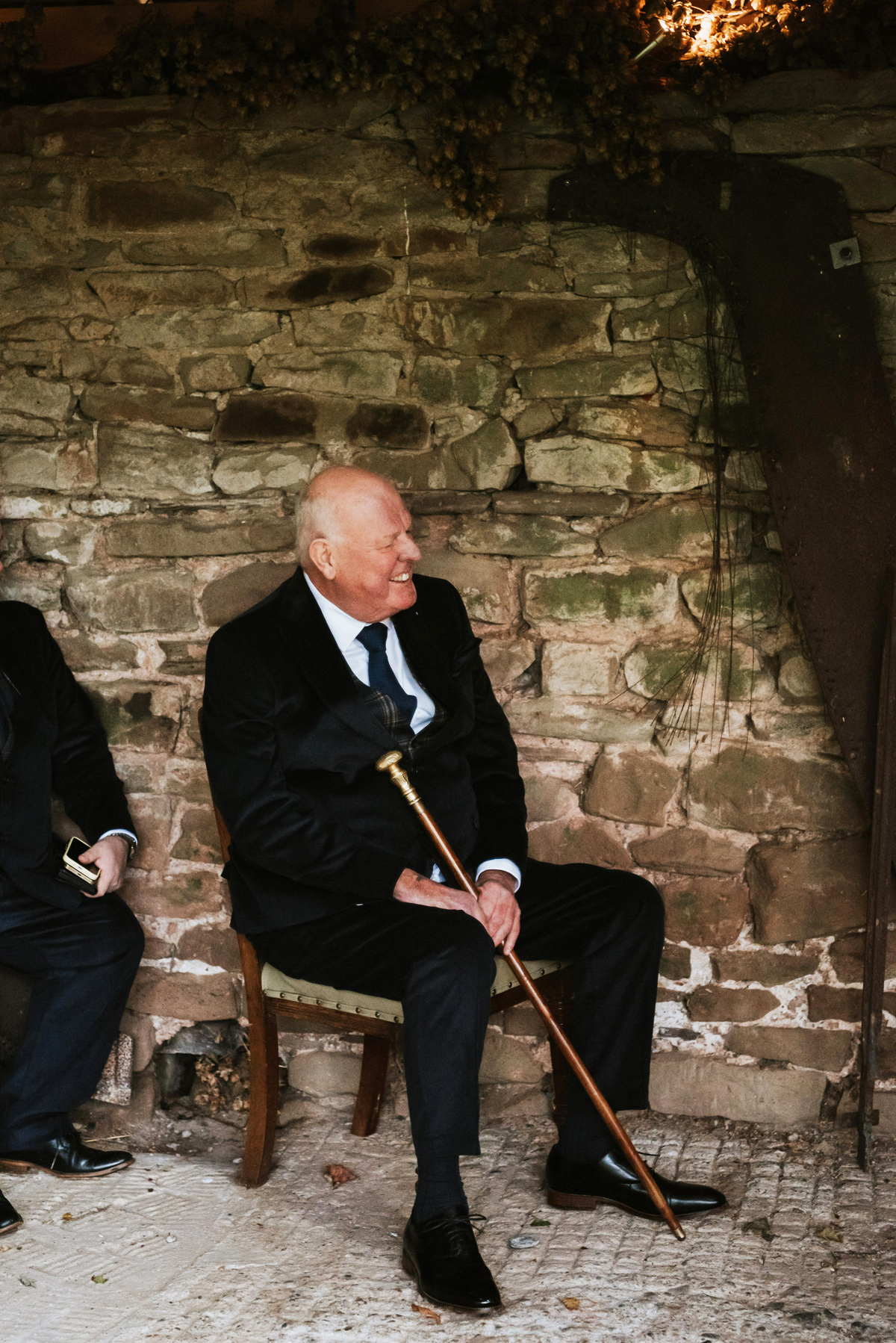 How They Met
We have been together for twelve years after meeting at university in Manchester in 2009. After university we moved to London to both pursue our careers. Josh made the call to move back towards our families and I followed in 2017. Our aim was to save a buy a house. Getting married wasn't on the cards then.
Fast forward to Christmas Eve 2018, after moving into our house together in the summer. Josh completely surprised me by proposing on my favourite day of the year Christmas Eve.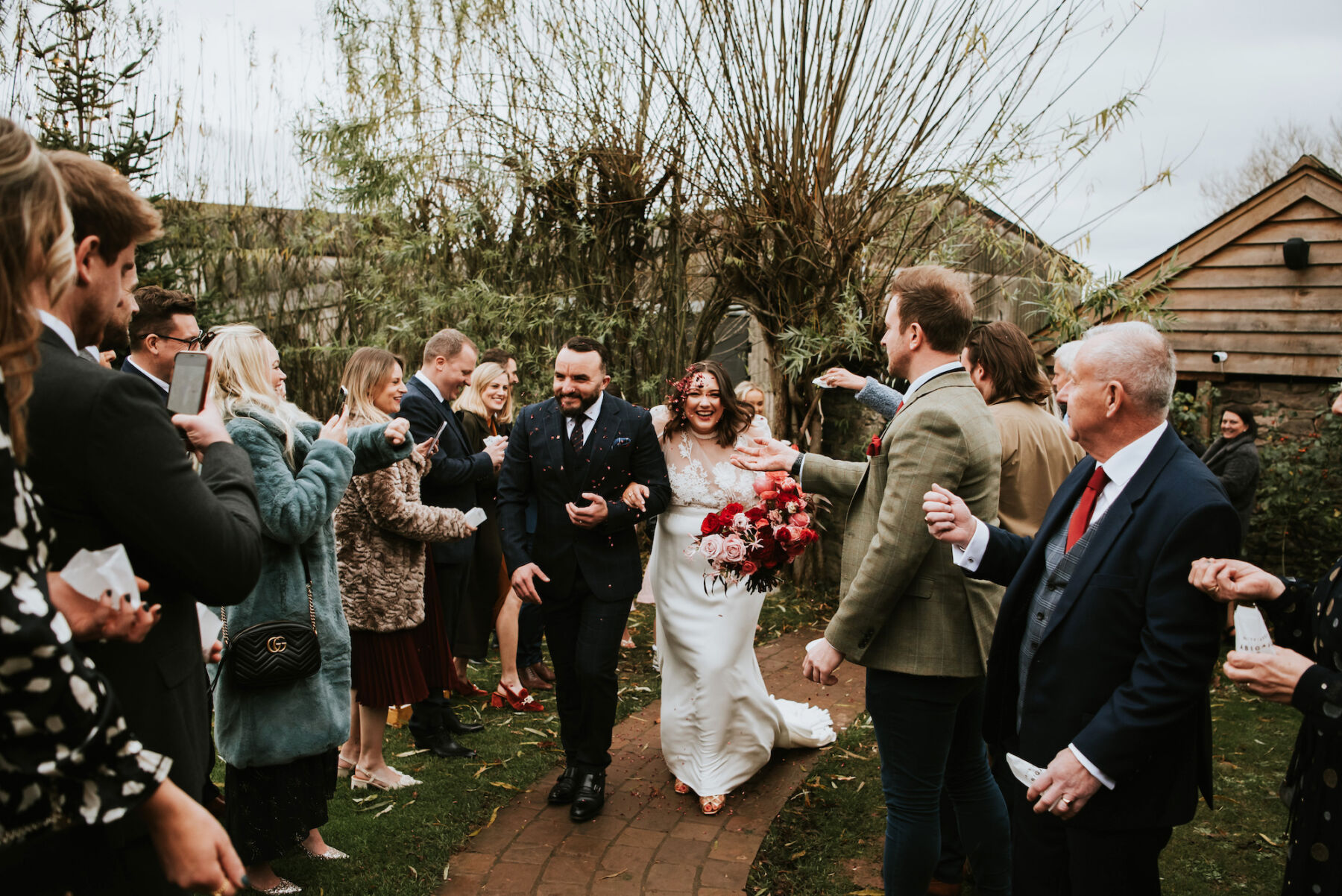 We already had a dinner booked, though he suggested before hand that we visit a local viewing spot which over looks the town of Monmouth where we now live to see all the Christmas lights. After a slight issue of the site being closed and climbing over a fence. Josh got down on one knee. We kept the secret to ourselves for a few hours, before heading home to FaceTime anyone who would pick up. It was the most magical Christmas enveloped in celebrations and love.
Strangely our initial postponement took place way before the C word was a thing. With me being Welsh and Josh English, and both from rugby loving families we were aware picking a February wedding date may have a six nations rugby game clash. However, the Wales vs England game was not the perfect backdrop for our wedding day. There comes postponement one number.
February 26th, 2021 became our new date and even when Covid became a thing like many we all thought come 2021 it would all be over.  We made the decision to postpone New Year's Eve 2020 and set our sights on December 3rd, 2021. As my father-in-law said in his speech, we beat captain Covid, even just for one day. As the week running up to the wedding the dreaded Omicron variant took over the news and more panic set in.
Although every bride and groom have now said it, it was 100% worth the wait. I could not imagine my day without everyone there and that extra few months made it all that more special.
The Photographer
Rosie Kelly was the very first supplier we booked. I found her from spending hours scrolling instagram. When we had to postpone I was adamant we were not going to find another photographer and our date would have to work around Rosie. I loved every image she posted. I then met her and literally fell in love. Not only is Rosie the coolest chick, she is completely approachable, and has your best interests at heart. Throughout all the planning she checked in to see how we were, when things were really uncertain due to covid, she kept calm and supported us.
We had booked Rosie with the option of a second shooter. Unfortunately twenty four hours before the wedding, her second shooter was taken down with covid. Rosie remained calm, managed to snap every photo we wanted (including on my mother in laws iPhone – which I protested at). She also guided me through the whole morning. Her photos completely reflect our day and we could not have been happier with the finished outcome.
Videographer
A family friend Mike Neale, filmed our whole day. Although a professional film producer weddings aren't usually his thing. But he did a wonderful job. I know a video is the first thing to be cut when the budget gets tight.
But I would wholeheartedly recommend a video. It was the best watching back after the wedding. It also gave us an excuse to get our families together again.
Bridesmaids
I searched high and low for bridesmaid dresses. I toyed on the idea of some puffy fairy tale dresses, long dresses, patterned dresses until I accidentally saw these gorgeous dresses in Rust from this Love My Dress wedding. I debated changing our whole colour scheme just for these dresses from Pretty Lavish.
Then after searching I saw they had the Blush Pink in the sale. At only £32 a dress I doubted they were any good. But they arrived and fitted my two bridesmaids perfectly. I think they may have been one of my most favourite parts about the whole styling of the day.
Annie and Niamh wore Gold open toed shoes from Warehouse. They were simple shoes which didn't take away from the dress and also the perfect heel height for all day.
Reception, Decor & Detail
In total I think we used 200 candles. They were so important to giving us that finishing touch and look fantastic in our photos. We also used Vintage Gold China Hire for the hire of vintage glasses and gold cutlery. It just gave our tables a more finished look against the industrial barn.
I was sadly let down by our original cake supplier – she seemed to disappear off the plant without a trace or reply to any messages. Luckily I found Jo at Miss Havishams Cakes. Jo clearly understand our brief of a Pink cake and worked closely with Jen for the floral toppers. We chose two flavours, White Chocolate and Raspberry and Dark Chocolate and Irish Creme.
Although I didn't get a look in on actually trying the wedding cake, her tasters were delicious.
The cake also played a huge part in the overall styling and look. We gave it its own table filled with candles, it looked so picturesque.
Evening & Dancing
I love dancing and Josh loves a party so we knew we needed an top beat track. We chose Luther Vandross – Never Too Much. I think we disappointed our guests by not having a choreographed routine, but hopefully our impromptu performance of Golddigger later in the evening made up for it.
We decided on the song quite early on in our planning. It then made us both feel very excited when we heard it in the run up to the wedding.
Although slightly awkward standing and dancing with everyone watching you. The best feeling is when they all join you and the room is just filled with love.
Words of Wedded Wisdom
I wouldn't change the day at all. It is easy to look back and say I wish I had done this or that. Although we weren't away long for photos during our drinks reception, I would maybe have broken this up. At the time you just want to be surrounded by everyone.
Our initial budget was £20,000, I think we were most likely closer to £27,000. We got to a certain point and stopped counting.
Make sure the day is all about both of you. Ignore other opinions because ultimately it is all about what you both want and how you want to celebrate.
Budgets can be tough, pick three areas you aren't willing to scrimp on. That way you know your priorities are going to be fantastic and great quality. You really get what you pay for.
On Love My Dress
I visited Love my dress a lot! I also loved the Facebook group, and popped a few questions in there which other brides happily helped with.
Love my dress always stood out to me because of the feeling of community. It always felt so supportive to the industry especially when weddings were on hold.
I follow the love my dress Instagram and honestly, I love everything about it. I also think it is the most stylish blog and I would not want to feature on any other.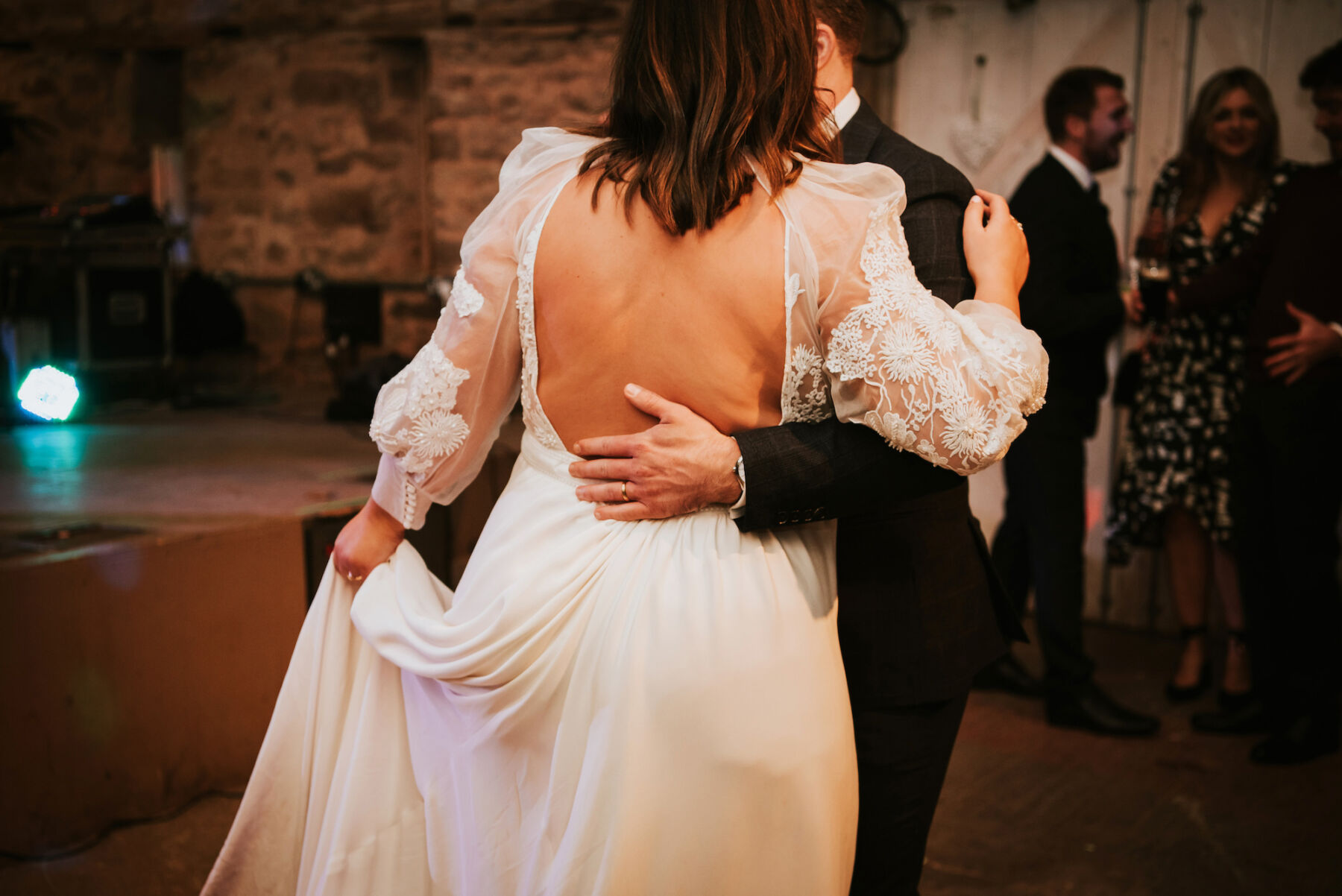 Find wonderful suppliers here…