Fiction Writer Martha, married her beau Anthony, on 7th November 2021 at River Cottage HQ in Devon.
Their wedding was full of modern, romantic vibes and we were especially touched to discover the bride supported a Ukrainian wedding dress maker having discovered her via Etsy. Not every bride is looking for a couture gown and we hope that Martha's experience of ordering online encourages those who are looking for an alternative dress option. Enjoy these beautiful images, the winter light, and joyful gathering, captured beautifully by Emma Stoner.
The Venue
We wanted a venue that was relaxed and where food was going to be the main focus of the day – with sustainability and organic produce at the heart of it all. Anthony is Italian, so food is especially important to him and it was important that we could design our own menu and not just pick dishes from a pre-set list, which we were able to do with River Cottage's amazing chefs.
We created an Italian-English menu, using all local, organic produce. We had been there a few years before to a food festival and didn't originally consider it as a venue for our wedding as we assumed it would be out of our budget, but it turned out to be very reasonable for us.
The best part? Hiring out the farmhouse the night before and the night of the wedding and having our immediate family stay the two nights there with us – we had cosy fires, indulgent breakfasts and spent really great quality time together throughout the celebrations. It was a dream.
Another great reason we went with River Cottage is because our package meant we had the venue exclusively – only our wedding party would be there on site, which was important to us.
A Dress From Ukraine
I purchased my wedding dress from Etsy (huge risk, I know – and it was non-returnable!) from a company called Stylish Bride Accessories – their workshop is in Ukraine. I never liked the idea of traditional wedding dress shopping – being dressed and presented in that kind of way was something that made me feel uncomfortable and this whole 'say yes to the dress' scenario has never appealed to me.
I never pictured myself in a traditional bridal gown, I am quite tattooed and rarely wear dresses, and never wear white. After months of trying to find something I liked the style of, I decided to try Etsy and take the matter into my own hands.
The dress I bought was completely transparent so I wore a slip underneath it that cost me £10 – just a simple skintone bodycon dress.
Shoes, Veil & Accessories
I did! I bought my veil before I bought anything else. It was from Etsy, from a seller called WCollective. I was looking for something a little different and found a champagne sparkle veil, which looked amazing. It ended up working perfectly with my dress, too.
I saw some beautiful shoes with a thick heel from ESSKA, they were called Fink and I bought a pair in the champagne colour. They had a cutout panel in the front and the heels were chunky enough for me not to stumble during the day as I am terrible in heels! They are so comfortable that I can't stop wearing them, which is great as I didn't like the idea of buying all of these things that would have a single use.
I wore the Aurora hair comb from Tilly Thomas Lux. I bought it during lockdown so couldn't try it on, but had a really great video call with Sally and she made the clip a little shorter for me as I have a small head!
I wore my usual perfume, Deep Night by Ghost. There's nothing that smells as heady as that perfume, it's my signature scent.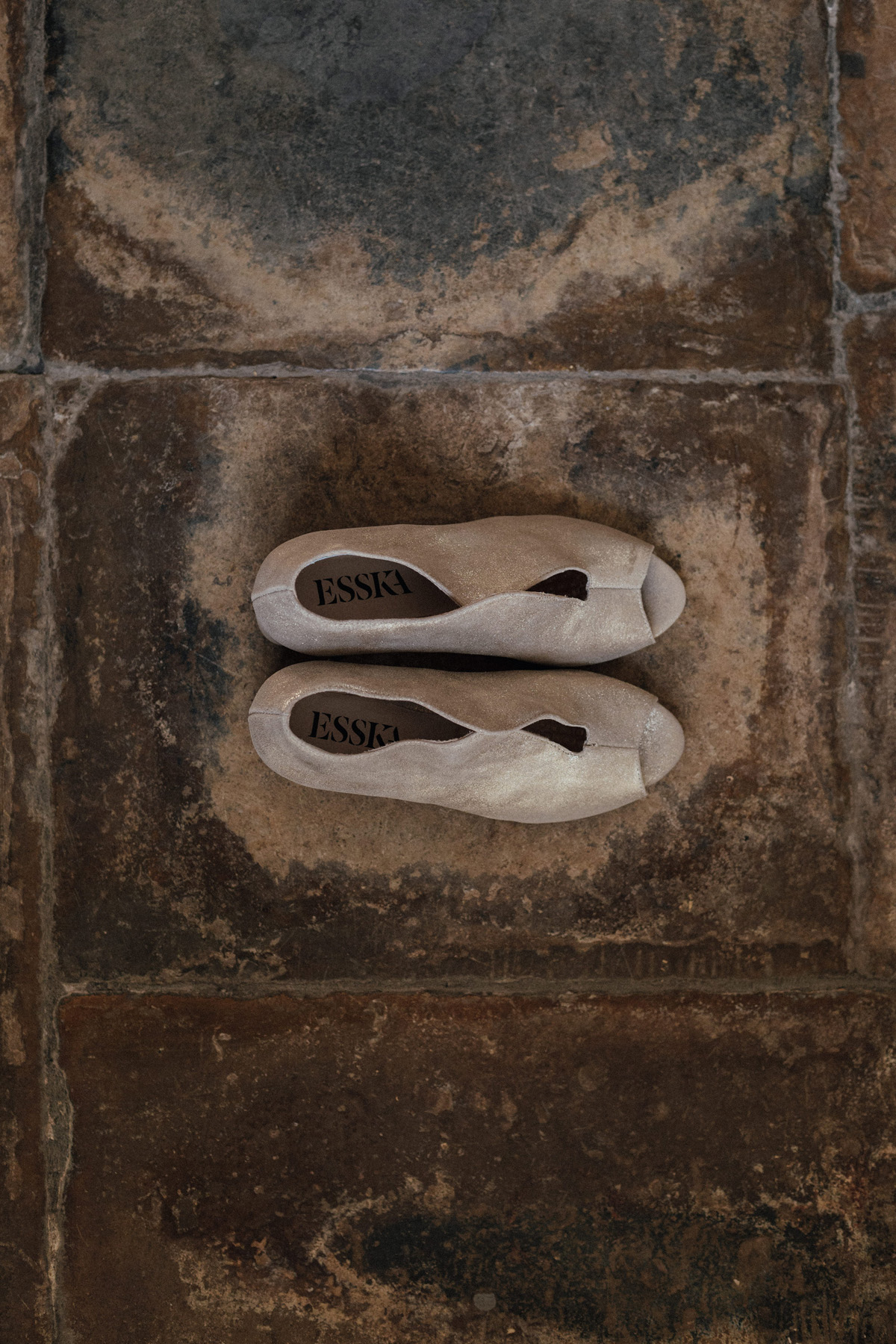 I knew I didn't want something white and I knew that wanted something that would be sparkly at night as the sun went down, so I searched for gold sparkle gowns and found this company who make dresses to measure. It was non-returnable as the dress was made to my exact measurements, but I could choose everything from the sleeve length and style to the detailing on the back, the train length and neckline.
After some very careful measuring, I took the plunge and bought it, and the dress arrived around a month and a half later in a very small box – it turned out that it had been vacuum packed! It fit perfectly and was exactly what I had hoped for. The process was super easy, just a few back and forth emails and a few DMs on Instagram – and the women I dealt with were lovely. They updated me throughout the process and I was so happy with the dress when it arrived.
While it's a risk to buy a wedding dress like this, I would absolutely recommend it – especially for anyone with an alternative view on weddings. I loved the dress I chose, it was really different, really comfortable and lightweight, and exactly what I'd pictured myself wearing when I got married.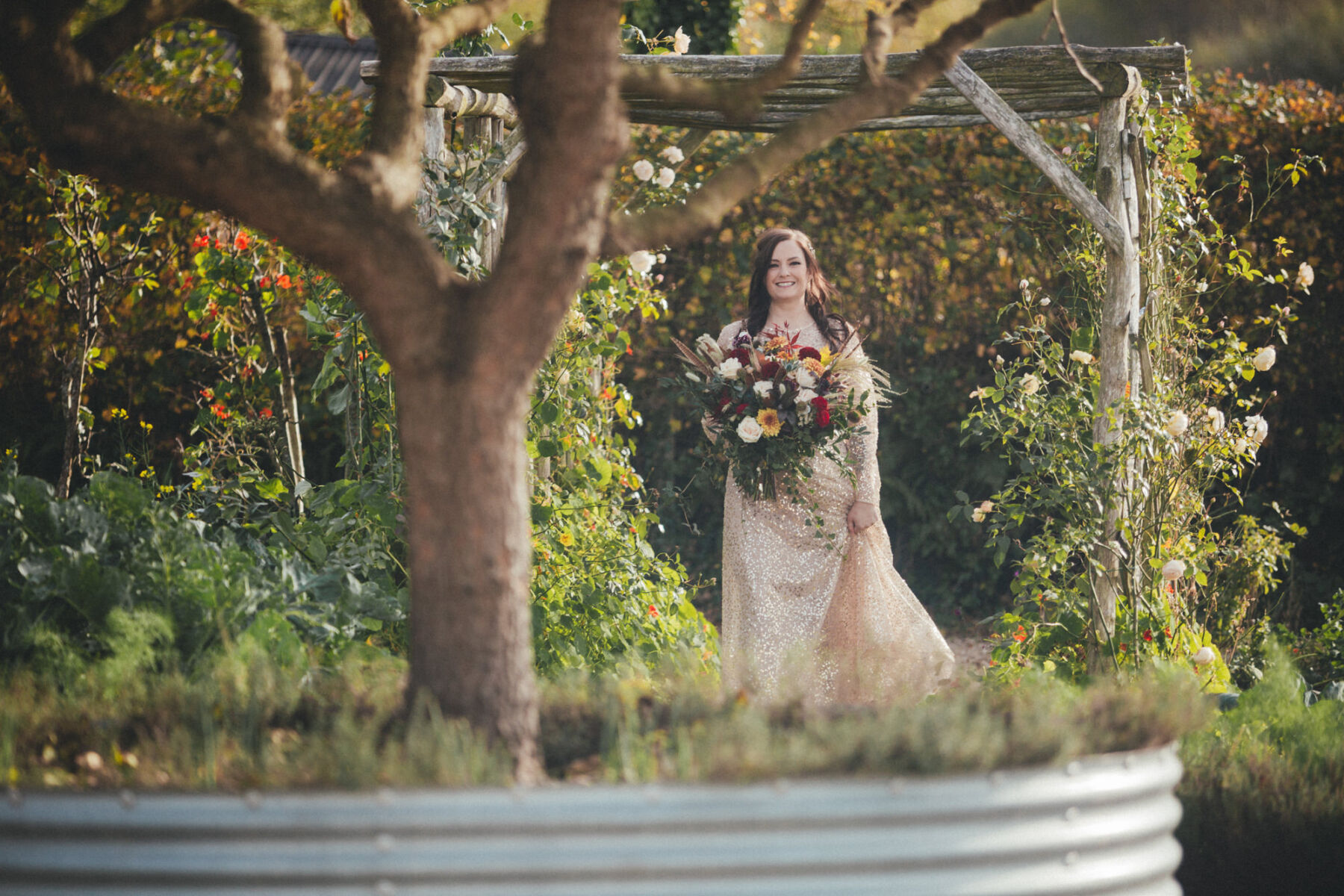 The Proposal & Engagement
Anthony and I met at work. It was quite a strange story; I was headhunted for a job in April 2017 and on my way there they called me to say the interview had been cancelled, so that was that.
Two months later, I was at a wedding and had a call from the same recruiter to say the person they had hired for that job was no longer there, and if I was interested they would like to meet with me. So, I went to the interview and was hired on the spot.
Anthony wore a suit from Marc Darcy, the Eton blue tweed suit. He wanted something with a country style given our venue and something that would be warm enough for a November wedding as our ceremony took place outside in the garden, in front of the farm house. He wore a bowtie with a saxophone pattern on it as a way of honouring his father, who was a talented saxophone player. This was such a lovely detail, small yet so personal.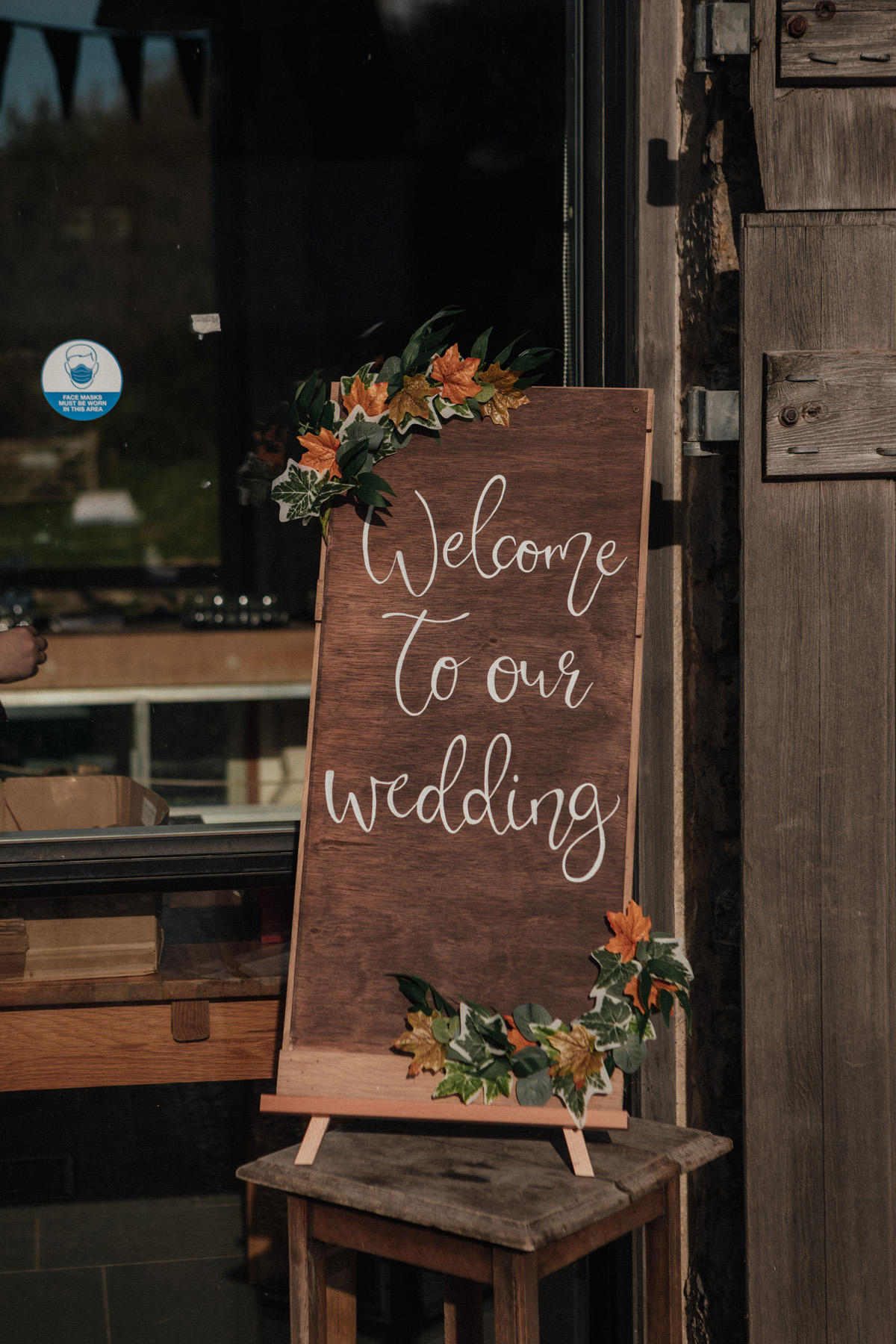 At around the same time, my now husband was in Italy, where he grew up, interviewing for a job at the same company in a different department. I started in June 2017 and he started in August 2017, and his first words to me were at the printer, when he asked me, "Do you like the disco?" It was such an odd introduction and strange question, and I knew we would get along instantly. We had many dates over coffee and whisky and just clicked.
We moved in together in May 2018, the day after attending a punk festival, got two cats a year later, and then went to the Finnish Arctic Circle in December 2019 where we got engaged on the shores of a frozen lake where we had been aurora hunting the night before.
The Ceremony
I didn't like the idea of being given away and what that represented, so decided to walk on my own and then Anthony would come and meet me halfway. To us, this represented the fact that we were choosing to walk this new path together – it was really special. Even if my father had been alive, I believe I would still have done this.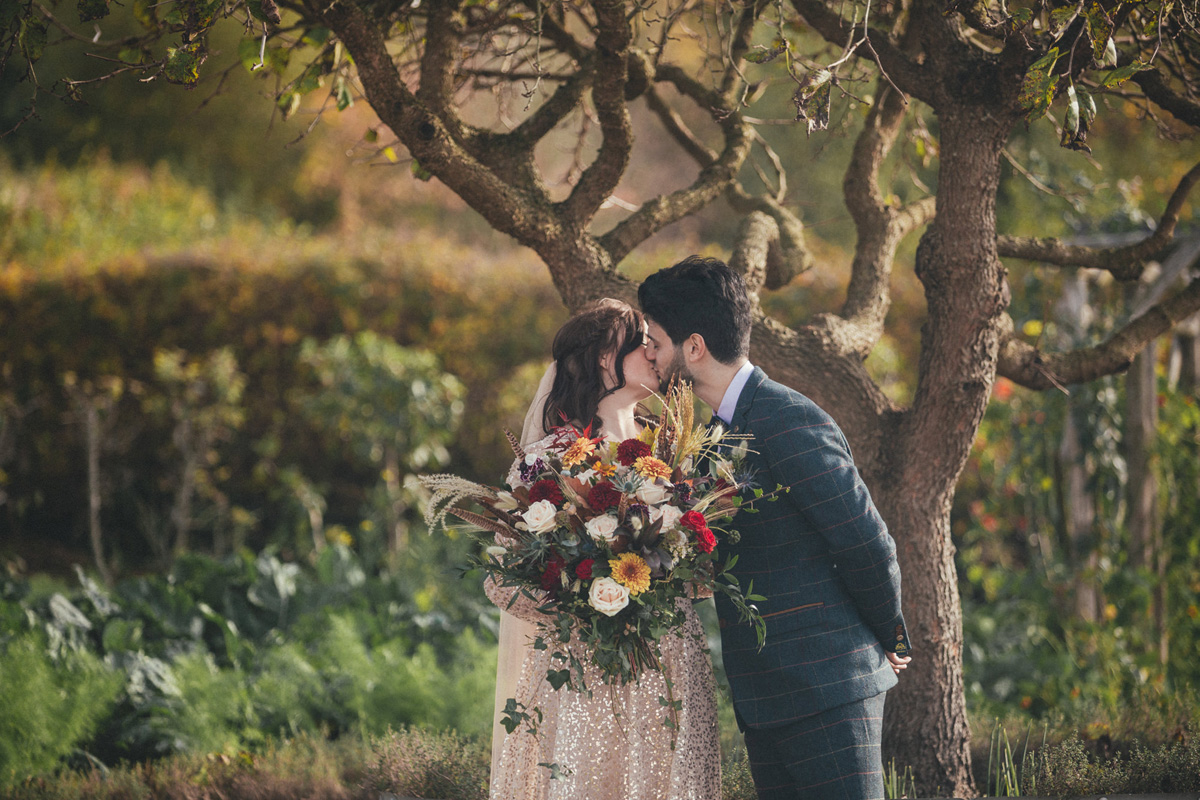 I walked through the garden to a song by Thrice called 'Stay With Me', which was special to us. As guests were being seated, we had Elliott Smith's 'Say Yes', 'Bloom' by Paper Kites and 'First Day of My Life' by Bright Eyes.
Rings
We wanted personalised and I wanted stars engraved on mine, so after a lot of searching online we found Ruby Tynan via Instagram and she created our rings for us. Anthony's is a simple gold band and mine is a gold band with celestial engravings. Both of our wedding bands have a personal engraving on the inside. Ruby was fantastic to work with, the finished rings are wonderful and we were so glad we chose her:  this was the ring she made for me – I added a personal engraving on the inside, as did Anthony.
I only wore the Aurora clip from Tilly Thomas Lux, my wedding ring as mentioned above and my engagement ring, which is a gold band with a black moissanite central stone.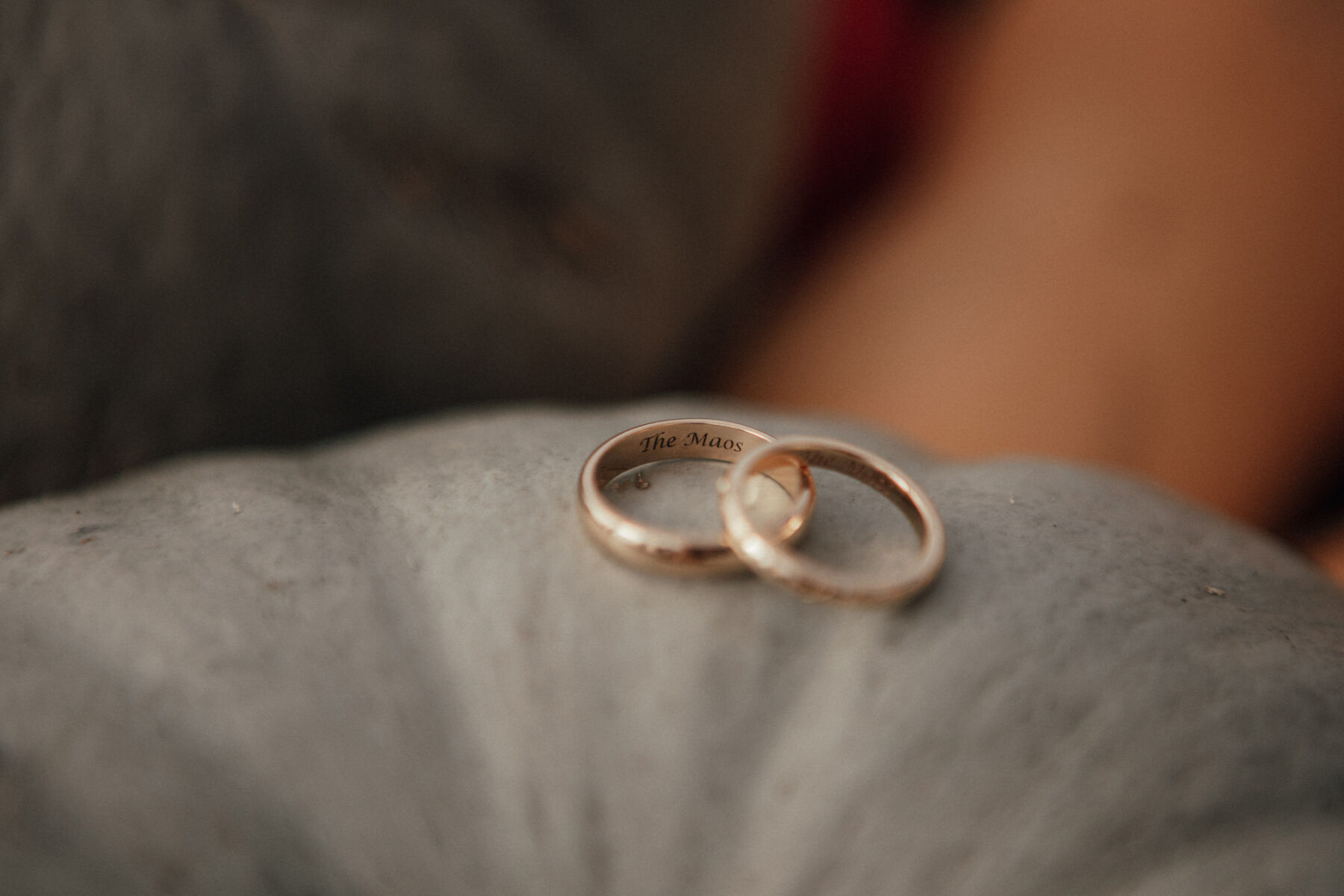 We had two wonderful women from the Devon Registration Service do our ceremony – we were so touched by the ceremony and their words, it was lovely. We outlined what kind of ceremony we would like in the paperwork ahead of the ceremony and left the rest up to the registrars. It felt like such a personal ceremony and was just what we wanted.
Flowers
While looking through Instagram at River Cottage, I saw photos of a wedding that had the most incredible flowers. It turned out they were done by Wild Alice, so I got in touch with Emma. I told her what kind of flowers we would like, dark, deep and drawing on the season, and she went above and beyond. I've never been so amazed by flowers.
She did an arrangement above the door that we got married in front of, created a huge bouquet for me and then a buttonhole for Anthony, a corsage for my mum, and a lush greenery garland for the banquet table.
It turned out that she wasn't local to the area, but we were so amazed by her floral design that we had her do our wedding anyway – she is also the loveliest person. Everyone we worked with was!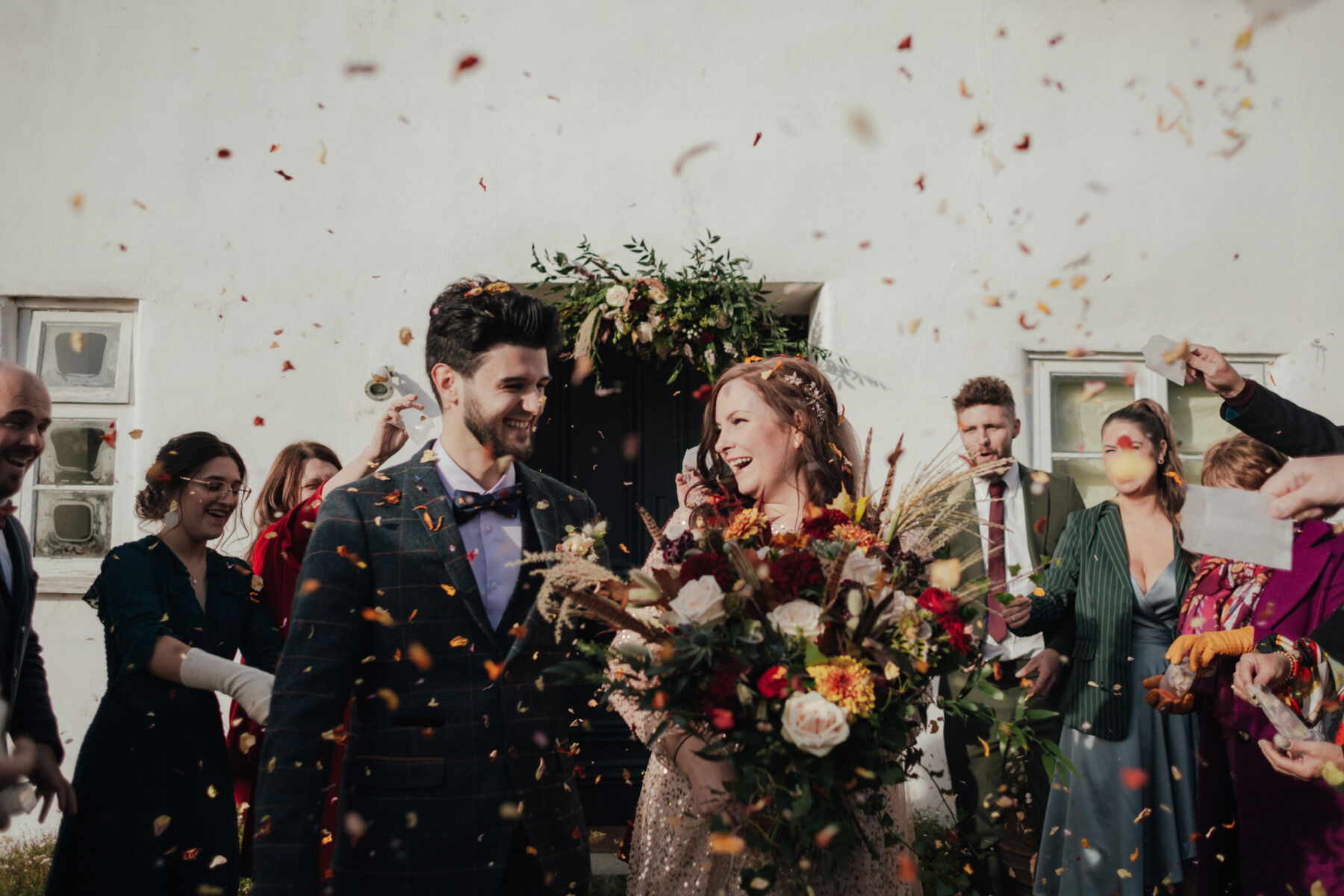 The Photographer
We chose Emma Stoner as our photographer. We found her on River Cottage's website when we were looking for wedding suppliers and fell in love with the candid nature of her photos she had taken at another wedding there. It was great to know she had done other weddings at the venue, which meant she would already know the best places to get great shots, and we wanted our wedding photos to be as unstaged as possible – which is exactly what we ended up with.
We had a few phone calls with Emma and got on really well, which filled us with confidence for the day. When we met the morning of the wedding, it was so lovely to put a face to the name and voice, and we barely noticed Emma taking photos throughout the day.
When we received the full album, there were so many times when we both said "I didn't know she took a picture here!" because she was moving around completely unnoticed and really captured the joy and emotion on people's faces.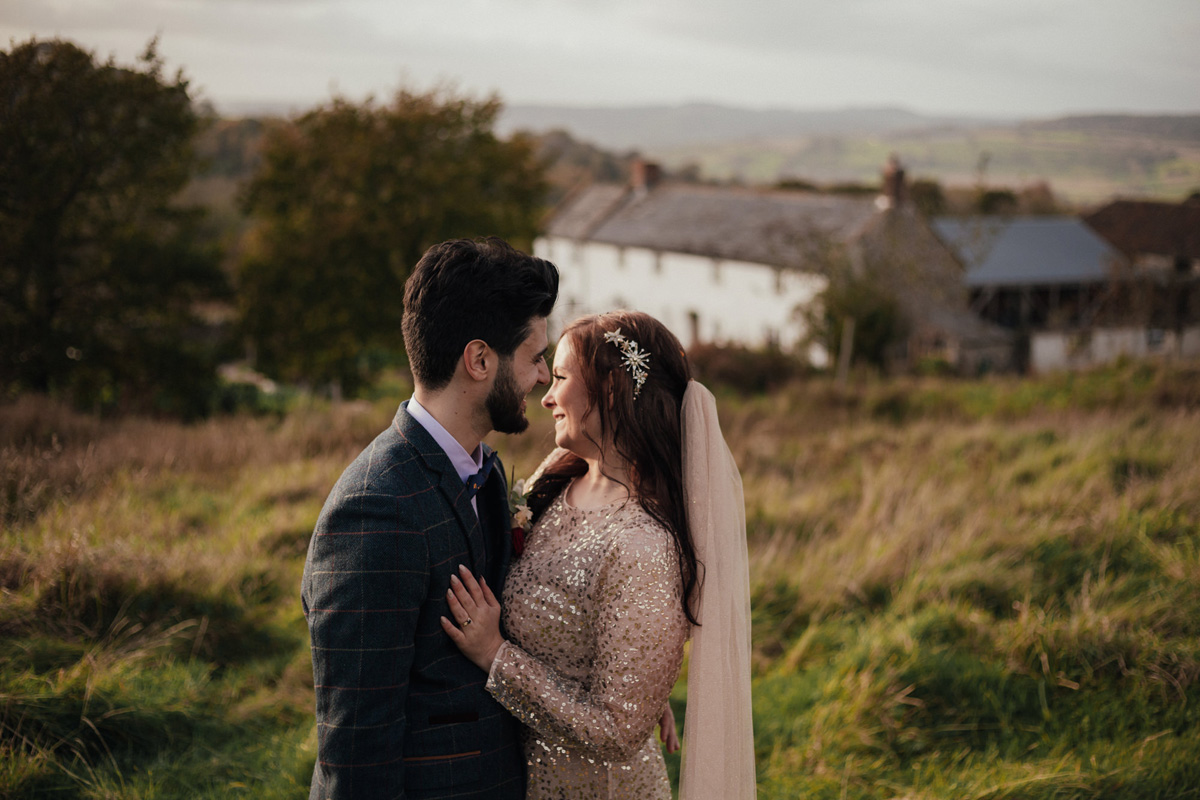 When we went up onto the hill to take photographs of just the two of us, Emma made us feel really comfortable and the end result was wonderful.
We would absolutely recommend Emma to anyone getting married – she has an innate talent for capturing moments in such an intimate way and the style of her photography is just so beautiful. We often look back through our photos, they mean the world to us.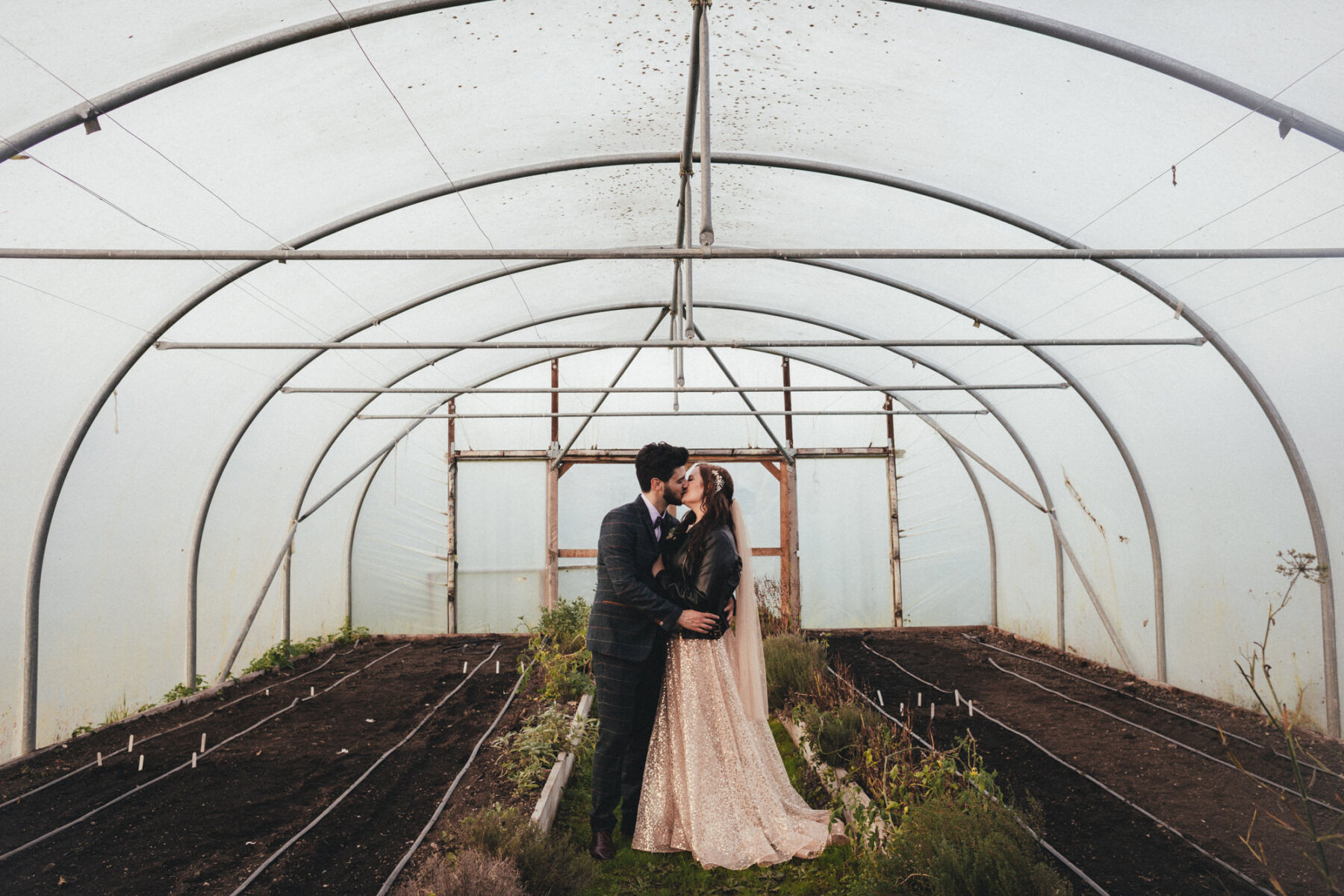 Jacket
As our wedding was in November, I knew I'd need some kind of jacket or coat, so decided to look into a leather jacket with some customisation. I came across Rock Paper Nib and saw the incredible jackets she had painted and knew I had to ask her to paint mine.
We had a few conversations about style, colours and overall inspiration and then she created the most amazing design. There's a large moon to one side with the words 'against the world' next to it and some deep coloured flowers around it.
The wording was especially poignant for us as we had been through so much together in the space of a year – we bought our first home in March 2020 (closed on it about three days before the lockdown began and the estate agent threw the keys to us from the window of his car!), there was a global pandemic, we dealt with redundancy and furlough, and then Anthony lost his father unexpectedly.
We supported each other through the most stressful and difficult things and the past year has shown us just how strong we are together, so the wording on the jacket had a lot of meaning for us.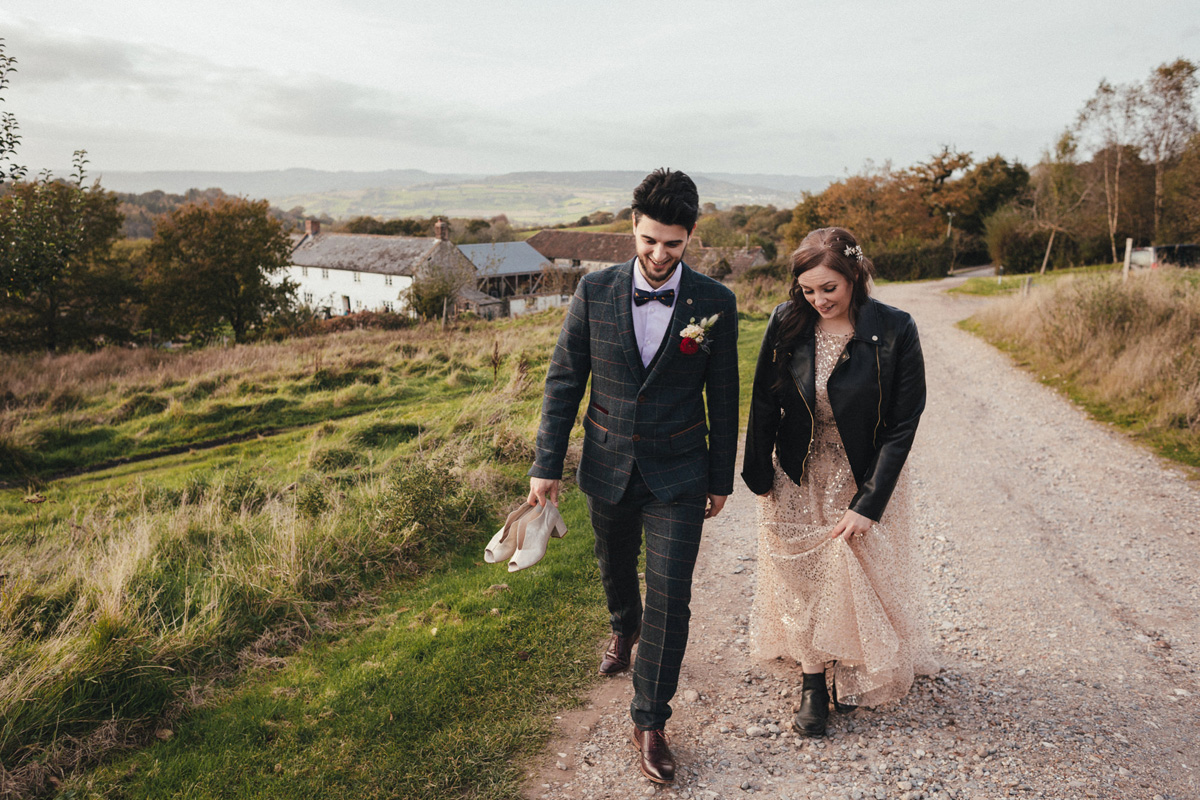 Decor & Detail
We wanted things influenced by our interests and personalities incorporated into the day. We had a few celestial touches (my jacket, cake decorations, the engravings on my wedding ring and my hairpiece) as I'm really interested in moon cycles and the tarot, there was a strong emphasis on food throughout the day due to Anthony's Italian heritage (dad was Italian, mum is a Londoner, but he was raised in Italy so is more Italian culturally), and we wanted a lot of natural, simple elements.
Autumn is our favourite season, so we drew inspiration from foliage and nature for the décor and flowers.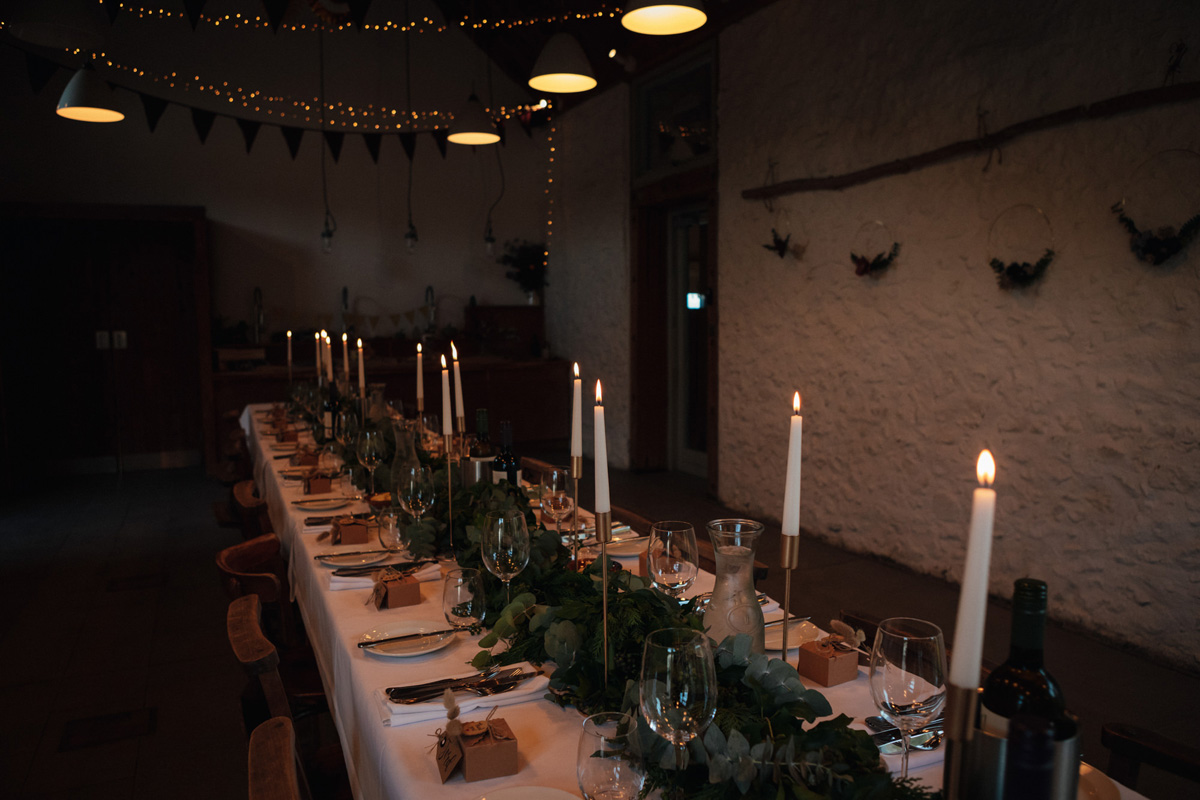 My mum and I made the decorations and styled everything. She had to shield during covid and took retirement a little before she should have as a result of it, so she was stuck at home not seeing anyone. She is incredibly crafty and I asked her if she would help me make the decorations, which she luckily agreed to! It was really special to be able to go and spend time with her in our bubble making everything from place settings to felt flower hoops.
We found an amazing chocolatier in the New Forest called Maja Palmer and asked her if she could make us some wedding favours. She made us two different chocolates – one filled with biscoff and the other with a hazelnut ganache, which were hand decorated and delicious.
We also had a tiered 'cheese wedding cake', from The Cheese Shed in Devon, which was delicious – they have this amazingly useful tool on their website where you can build your cheese cake and see how many grams you would need and how it would stack. They also went above and beyond the morning of our wedding when the scheduled delivery failed to show up and one of their staff personally drove a whole new order over to River Cottage for us.
Planning in a Pandemic
We had invited 50 guests and only 25 ended up being able to make it, but we didn't reschedule our wedding day. Anthony's father very sadly passed away in May, just months before our wedding, and I lost my father when I was a child, so we were very set on not postponing because there doesn't seem to be such a thing as 'the right time'. Life is incredibly unpredictable and often unbearably short, so this idea was at the forefront of our minds the entire time leading up to our wedding and pushed us to keep our date regardless of the situation.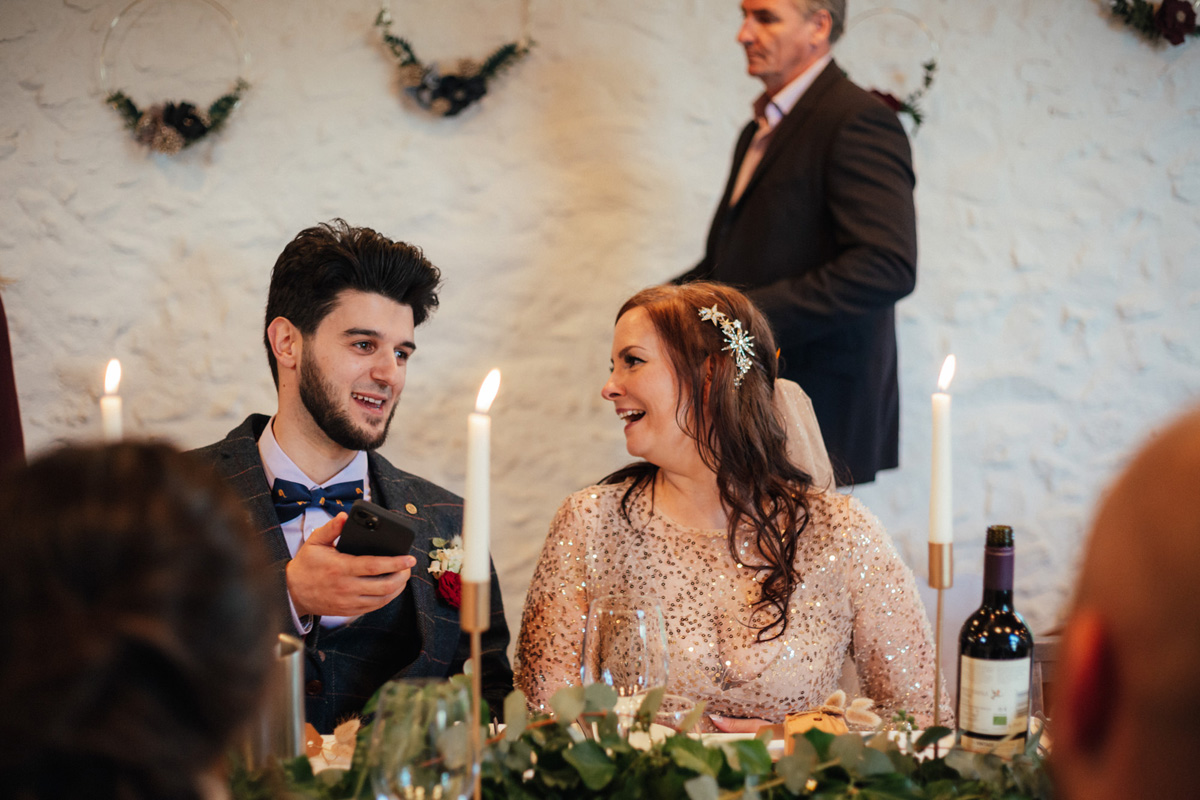 We wanted to get married and would have done it at the registry office if we weren't able to have it at our original venue. Our advice is just to keep sight of what it means to get married, parties can always come later – becoming husband and wife was the most important thing for us.
We didn't have bridesmaids or groomsmen – or a maid of honour or a best man, we just wanted a simple ceremony with our friends there to celebrate with us, rather than them having a set role on the day.
Evening, Dancing & Favourite Moments
Due to the small nature of our wedding, we made a Spotify playlist that was very eclectic and just ran that throughout the evening and during our lunch.
We had no attachment to the idea of a first dance at all, but did one because it was a nice marker of events that typically take place at the wedding – it was something we did more for other people, really. We picked 'Hero' by Family of the Year for our first dance.
Our wedding coordinator at River Cottage, Lucy, stressed to us that having those moments alone during the day would be really nice, and she was not wrong. One of our favourite moments was when we had five minutes to ourselves in the farmhouse after the ceremony – just before we walked out to the confetti.
We were handed a spiced pear bellini and just had that 'oh my god, we are actually married' moment and it was so memorable.
My favourite moment of the day actually came before the wedding – it was waking up together in the farmhouse at 5am because we were too excited to sleep anymore and then going outside for a walk around the garden as the sun came up. We got to see a beautiful pink sunrise, did a trial run of walking down the 'aisle' and then went back inside and made breakfast together – the anticipation of the day was really exciting and it was a lovely way to spend the morning before we got married. I'm so glad we didn't spend the night before apart, which is what a lot of people traditionally do.
Words of Wedded Wisdom
Anthony says no to this, but I think I would have scrapped the first dance. Neither of us are particularly into dancing and our wedding was so small there wasn't really a dancefloor or party as such, and the pressure of finding that 'first dance song' – or even having 'a song' as a couple – is something probably a little shaped by Hollywood. We spent a lot of time going through album after album trying to find something appropriate or meaningful and it was something we did more for the sake of pictures than because we wanted to.
We didn't start out with a budget as such, but knew we didn't want to spend excessively on one day. We managed to do everything for £10,000, with some serious saving as masterminded by Anthony (you should have seen his wedding spreadsheet, it was the most organised thing I've ever seen – I'm more of a write notes on the back of a receipt kind of girl) and some help from both of our mums.
You don't have to stick to traditions just because they're traditions. We didn't like quite a few of the typical wedding traditions, such as the woman being walked down the aisle, wearing white or having to have bridesmaids or a best man, so we just didn't include them. It's easy to get caught up in the expected wedding day template, but if it doesn't feel right it's perfectly fine to sidestep it. You'll never please everyone on your wedding day, so you might as well do what feels genuine to you.
We didn't do the whole spending the night apart before the wedding – we had what felt like a sleepover, we stayed up talking until late and then woke up at 5am and went for a walk around the garden in front of the farmhouse, looking at the herbs and the vegetables that were picked for our lunch that day and there was the most beautiful autumn sunrise.