Wedding Inspo | June 6, 2022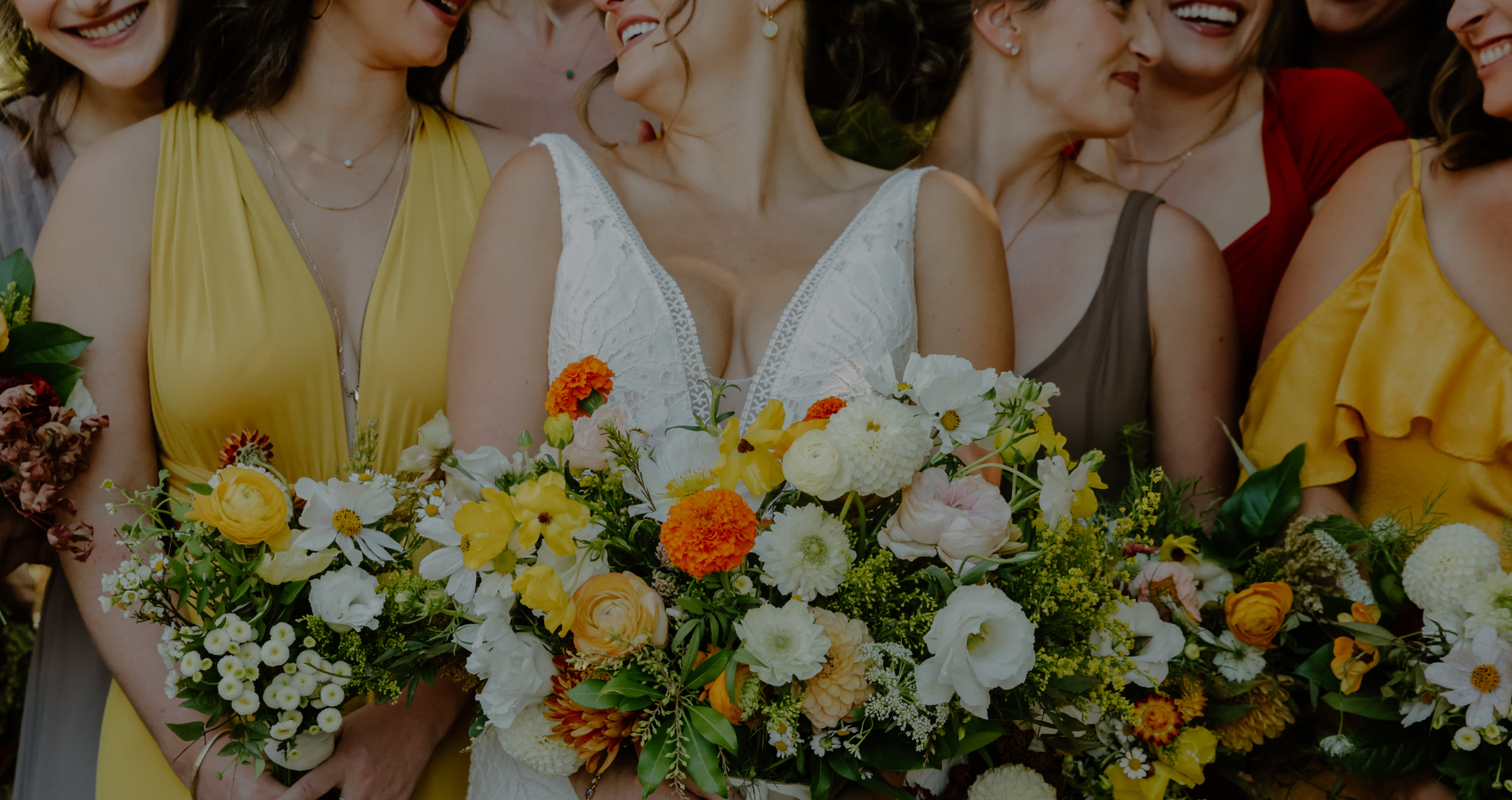 Nothing shouts summer like a wedding! According to The Knot, the most popular months to get married are between May and October (gorg!). With warm weather and sunshine, it makes sense that a summer wedding is one of the most popular times for engaged couples to celebrate their love stories!  
Planning a wedding is hard work, but so worth it once all the details fall together. Summertime offers various venue options. From an outdoor wedding at a local vineyard to a ceremony with mountain views or even a quaint wedding on the beach, the options are endless! To ensure your summer wedding is a total success, read our best summer wedding tips and tricks, and sign up for our exclusive Maggie text messages below!:
Get Inspired for a Summer Wedding
PC: Jenna Marie Clark Photography
Whether you've been pinning to a wedding board on Pinterest for years, or just began brainstorming your vision after your significant other popped the question, it's always a good idea to gain inspiration before you get into the nitty-gritty of planning your wedding.
To find even more wedding ideas for summer, you can try scrolling through social media and saving photos from wedding magazines to add to poster paper or a folder for safekeeping. Bookmarking websites with photography and ideas that match the summer wedding style you want to emulate is another option.
Having an aesthetic is key, and you'll find that saving ideas gives you a roadmap as you navigate picking out a reception venue, ceremony location, decor, wedding dress, flower arrangements, and even colors for your summer wedding. To stay organized, consider investing in a wedding planner or notebook that you can take with you to service appointments and stores where you'll be finding items for the big day.
Psst… Read our blog on our must-have wedding checklist!
Set a Wedding Budget
PC: The Evoke Company
There's a lot that goes into your wedding, so don't let the financial aspect of planning stress you out. To ease this feeling, figure out how much you can afford (or are willing) to spend on your special day, and develop a spending plan. (Reading our blog on the ultimate wedding budget is a great start!) Think about the different financial resources that could help your budget as well.
Discuss any expected family contributions to cover costs with your partner and other financial management strategies: decide whether or not you want to take out a personal loan, learn about a personal line of credit, research credit card options, sign up for a cash-back rewards card, or ask vendors and venues about potential installment payment plans they offer. Looking into different options and getting opinions on what may be best for your situation is a good way to ease money-related stress. After you do your research, consider talking with a financial advisor to ensure it's the best avenue for financing your wedding day.
Book Your Venue
PC: Micaela Grace Photography
Picking a location is one of the most important parts of your wedding, and there are a lot of different details to consider when choosing a wedding venue. Ask yourself if you'll be hosting the ceremony and reception at the same venue, or are you interested in having those at two separate places? 
As you're touring venues, here are some questions to ask:
What dates do they have available?
Are there discounts available for the day or time of your festivities?
Do they have any noise or time restrictions (this could affect how long your reception could potentially last)?
What is their cancellation policy?
Is there insurance coverage available in case you have to cancel or reschedule?
Are there in-house caterers and bartenders or what are the recommended places to outsource from?
What materials do they supply? Some venues may provide items like chairs, tables, and tablecloths, meaning fewer items you'll have to rent or buy.
Are they using sustainable practices for their venue?
Make a list of questions and be sure to take notes throughout the duration of your tours. That way, you'll be able to weigh out options when it comes time to put down a security deposit.
Find the Perfect Wedding Dress
PC: Antonio Pro Photography
Once you have your vision, financial aspects planned out, and an idea of what to ask your potential venue manager, it's now time to find your dream dress. Finding the perfect wedding dress can be a tough decision, which is why it's a good idea to figure out your style beforehand. Having this in mind when you go to try on dresses will be super beneficial, not just for you, but also for the stylist trying to find you THE dress.
Don't forget, for a summer wedding you may want to go for a dress with lighter fabric so you don't get too warm. If you find one you really like, but it has a lot of layers, you can always talk to your stylist or tailor to see if some of the tule can be cut out or replaced (hello, personalizations!).
When you go dress shopping, consider bringing people from your wedding party and your closest family members. Having these extra set of eyes may allow you to receive honest opinions about the fit, style and overall look of the dresses you're trying on. Ultimately, you need to love the dress, so go with what makes you most comfortable and confident. Although it's great having others join and share their opinions, it's your day and you want to be able to look back on your wedding day knowing that you were loving what you were wearing.
Top tip… Consider these gorgeous Quick Ship gowns for you summer wedding as well! These are great options for brides with a faster engagement – these gowns arrive sooner than normal!:
Jazz Up Your Big Day
There are many ways to jazz up your summer wedding. If you're looking to really wow your guests, think about the vendors you're going to hire and the activities for your guests.
A great way to see how vendors prepare for summer weddings is by looking through their social media profiles. Many businesses post photos from previous weddings they were hired for, and couples leave comments or reviews to share their experience, so you should read through those too. Investigate vendors such as caterers, photographers or videographers, transportation, florists, bands or DJs, a photobooth company, lighting designers, bakers, and wedding planners. 
If you and your significant other want to highlight an experience you've lived through together with a service or experience at your wedding, there are plenty of ways to get creative with your caterers and bar service. Consider different food themes that correlate with places or flavors you both enjoy. Decide whether you want a sit-down meal, buffet, dessert bar, champagne toast, or an open bar. To spruce up the cocktail hour, consider a champagne wall or bourbon bar to give you and your guest a fun time.
How your guests can leave their well wishes is also a fun way to get creative. It's also one of the best ways to look back on wedding memories. Think about how guests can share how much fun they had at your reception and make the experience unique.  You could have guests leave a video sentiment! Set up an antique phone where guests can leave voice messages. Another ideas is to have a book where guests can write a wishful note next to a polaroid photo of themselves.
PC: Kate Nolan
Entertainment options for the big day can also be a fun way to show your personality as a couple. If you want entertainment on top of = a DJ or band, include fun lawn games at your reception. If you're hosting an outdoor wedding, there are a lot of different activities you could incorporate such as:
Corn hole
Giant Jenga or Connect Four
Croquet
Badminton
Bocce Ball
Poker Station
If you want to make your wedding even more extravagant, consider entertainers like acrobats or caricatures. If your event goes into the night, you could consider having mini bonfires. Ask your venue if you can set up small fire pits for guests to enjoy while roasting some marshmallows.
Be Sustainable
It's never a bad idea to keep the importance of being sustainable in mind. Start by picking an eco-friendly venue with eco-friendly materials. Having an outdoor summer wedding is already an environmentally friendly option! Add to it by utilizing the beauty of nature as the backdrop (and for decorations). If your venue doesn't supply certain items, consider renting. There are so many rental companies out there with plenty of upscale pieces you could use. 
Another way to be environmentally conscious is to ensure everything is picked up and recycled. Have a strategy to do this after the ceremony and when the reception is over. You should also think of ways your wedding exit toss (if you plan on having one) is eco-friendly. Consider using bubbles, rose petals, or anything else that is biodegradable to ensure you aren't littering or harming animals.
And finally, after your big day comes to a close, consider donating your decorations. Decorations can be donated to Goodwill. Leftover food can be shared with a local food pantry! Lastly, wedding flowers can be given to wedding guests to take home.
Plan For All Weather Conditions
PC: Wilma Towell Photography
If you are having an outdoor wedding, you'll want to make backup plans for any type of weather that may come your way. As beautiful as summertime can be, there's always a chance for thunderstorms, wildfires, and major humidity or heat. It's important to have a backup plan in case this happens. If your wedding is primarily outside, consider speaking with your vendors ahead of time. This will give you options so you aren't scrambling at the last minute.
When you book your venue, make sure you know their weather contingency plans. Maybe they have space for a tent or specific space inside! If you live in a location where the heat can be unbearable, consider getting some fans! These can be located around or above the dance floor. You can also help conquer weather challenges with party favors. Purchase little handheld fans for guests to hand out as they enter the venue. Or think about getting customized water bottles or umbrellas for guests! This will ensure they can stay hydrated if it's too hot or stay dry if it drizzles.
A lot goes into planning your big day. From envisioning what you want it to look like, to managing expenses, selecting the wedding dress, picking venues, hiring vendors, and having a plan B. Making sure you have all these factors in mind will allow you to flawlessly plan the summer wedding of your dreams.
Consider signing up for our exclusive Maggie Newsletter below for tips, tricks, and wedding inspo and as always, good luck bride!
More Wedding Planning Ideas:
10 DIY Wedding Projects To Do With Your Family Over The Holidays
10 Tips for Writing Romantic Wedding Vows For Your Wedding Day
8 Must-Have Tips On How To Shop For A Wedding Dress For The First Time