We will never, ever tire of sharing weddings and all that they represent and we will never not have that 'Monday' feeling of looking ahead at a brand new week ahead that is bursting with lovingly curated wedding inspiration that we have planned to share with you.
It is such a pleasure to be sharing Emily and Christopher's Aswanley wedding with you today. The couple tired the knot at this charming outdoor wedding venue located in Aberdeenshire, on 11th September last year. The day is full of peachy hues and pretty detail and best of all, the wonderful and incredibly talented Love My Dress recommended supplier, Caro Weiss captured it all on camera. Enjoy.
Bridal Beauty
Jenn Linton from Linton and Mac styled my hair. Jenn is so talented and made everyone look amazing. I loved the bridal ponytail Jenn created for me and I let the bridesmaids choose the style they wanted.
My make-up artist was Stacey Strachan. Stacey was such a joy to have around on the wedding morning and we had such a fun and relaxed morning. I absolutely loved my makeup and it stayed flawless all day!
The Dress
I wore the Galatea dress by the designer Willowby by Watters in the Titanium colour. I bought my dress from Anne Priscilla Bridal in Glasgow.
I had tried on quite a lot of dresses already at boutiques in Aberdeen but I couldn't find one that I was really excited about. I researched Glasgow and realised that Anne Priscilla Bridal stocked Willowby by Watters which was a designer I was really drawn to – their dresses are so ethereal and feminine which was exactly what I was looking for.
I went to my dress appointment alone which was a last-minute decision and that was when I found the one! I had an appointment with Karen who was incredibly helpful and picked out the Galatea dress for me to try. As soon as I tried it on, I just knew it was perfect for me.
Although it was fun shopping with my bridal party and Mum previously, I felt it was the best decision going on my own as I didn't have anyone else's opinions influencing my decision. I felt quite impulsive making the decision on my own before anyone else had seen it, but I was just so excited and didn't want to wait any longer!
I always thought I would go for a backless dress and as soon as I put on the Galatea, I realised it featured all the elements I love: the V neckline, floral motifs, layers of tulle, and I adored that it had a bow at the back! I loved how different it was to any of the dresses I had tried and thought the soft silver colour was really unique and ethereal. Also, it was perfect for twirling on the dancefloor and really comfortable!
At the start of the dress shopping search, I always thought I would for a very bohemian long-sleeved lace dress however the ones I tried it on just didn't feel special enough.
Shoes & Accessories
I wore a soft tulle plain chapel veil by an Australian designer, Tania Maras.  I came across their veils on Instagram. They were so helpful when I contacted them for styling advice.
I wore Tory Burch block sandals in a bold blue colour – my something blue. I always knew I wasn't going to go for classic white as I wanted shoes I would wear again and loved the pop of colour against my dress.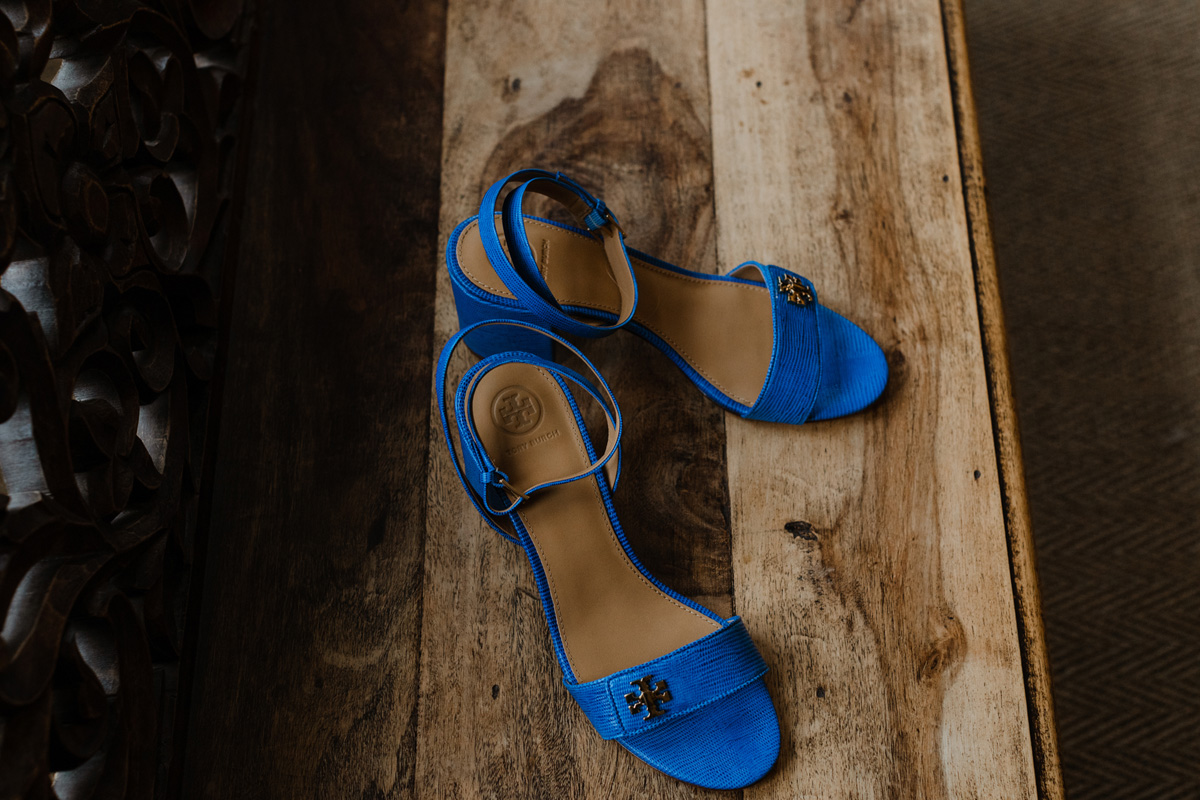 I love pearls so I went for delicate Jennifer Behr Swarovski pearl hair pins styled in my ponytail.  I also wore Jennifer Behr pearl floral earrings in champagne which I adored.
I wore Nomade by Chloé – I wanted to buy a new perfume for the wedding to remind me of the day. I loved the feminine and floral scent. I also bought a blue lambswool blanket scarf from The Tartan Blanket Company which I wore to keep me warm when we took some outdoor photos after dinner.  I also carried an Isla Risa Hive Bag in white.
Flowers
Our florist was Kim Dalglish. We had to find a new florist after our first postponement as they weren't available on our new date. After researching into alternatives, we were delighted that Kim was available on our new date. Kim has styled many weddings at our venue before and is highly recommended within the industry, so we knew we were in expert hands! We loved her creative and natural style of floristry.
Our colour palette was lemon and peach which Kim was really excited about as we were informed that it's not commonly used at weddings. Kim created the bouquet of my dreams which featured my favourite flower, dahlias. We were blown away by the magnificent floral arch that Kim created for our ceremony, it provided the most stunning backdrop.
Kim also styled the venue beautifully. The banquet tables were decorated with peach tapered candles, and we opted for bud vase centrepieces and trailing foliage. Everything looked so magical and exceeded my expectations!
The Ceremony
Although we didn't really have a strict theme, we were inspired by nature and loved the idea of a garden wedding. Both of us are trail runners so naturally we were excited by getting married outdoors in a beautiful countryside setting. Christopher is half Italian and we got engaged in Italy so it was important for us to reflect this in our day. We wanted the day to reflect us as a couple so it was important for us to feature both Italian and Scottish inspired elements within the décor and food.
My father accompanied my down the aisle. It was such a special moment seeing Christopher waiting at the end of the aisle surrounded by all of our family and friends.
I walked down the aisle to the song 'Your hand in mine' by Explosions in the Sky. Rachel Donald from the Humanist Association Scotland officiated our ceremony.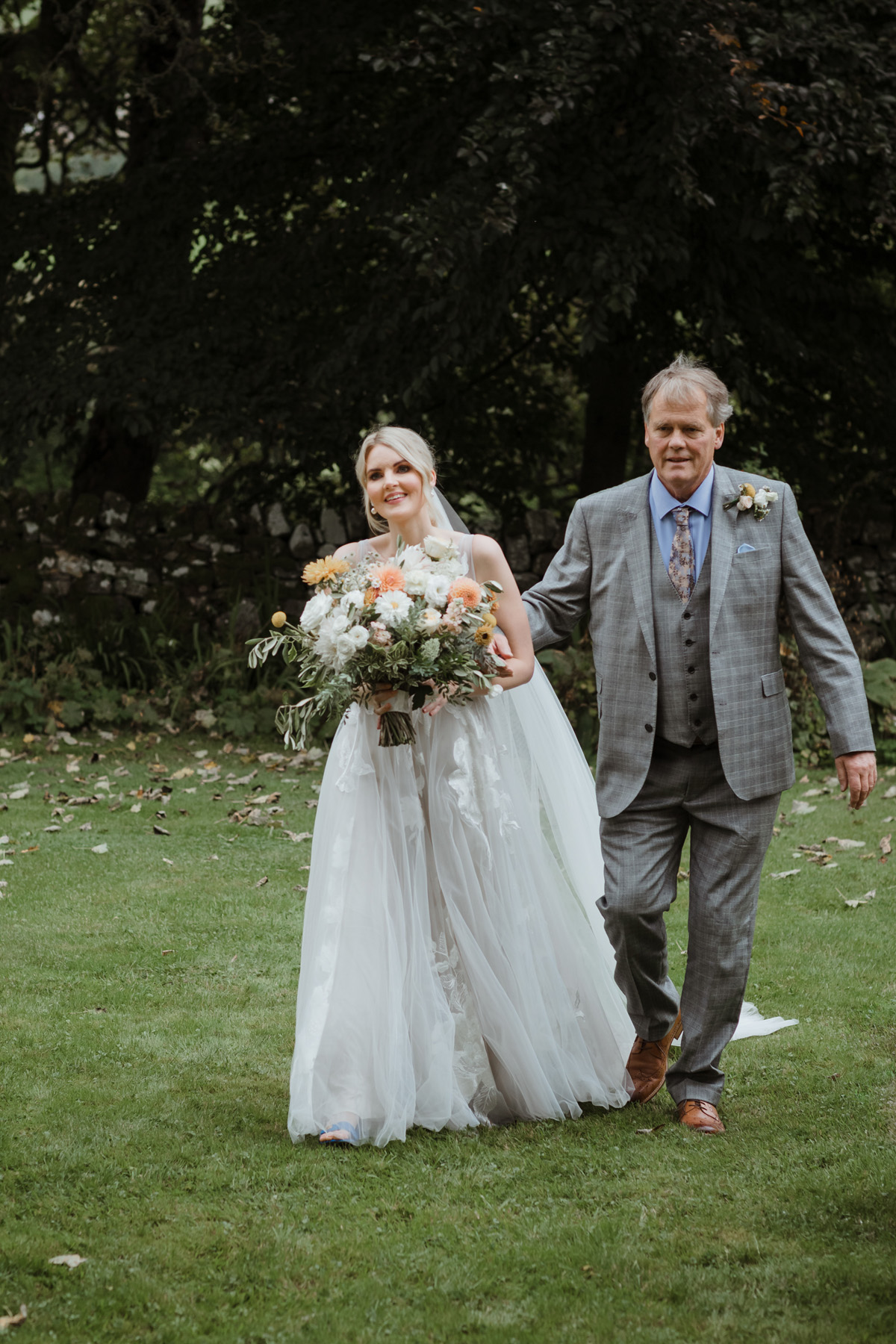 We had a hand-fasting ceremony to incorporate the Scottish tradition into our day. We also attempted to light a unity candle as part of our ceremony however due to windy conditions this didn't happen. It certainly provided some laughs on the day.
We both wrote our own vows which enabled us to personalise them and reflect us a couple. We both decided to keep them secret until the day which kept it a surprise for both of us and made it even more special. Our vows were a mixture of humour and sweet sentiments. I was quite nervous at the thought of writing my own vows but reading the vows to each other was my favourite part of the day and it was a really heartfelt moment.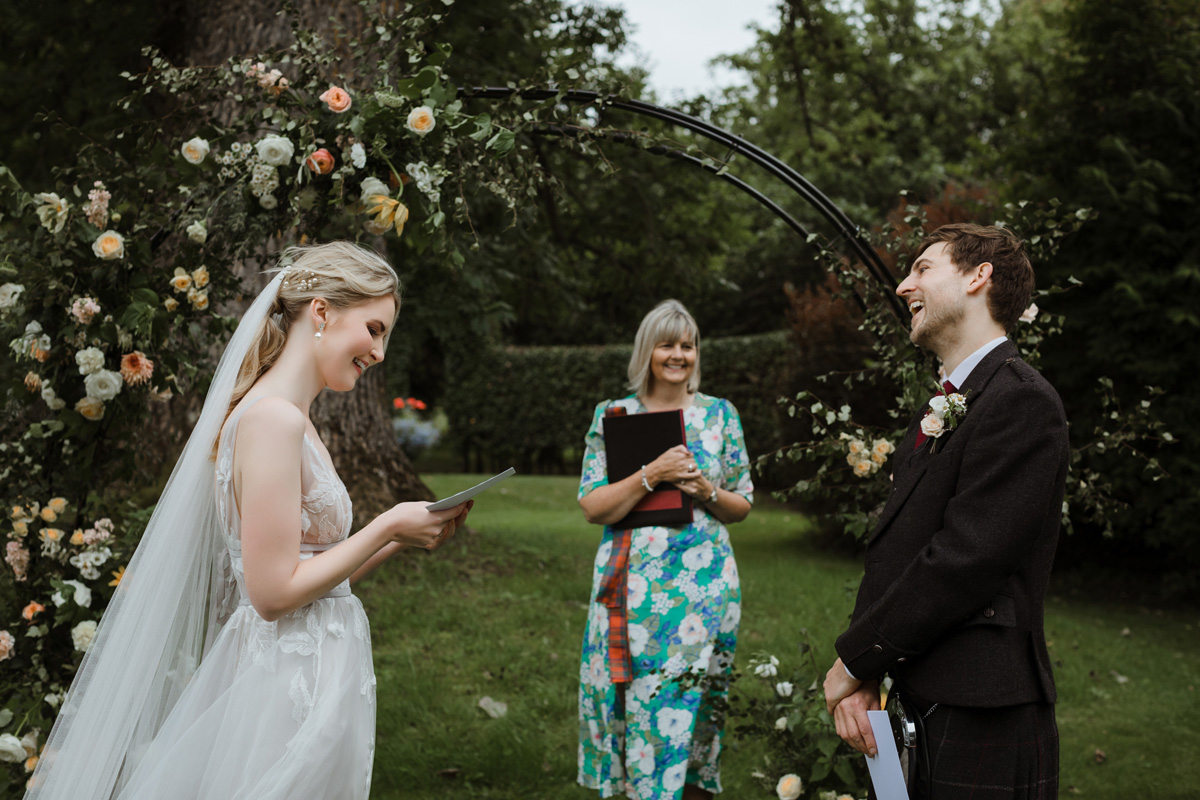 E.E. Cummings is one of Christopher's favourite poets so he chose the poem 'I carry your heart with me' which was read by Matthew, Christopher's brother and usher. I chose the reading 'We're all a little weird' by Dr Seuss (reading below) which was read by my sister and bridesmaid, Charlotte.
My engagement ring was from Finnies, which was also where Christopher bought his wedding ring. My wedding ring was from Jamieson and Carry.  We both received excellent service at both suppliers and would highly recommend them.
The engagement ring Christopher chose for me was the most beautiful ring I had ever seen and it's exactly what I would have chosen for myself! Sapphire is my absolute favourite and the ring is so timeless and stunning, it reminds me of Princess Diana's engagement ring.
The ceremony was my favourite part of the whole day. Saying our vows to each other was such an emotional and memorable moment.
Readers, discover lots more wedding readings here.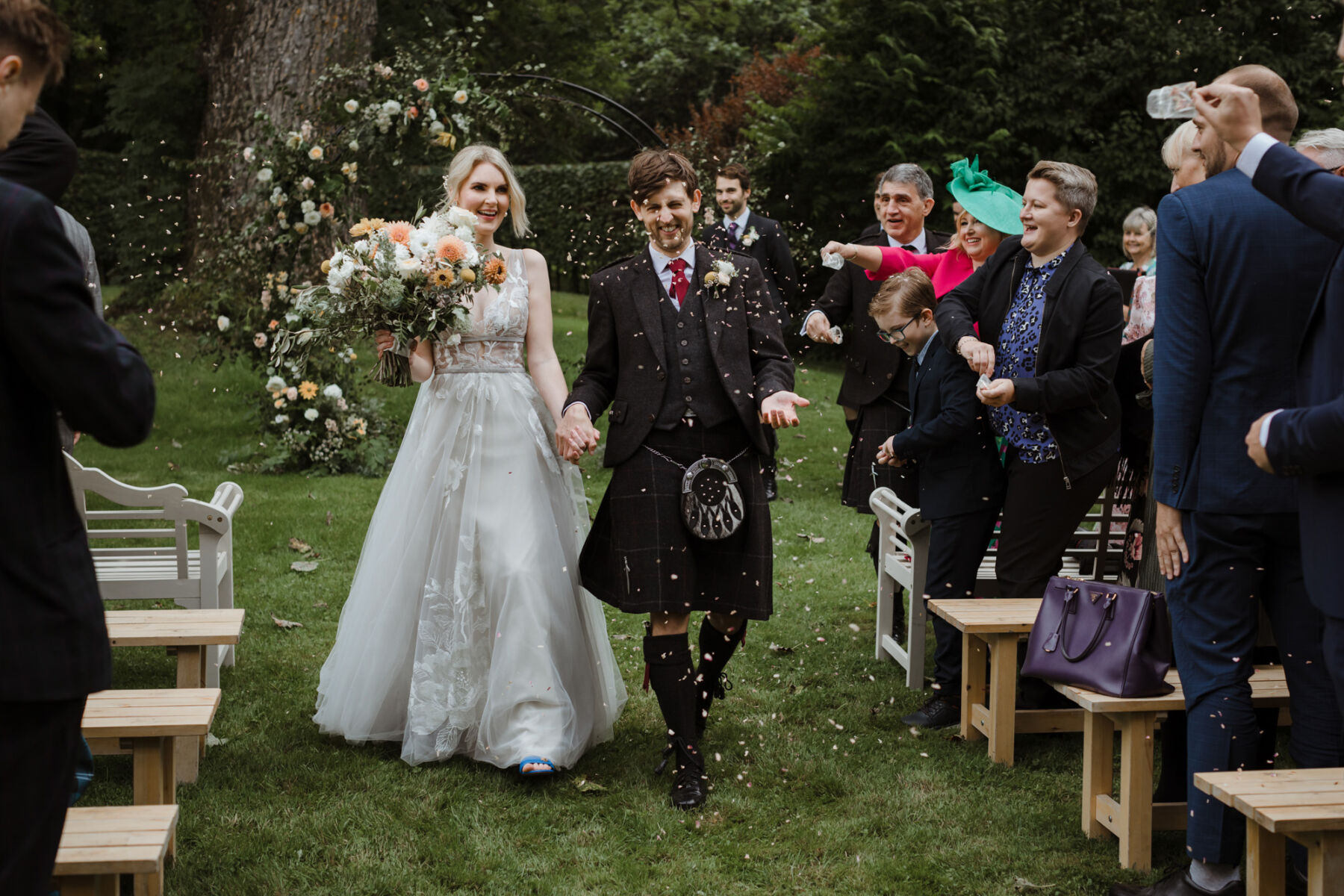 The Engagement
Christopher and I went to the same school but weren't in the same classes/circle of friends and didn't properly meet until years later after both of us had graduated from university in 2010. We were friends on Facebook and one day we started chatting online and before we knew it, we arranged a coffee date and as they say, the rest is history!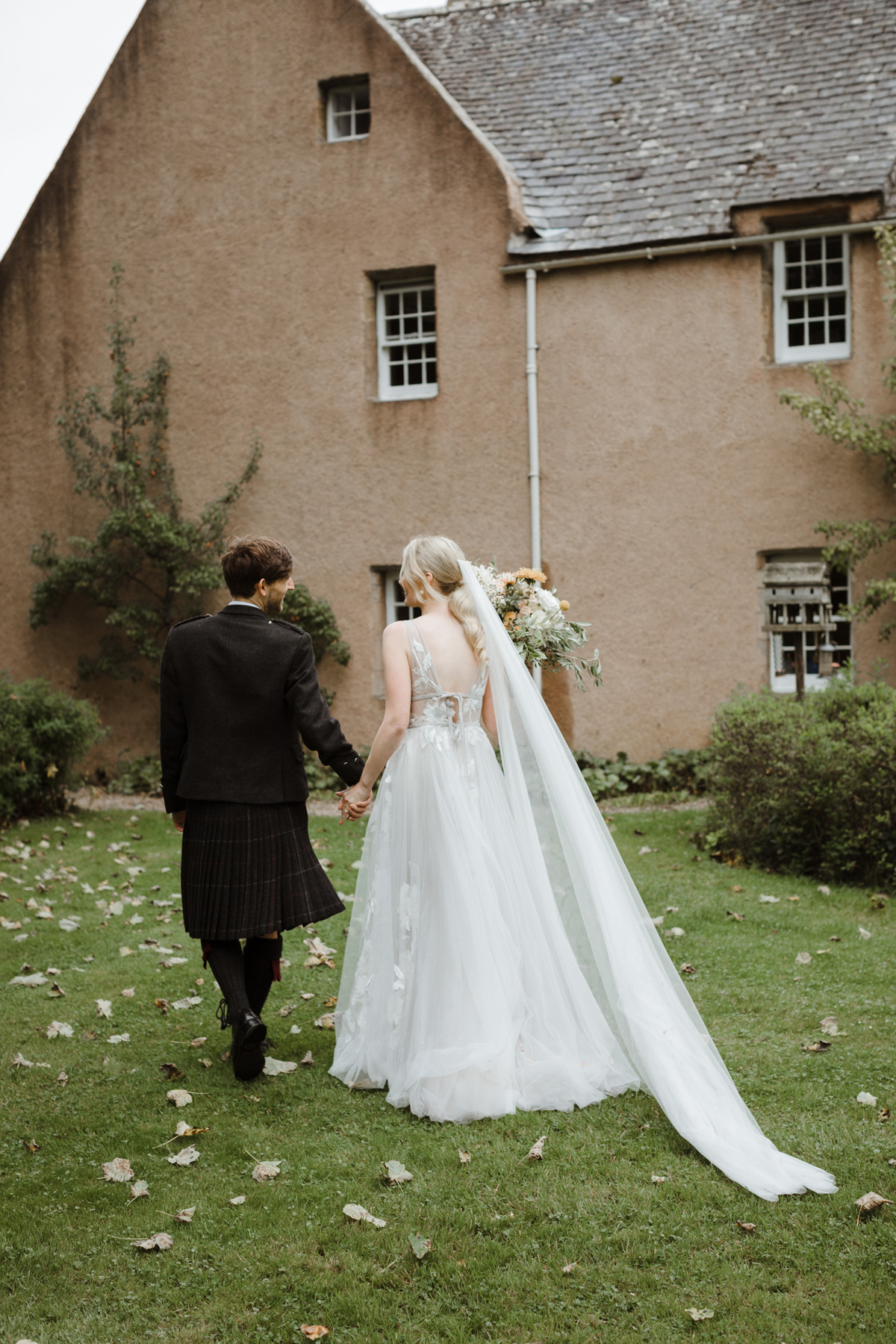 We got engaged on my 30th birthday whilst we were on holiday in Italy. Christopher planned a birthday hike on the beautiful Mont Blanc trail and proposed once we reached the viewing point which was a secluded spot with the most breathtaking views. It was like something out of a film and so romantic. Definitely my favourite birthday to date!
We had been engaged for just over 3 years when we finally got married due to covid which forced us to postpone twice. Our original wedding was planned for May 2020, then we postponed to March 2021 and finally got our special day in September 2021! Although it was certainly stressful at times, it was so worth the wait to get the day we had dreamed of.
Photography
We chose Caro Weiss for our photographer as we found her account on Instagram and loved her natural and contemporary style of photography. Not only is Caro's work utterly stunning, Caro was such a joy to have around on the day! Caro felt more like a guest than a supplier and is so incredibly talented.
We are so delighted with how Caro captured our day – the photos are timeless and beautifully capture all the emotions from the day. We will cherish them forever. I highly recommend Caro to anyone; you will not be disappointed!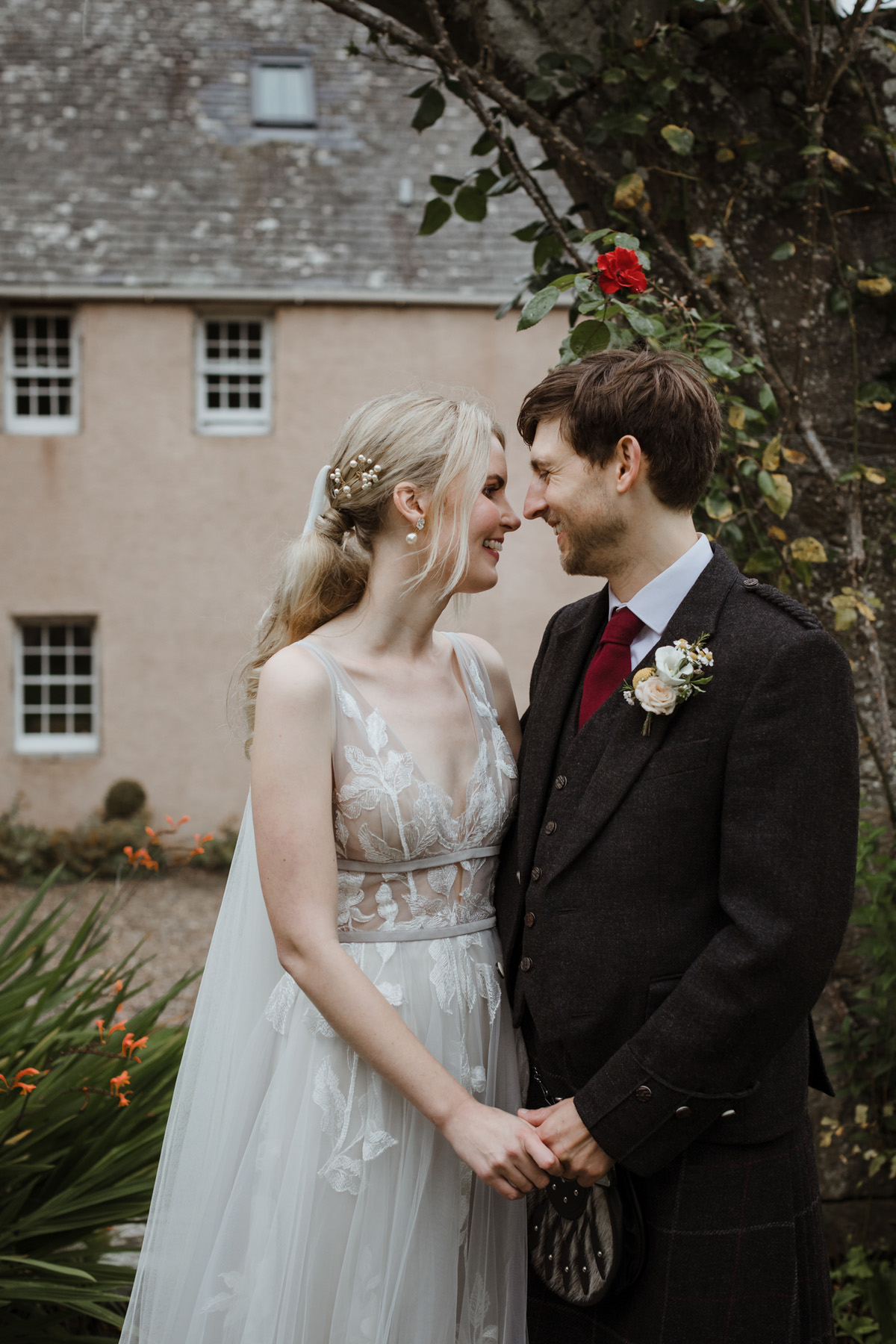 Bridesmaids
It took me quite a while to find bridesmaid dresses as I wanted everyone to feel comfortable and love what they were wearing. I also didn't want anything too formal. After a few failed attempts, I found a gorgeous peach flowy maxi dress online from Coast with a cold ruffle neckline which all of the bridesmaids loved – they all looked amazing on the day and I loved how the tone tied in perfectly with our peach and lemon colour palette.
I gifted each of my bridesmaids with a Missoma star charm bracelet which they all loved and wore on the day!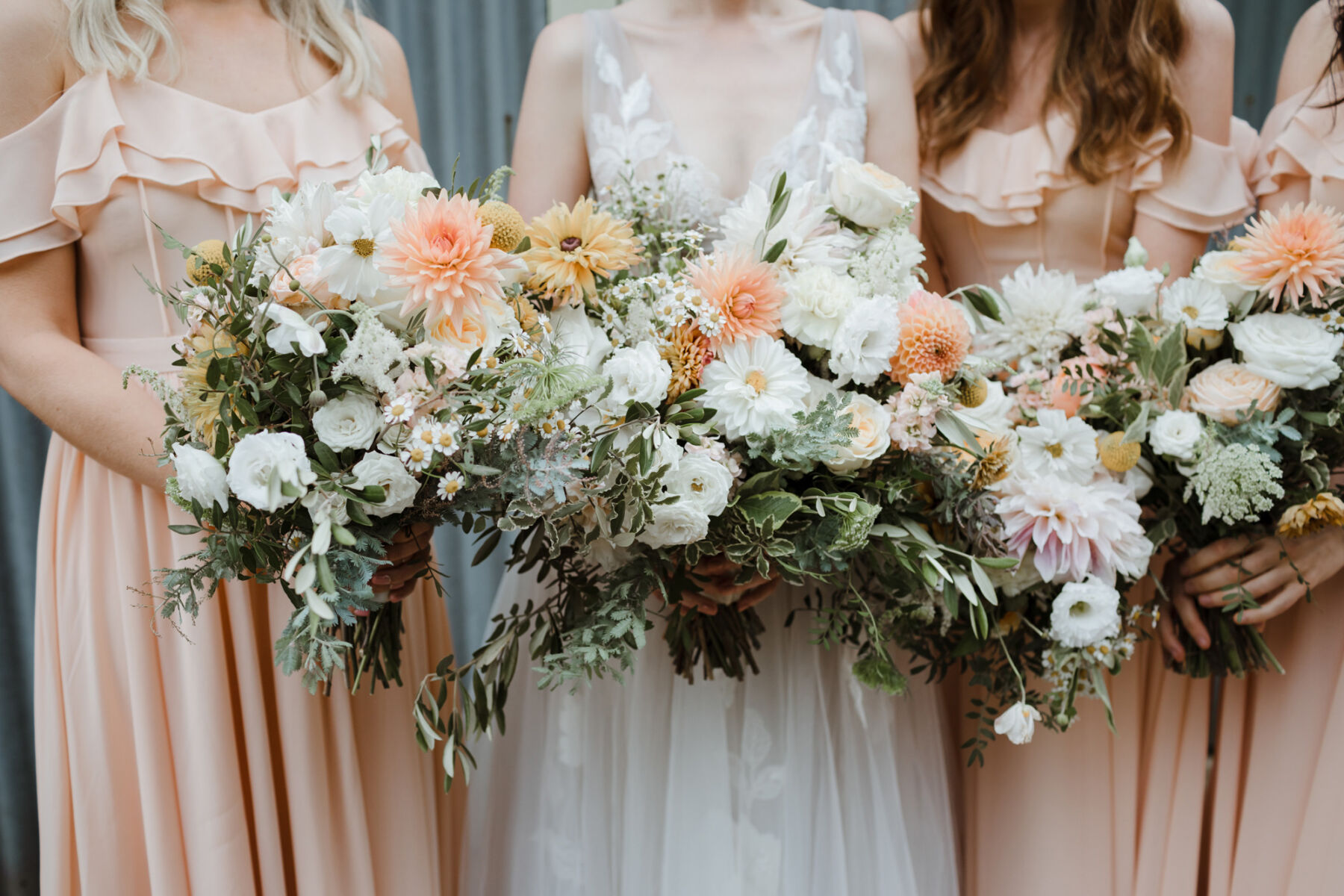 The Film
Throughout our postponements, it was important that we didn't lose Caro as our photographer – she was paramount to our day. Caro was extremely supportive and helpful when we had to reschedule our dates.
Orange Tide Films was our videographer. The decision to hire a videographer was made in the last few months before our original wedding date and I'm so glad we did! We chose Orange Tide Films as I loved Colin's informal and creative style. We didn't even notice Colin and his assistant on the day, they were so unobtrusive. The full film and the trailers we received were even better than I imagined and enables us to relive all the special moments from the day.
Reception, Decor & Detail
We opted for a lemon and peach colour palette as we were both drawn to pastel colours, particularly as our original wedding date was planned for Spring. Yellow is also my favourite colour so it was important to feature it on our wedding day! We wanted our day to be colourful and create a joyful and romantic mood.
Our florist Kim Dalglish styled the venue with gorgeous peach tapered candles and bud vases for the gorgeous flowers on the dinner tables. Karla at Paper Skeleton created our wedding invites, table plans and table names. Karla is such a talented graphic designer and we were delighted with everything that she created.
We gifted guests with Seedboms from Kabloom – my cousin is the founder and was a guest at our wedding so naturally, we wanted to feature his amazing eco-friendly products on our big day. We loved the idea that guests could remember our day by growing gorgeous wildflowers in their gardens!
Additionally, we also had iconic Scottish Tunnocks Caramel wafers as a sweet treat for our guests.
Food
O'Caykx made our three-tiered cake. We chose oreo cookie, black forest gateau and salted caramel for our flavours and it tasted incredible.  We chose a bold yellow colour for the buttercream icing and it was decorated with some flowers and foliage. The pop of colour looked amazing in the barn!
Val Morrison provided our catering and was highly recommended by our venue. For the starter we had a sharing antipasti platter which was a delicious mixture of Italian breads, hams, cheeses, and olives. We chose lasagne for the main dish and a mixed berry cheesecake for dessert with clotted ice cream. Everything tasted incredible and we got so many compliments on the food and generous portions, Val really is the best! Val also made us Macaroni pies for the evening snack which is a Scottish classic and some of our English guests had never tried these before and loved them!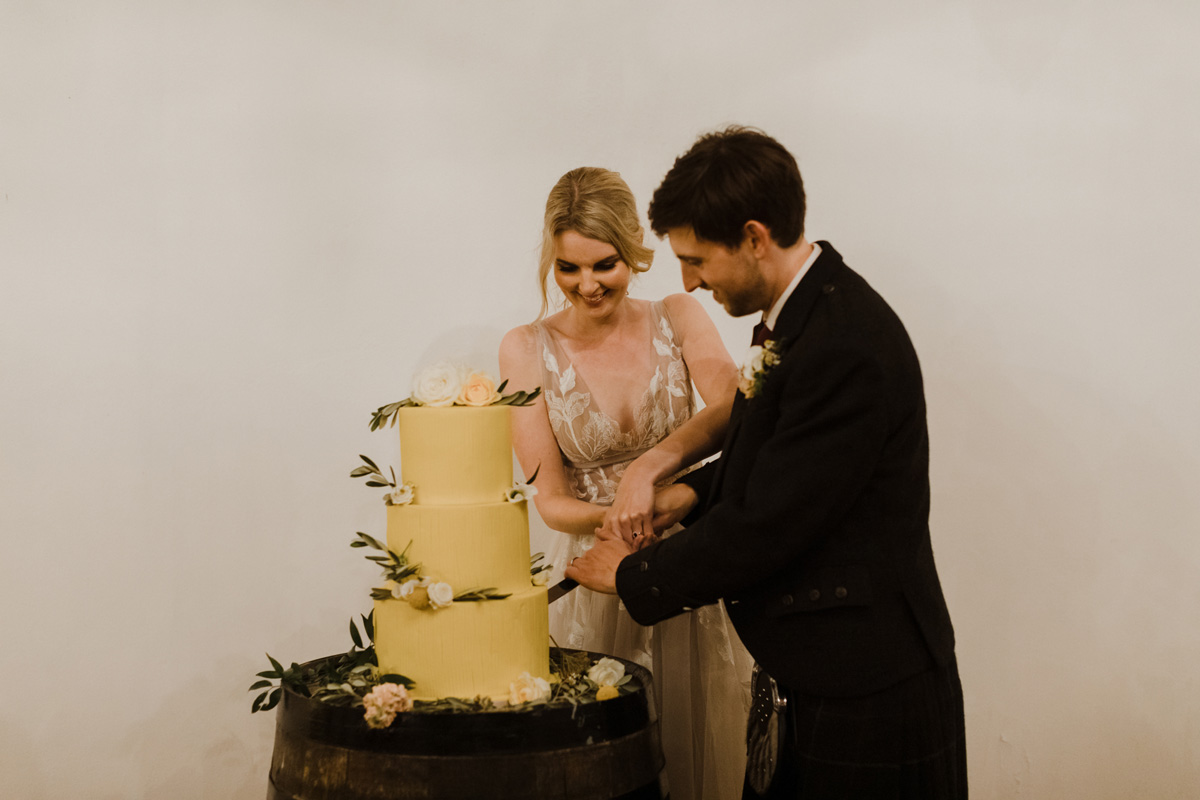 Evening & Dancing
We hired the Glasgow band Chart Society to provide live music. The set list was brilliant and certainly had all of us on the dance floor all night! It felt so joyous and freeing to finally celebrate and dance with our loved ones after a very difficult and unpredictable year. The band played a mix of ceilidh and modern music. The ceilidh dancing was so much fun and is a must at any Scottish wedding!
We chose 'In the Airplane over the Sea' by Neutral Milk Hotel. It's one of our favourite songs that we would dance to in our kitchen and kept on coming back to when trying to decide on a song. It really has the most beautiful lyrics therefore it was a perfect fit. A few of our guests complimented on it and said it was the best first dance song they've ever heard!
I really loved our first dance. Although I was quite nervous at the thought of dancing in front of lots of people, I didn't care on the day. We invited our guests to join us halfway through the song and it was such a special moment sharing that moment with everyone, you could feel the joy in the air!
Unfortunately though, the pandemic meant that our wedding guests from overseas couldn't attend due to travel restrictions. It was sad that these people couldn't be there, but we were determined to get married whatever the circumstances – ultimately that was the most important thing, and we couldn't face another postponement!
Although it was very stressful and heartbreaking at the time of postponing (twice!), it was so worth the wait to get the day we always dreamed of.  In a way it makes the day even more special as it's a longer build up and it will just feel that much sweeter when the day does finally arrive.
Words of Wedded Wisdom
Try not to over think every detail and just go with your instinct! It's your opportunity to really make the day your own. We live in a world of social media and comparisons, therefore it's very important to make sure you're doing something because you want to, not because it's on-trend.
Also have fun with the planning process and remember the most important thing is marrying your best friend. Everything else is a bonus.
If your budget allows, invest in a videographer. I promise you that you will not regret it! We are forever grateful that we have the film to watch back and re-live all the special moments.
Love My Dress was a key source of inspiration when we were planning. The real weddings section was an invaluable resource and I loved to see how other couples brought their vision to life. The words of wedded wisdom section is particularly useful and helped me put things into perspective!