Dresses | June 9, 2022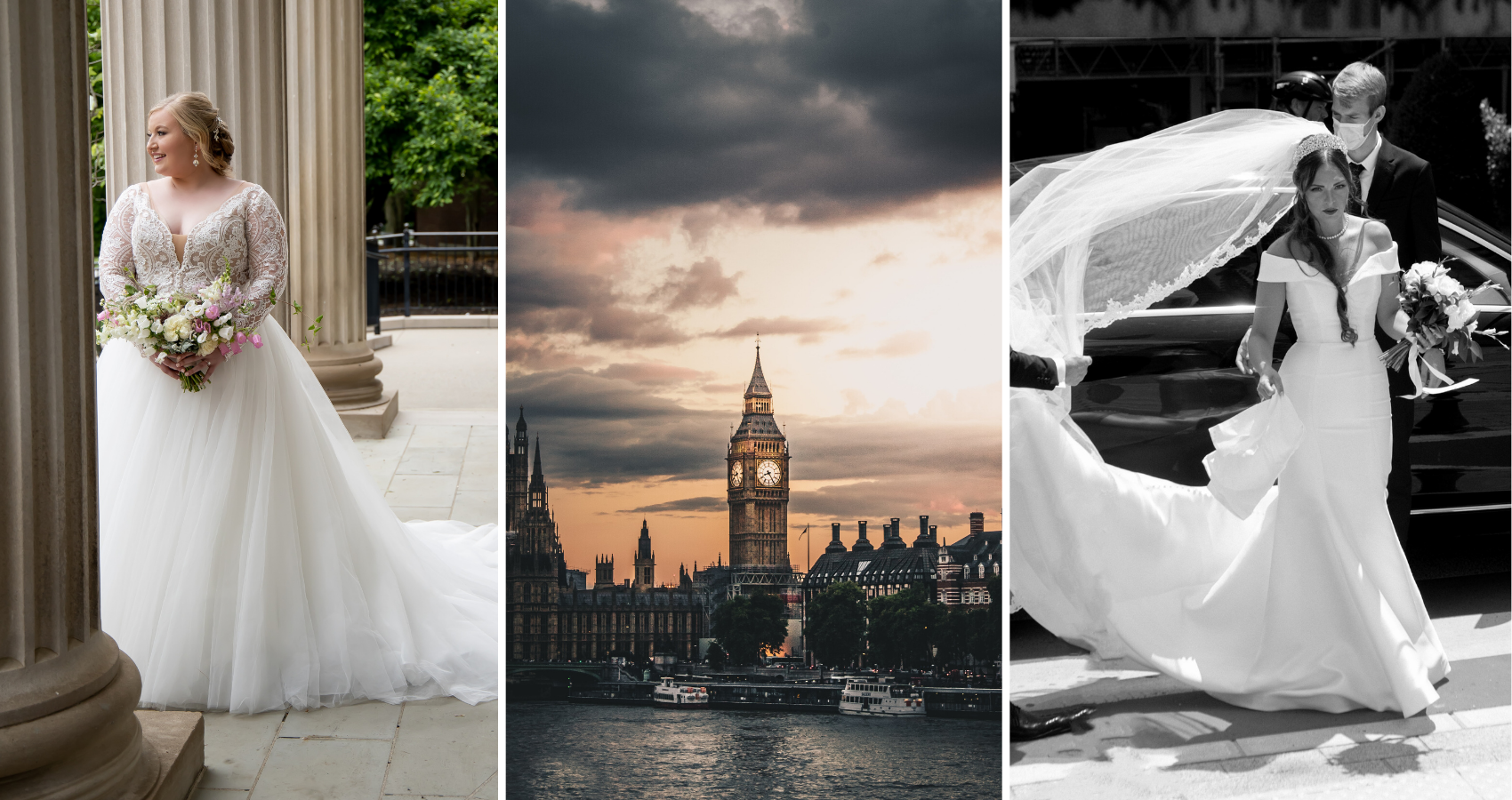 Someone once said: "When one tires of London, one tires of life," and we couldn't agree more! That's why we decided to feature 10 of our favorite wedding dresses London, and the neighborhoods we think match each style the best! Whether you're a classic Kensington bride or a trendy SoHo bride, there's a gown in here for you.
Before you find the London wedding dress of your dream though, make sure to take it a step further and take our Style Quiz to match your dream gown with your aesthetic and budget!
Now, keep calm and read on to see some of our favorite London wedding dresses and where to buy them!
Wedding Dress Shops in London
London is one of the fashion capitals of the world, and that extends to bridal! Nestled in different areas of the city, there are bridal boutiques all over London to say "yes" to the dress to! While we have Authorized Retailers all over the UK, we've listed a few of our Maggie-partnered boutiques within the city limits. So, make sure to put it on your pre-wedding to-do list to look up "wedding dress shops London" and make an appointment at one of the retailers below to find your one-of-a-kind Maggie gown!:
Psst… Insider tip! Read our blog for our expert tips on how to shop for your wedding dress the first time! Keep reading so you can start making a Pinterest board of your favorite London wedding dresses for your appointment!
We guarantee you are going to fall in love with Fontaine by Maggie Sottero faster than Hugh Grant fell in love with Julia Roberts in the romcom, Notting Hill. How could you not with its dreamy floral lace and dramatic open back?!
Honestly, we couldn't have picked a better dress to best match this affluent and fashionable neighborhood in central London. Its vintage-inspired lace goes hand-in-hand with the gorgeous antiques you can find on this neighborhoods famous Portobello Road, while its modern silhouette is a picture-perfect match for Westbourne Grove where some of the best high-end designers reside. (You'll need something old and something new for your wedding day look won't you?!).
Psst.. You're able to personalize this gown for your love story by hanging the second layer of tulle for a sparkle tulle and adding a detachable scalloped lace train for some added drama!
PC: Gabriella Vanstern Photography
When we picture London we think of the fairytale-inspired cobblestone streets, Victorian styled towhouses, and posh accents AKA Chelsea. Coincidentally enough, we also think of classic, clean gowns like Josie by Rebecca Ingram. Naturally, it makes sense that we pair the two together. That's why we chose timeless Josie for ageless Chelsea in London.
Josie is head-to-toe sophistication with its miles of Huron Mikado fabric, classic fit-and-flare silhouette, and romantic off-the-shoulder sleeves. We picture this gorgeous gown in an elegant ceremony complete with neutral color florals, rich greenery, and maybe a royal or two. Because honestly, there's no wedding dress better fit for a queen (or a London bride)!
Also, as if this bridal gown couldn't get better, it's one of our Quick Ship gowns for brides with shorter engagements!
Modern casual wedding dresses are all the rage right now, so what better gown to pair with the trendy SoHo than vogueish Theodora by Rebecca Ingram?!
SoHo is well-known for its neon-lit streets, hipster record stores, trendy bars, and buzzing entertainment! We think with all the stylish excitement going on, sexy and simple Theodora would fit in perfectly.
This crepe wedding dress is giving trendsetting-chic with its modern crepe fabric. It's giving modern starlet. It's giving sexy fashionista. Really, it's just giving everything we love in a modern wedding dress and everything we love in a modern neighborhood like SoHo. And we guarantee with its deep V-neck and open-back, everyone will be oohing and aweing over your modern bridal look.  
Psst… While we all love crepe, this fabric can be a touch intimidating, so make sure to read our blog for our top tricks on how to take care of your crepe wedding dress!
PC: Krystal Jones Photography
What do you picture when you think of royalty? Buckingham Palace? Queen Elizabeth? Royal Kensington? Well, we think of lacey Mallory Dawn by Maggie Sottero.
This vintage-inspired lace gown is head-to-toe regal with its long sleeves, full tulle skirt, and exposed back and low deep V-neck. We picture this romantic gown in a Bridgerton-inspired garden (Kensington Palace Gardens maybe?), with lush florals, romantic candlelight, and a marble floor for you and your partner to dance the night away on.
Do you see what we see? If so, picture the personalizations you can make for your love story on this dress too! Not only is it a Quick Ship gown so you can see your customizations faster than normal, but you're also able to change the second tulle layer to sparkle tulle to feel even more like a princess on your wedding day.
Psst… Take a look at our blog to see the different types of lace patterns to see what lace fits your fancy!
London's Camden is a little bit quirky, a little bit eccentric, and a little bit rock n' roll and our ballgown wedding dress, Zartasha by Sottero and Midgley, is no different! That's why we think this star-inspired gown is the perfect choice for the most fun-loving neighborhood in London.
Zartasha was made for the diva inside all of us. With it's extreme sparkle, artful details, and delicate motifs, you'll feel like a million bucks in this starry gown.
Nothing says unique and rockstar-esque though like personalizations! You can personalize this gown for your love story by adding buttons down the back for a vintage vibe, adding detachable lace tulle sleeves, and a beaded tulle bishop sleeve jacket. For brides who crave a little bit more coverage, this gown also comes in a modest version called Zartasha Leigh!
In Southeast London lies a little slice of leafy heaven called Greenwich, and we think tulle wedding dress, Mirra by Maggie Sottero, is the clear choice in gown to wear there.
This beautiful and romantic wedding dress reminds us of beautiful gardens with sweet wildflowers and bold watercolors. This whimsical gown with its 3D floral motifs and sweetheart neckline would pair perfectly in a fairytale-inspired gown, with lots of greenery, sweet twinkly lights, and a full string band to serenade you as you walk down the aisle.
As if this gown couldn't get better, there are a ton of personalization options you can make for Mirra to best fit your love story! Not only can you add buttons down the back for a more vintage look and choose whether you have a thigh-high slit or not, but you can also pair it with detachable off-the-shoulder sleeves and a fingertip tulle veil!
Just take a look at our fairytale wedding dress-inspired Blog for more inspo!
PC: Chris J Evans
Southwark in London is considered the "historic 'hood" of the South bank since it houses the Tate Modern Art Museum and Shakespeare's Globe Theatre. We figure Chauncey by Sottero and Midgley would be the perfect wedding gown to take center stage in this historical neighborhood.
With all-over-lace and dream cap-sleeves, this vintage-inspired gown is perfect for a historical neighborhood like Southwark! However, it's daring lace-illusion back, deep V-neck, and modern fit-and-flare silhouette is all modern. Not only is this dress head-to-toe gorgeous, but it's also one of our Quick Ship gowns and is available with a lined bodice to personalize it for your love story!
PC: C York Photography
Shoreditch in London is a hipster's paradise, and unique Raelynn by Rebecca Ingram is the London wedding dress that should be worn in this cool and popular neighborhood!
Raelynn is all about unique and flirty from its design to its lace (the perfect match to Shoreditch!). This unique A-line wedding dress sports a light and flow skirt with a deep V-neck, open back, and sexy bands across the bodice (romantic and sultry!).
Psst… You can personalize this look for your story adding a neckline with more coverage by shopping Raelynn Lynette by Rebecca Ingram and it's also a Quick Ship dress for our brides with shorter engagements!
Mayfair is home to Hyde Park, multiple 5-star hotels, and posh businesses, and we couldn't imagine any other wedding dress to match with this neighborhood than high-end Ivy by Maggie Sottero.
Ivy is sexy meets classy (just like Mayfair), and is full of gorgeous leafy lace (just like Hyde Park!). It also sports a sexy mermaid silhouette, a flattering sweetheart neckline, and a flowy sparkly fabric for the skirt! And not only does this gorgeous dress in multiple colorways, but you're able to personalize the look for your love story by changing the Chantilly lace to sparkle tulle or chic organza, add buttons down the back, or add beaded lace cap sleeves!  
Last, but certainly not least, is dynamic Edison by Maggie Sottero for the avante-garde neighborhood, Brixton! Brixton is one of the most culturally diverse areas of south London. It's filled with a rich history, tasty food, and a ton of quirky boutiques. Edison, with it's unique neckline, relaxed fit, and statement train is the perfect choice.
This beautiful sheath wedding dress is class meets sass. We are absolutely obsessed with the unique lace and off-the-shoulder look. And, if it couldn't get better, you're able to personalize this gown for your love story! Do this by changing the textured tulle to Chantilly lace or sparkle tulle, add buttons down the back, line the bodice, and add a detachable scalloped lace train!
London really is a the city for bridal! Whether you're a posh Chelsea bride or eccentric Camden bride, there are many wedding dresses London to choose from!
To stay up-to-date with all things trendy and bridal, make sure to follow our Pinterest and sign up for our exclusive bridal Newsletter!
For More Blogs Like This!:
15 Trendy Wedding Dresses From Maggie Sottero's Fall 2022 Collection
10 Trendy NYC Wedding Dresses For Every Brides Favorite Borough
How to Choose the Right Wedding Undergarments for Your Wedding Dress
Until then, cheers!